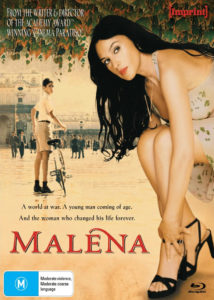 If you were a teenage moviegoer in the early 2000s you'll no doubt remember Monica Bellucci trying to make out with everyone in the Matrix sequels, as the A.I. programmed, Persephone, who was conveniently trying to experience human emotion. Prior to her appearance in the science-fiction mediocrity, the Italian star starred in the erotic drama Maléna, available now on Blu-ray from Imprint Films.
In the small Sicilian town of Castelcuto, during the second world war, a teenage boy, Renato, becomes enamoured with an attractive local woman who's also the subject of gossip and assumption among narrow-minded residents.
Now this may be a poor comparison, but hopefully, you'll get my point. Think of all those 80s comedies, like Porkies for example. Horny teenage boys lusting over beautiful women, often followed by problematic pranks and mishaps. Maléna, however, builds a very mature and meaningful film from the juvenile premise, and while Renato's desire does indeed stem from a fire in his loins, he comes to know Maléna more intimately than anyone else and she doesn't even know it.
Often, there's a romanticised notion that surrounds cinema set amidst war, which is the case for Maléna, but with a much more substantial meaning as our female protagonist symbolises youth and beauty; a sore point for the aging population consumed by resettlement. Unable to admit they're all being taken for a ride by Fascism, they lash out without thinking and the results are devastating.
Bellucci's almost silent performance manages to say a lot and carries with it a profound sadness, but the cinematography that completes her radiant physical quality off-sets the film's sombre feeling in a flattering way. Her young admirer Renato, played by Giuseppe Sulfaro, is less subtle but portrays all the awkwardness and confusion of a boy in the grip of adolescence, much to the annoyance of his parents, mostly his father who's fluent in the Italian parental dialect of slapping.
SPECIAL FEATURES
The Life & Dream of Giuseppe Tornatore – 50 minute documentary
The Making of Malèna – featurette
On Location – behind-the-scenes
Interview with director Giuseppe Tornatore
Interview with director Giuseppe Tornatore and composer Ennio Morricone
In Studio – recording the score with composer Ennio Morricone
Theatrical Trailer & TV Spots
Ported from the 2013 Korean Blu-ray, most of the bonus content was shot at the time of Maléna's initial release. Despite concerning the director's entire body of work, The Life & Dream of Giuseppe Tornatore is a wonderful companion to our main feature as it covers his own experiences growing up in a small Sicilian town. The documentary is also a great source of learning about more of the filmmaker's other movies as well as similarly themed classic Italian cinema. Out of the three interviews, the Making of featurette, which features Tornatore and Monica Belluci is most interesting as it discusses the story and characters more in depth than the others. The "On Location" and "In Studio" supplements show raw footage of their respective subject matters and lack narration and interviews.  – by Hannah Lynch
VIDEO AND AUDIO
Malena will turn heads with a 1080p presentation sourced from a 2K scan of the original uncut Italian version, which offers stunning colour; mainly shades of yellow, orange and brown that paint the Sicilian landscapes. Slightly modified from the film's original aspect ratio of 2.39:1, the 2.35:1 image hopefully won't trigger to many viewers hung up of technical specs, whereas normal folk won't be able to tell the difference.
With only a 5.1 surround track available, the dialogue volume takes a back seat, to the more immersive scope of the DTS HD audio and Enio Morricone's emotional and playful score. Not that it's a bad thing, but you really have to crank it to hear our characters speak at an adequate level. Italian language and optional English subtitles are available.
Maléna is a coming-of-age title for the ages, one that should be part of high school curriculums if it isn't already. Imprint's release doesn't necessary improve over the many previous editions, but it suits their brand, which largely includes prestige cinema.
MALENA  
(2000, director: Giuseppe Tornatore)
★★★★½
Head over to the Imprint Films Facebook page for the latest releases, giveaways, great deals and more!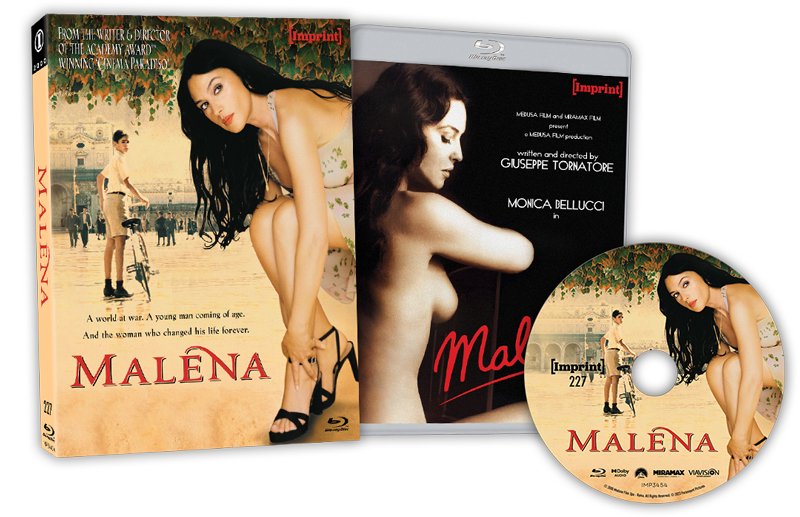 You can follow cinematic randomness on Twitter and Facebook where you'll find all my cinematic exploits. Thank you for visiting!