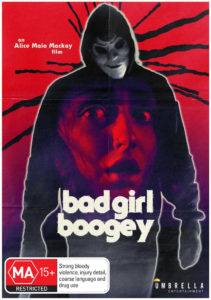 Guy Pearce once said in an interview with Craig Ferguson that Adelaide supposedly closed all the mental asylums and let all patients go free, implying the capital of South Australia is literally insane. While I don't agree with the former Neighbours heartthrob, a new-age slasher with an edge of madness has sprung forth from the 'City of Churches', Bad Girl Boogey – the debut feature from director Alice Maio Mackay and it's available now on DVD from Umbrella Entertainment.
In the tradition of masked killers and the spooky season, carnage permeates from one such object of disguise, infected with black magic and bigotry, resulting in blood to be shed one Halloween night. Years later, the mask has found a new host and when Angel's best friend is brutally killed, she and her rather strong-willed group of fellow teens seek to find out the killer's identity.
Mackay makes no qualms about their film's target audience, categorising the angsty indie horror as a "transgender and queer film" to quote the film's title card. It's progressive without a doubt; all while being outright aggressive. I felt as though it was trying to pick a fight with me. What did I do? Nevertheless, Bad Girl Boogey is traditional in the sense of your typical slasher; Mackay even had the good wisdom to cast Bill Moseley in a minor role as a radio DJ, who helps set the mood. Interestingly, there's an established backstory to the killer's ominous mask: it targets or feeds off negative feelings and certain phobias as if it were its own unique life form. Whereas marks are typically used in horror to hide disfigurements or to add an extra element of fear for the viewer, this added lore helps elevate this low-budget production by giving it a unique twist. Minimal digital effects are also used to hint at this idea and practical effects for the numerous slayings are well done with spectacular blood spurts.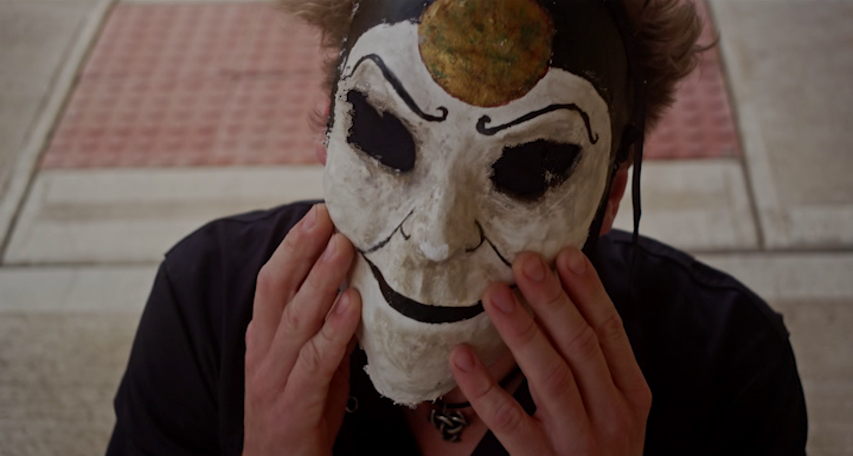 Lisa Fanto is our protagonist and final girl in her big screen debut, and the Adelaide-born actress certain delivers a lot of energy as the fearless lead as she navigates this blood-soaked suburban nightmare with an ample supply of cigarettes. Dialogue may not be the most well-written, but there's an authenticity in how the cast of characters speaks or snap at their adult counterparts.
SPECIAL FEATURES
Howl of The Werewolf – Short Film
The Serpent's Nest – Short Film
Audio Commentary with Directory of Photography / Editor Aaron Schuppan, Camera Assistant Assra Vadoulis and Costume / Production Designer / Actor Iris Mcerlean
Umbrella provide two additional queer-themed shorts from Alice Maio-Mackey which, given their length, would add up to a night of spooky fun when paired with our main feature. Howl of the Wolf is the most recently produced and shortest of the two, coming in at around 16 minutes long, and stars two familiar faces from Bad Girl Boogey. Based on the Ed Wood short story of the same name, the lycanthropic tale is a throwback to late-night 50s/60s creature features both in style and presentation; it's even bookended with an intro/outro from a lovely Vampira-esque host! Similarly, The Serpent's Nest is an homage to a bygone era of horror filmmaking, low-budget cult films from the late 60s/early 70s. Like the movie's its influenced by, this short successfully combines gore and sleaze with a heartfelt tale of self-acceptance. Due to its more in-depth storyline, this tale runs a little longer than the first, coming in at 27 minutes, but is very engaging throughout!
The commentary track with accompanies our main feature is a recommended listen. Not only are all our hosts warm and likable personalities, but it's always insightful to hear how films are made on such a low budget over a short period of time! – by Hannah Lynch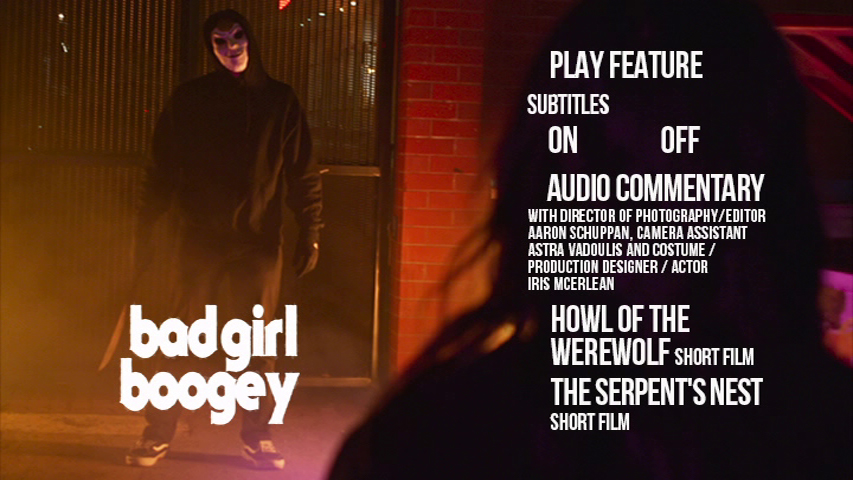 VIDEO AND AUDIO
Bad Girl Boogey proves how valuable DVD is for up-and-coming filmmakers. It serves as a viable means of delivering titles to a mass market and Umbrella must have applied some SD sorcery because it's offering an impressive picture for a format in its mid-twenties.
Presented in 1.85:1 aspect ratio, the image is very vibrant with an aggressive colour scheme, befitting to the film's tone while the 5.1 Dolby Digital track is very unbalanced, mostly relating to dialogue, which ranges from being barely audible in some instances to generally low in volume. I highly doubt it's any fault with the DVD, but rather the film's sound mixing, which is unfortunately inconsistent. Thankfully though, English HOH subtitles are included.
Bad Girl Boogey is currently available online at Umbrella Entertainment at $24.95, which may seem a little pricy these days, but bear in mind that you're supporting not only Australian cinema but an emerging filmmaker who I'm sure will make even greater contributions to the horror genre.
BAD GIRL BOOGEY
(2022, director: Alice Maio Mackay)
★★★
direct dvd screen captures
You can follow cinematic randomness on Twitter and Facebook where you'll find all my cinematic exploits. Thank you for visiting!