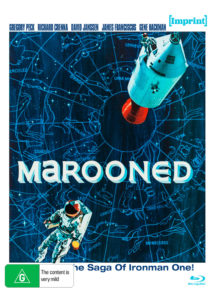 Space exploration presented an exciting and hopeful new endeavour for mankind, but with any new frontier, comes danger and risk. Marooned offers the possible scenario of being trapped high above in Earth's breathtaking orbit when three astronauts are unable to return due to a mechanical failure onboard their spacecraft. With their oxygen-limited to only 48 hours, those on the ground must find a way to bring their men home.
Imprint Films have brought this John Sturges classic to Blu-ray for the first time, having only previously been available on DVD, and while the film was originally released just months after the first moon landing, it makes a rather grim prediction of what NASA would have face the following year with Apollo 13.
Marooned begins in a very proud fashion, flexing a nation's might with the powerful Saturn V rockets propelling our heroes to an experimental space station, laying the groundwork for one day reaching the planets. It's a hopeful idea of what I'm sure most people at the time were thinking and probably eagerly expecting, but a forthcoming crisis quickly drives home the infancy of the space program.
Clocking in at 129 minutes, Marooned is certainly not a boring film, in fact, it does a great job keeping you engaged with its very technical language and the constant reminder of what's at stake. However, it does tend to drag during one significant portion of the film, namely the launch of the rescue mission, which I think still would have retained its dramatic impact and level of excitement if it had been shortened. Gregory Peck and mission control repeatedly shouting "Go!" at a rocket blasting through the eye of a hurricane, is a real goose-bumps moment.
Richard Crenna, James Franciscus and Gene Hackman make up the titular marooned, whom we get to know intimately. Jim (Crenna) is the calm commander, whereas more calculating Clayton (Franciscus) constantly runs the numbers while Buzz (Hackmen) slowly works towards a mental breakdown.  All three deliver solid performances, conveying the immense stress of their situation and the disorientation when their oxygen becomes alarming low. I'm a long-time fan of James Franciscus, who has a very Shatner-esque dramatic style so I couldn't help but laugh when he starts trippin'.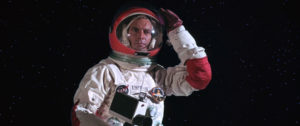 VIDEO AND AUDIO
Straight from the vaults, this 1080p presentation in the film's original aspect ratio of 2.25:1 is very stock standard, which looks a little dated compared to the higher-grade film scans of today. With the regular use of archive footage and scenes shot against blue-screen, the image does vary in quality, but most of the film looks sharp. Marooned calls for some thunderous sound and while the 2.0 LPCM track is limited, it gave my sub-woofer a nice workout and dialogue was a suitable volume, in balance with the scope of effects. English subtitles are included.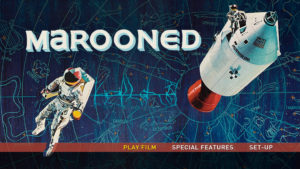 SPECIAL FEATURES
NEW Audio commentary by entertainment journalist and author Bryan Reesman
NEW Kim Newman on Marooned
NEW The Troubled Master: Inside the Final Films of John Sturges – featurette
Theatrical Trailer
Limited Edition slipcase on the first 2000 copies with unique artwork
Marooned comes with all-new special features including a commentary and two short (but engaging) featurettes. Kim Newman gives another casual genre deep dive, this time on space-race themed science fiction which explains Marooned's poor initial reception but an influential legacy. Inside the Films of John Sturges takes a look at where this space feature fits in the director's oeuvre, by explaining his career evolution and trajectory; this is especially informative for those unfamiliar with Sturges' work. – by Hannah Lynch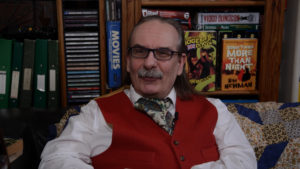 I wouldn't compare Marooned with Ron Howard's Apollo 13 as there's an element of science-fiction to this particular classic, but the scenario is remarkably similar. Watch it on a big screen and take in the celestial splendour via the dated but nonetheless impressive visual effects.
MAROONED
(1969, director: John Sturges)
★★★★
Head over to the Imprint Films Facebook page for the latest releases, giveaways, great deals and more!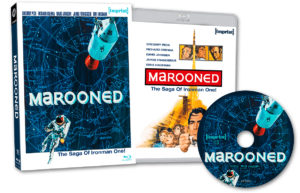 direct blu-ray screen captures
You can follow cinematic randomness on Twitter and Facebook where you'll find all my cinematic exploits. Thank you for visiting!