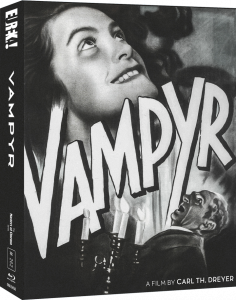 Upon first glance, it's very apparent that Vampyr is not your conventional vampire film nor silent film or early "talkie". It's an oddity in almost every respect, but nonetheless creepy, and now the French-German classic is coming to Blu-ray on May 30 from UK label Eureka Entertainment via a Limited Edition with extras charting the obscure film's history and legacy.
Allan Gray, a seemingly anonymous stranger, rents a room at a rural inn, a stone's throw away from the village of Courtempierre. It's here in this gloomy dwelling where evil is afoot, with shadows dancing on the walls and the ominous presence of an old woman lurking about, who is herself, surrounded by an aura of death.
Vampyr is like watching someone's nightmare as the narrative and structure are very distorted, much like the nature of dreams themselves. Sounds are often faint, and dialogue is at times hard to decipher, almost like an early experiment in filmmaking. It comes across as almost primitive in fashion compared to Universal's Dracula, released the year prior, which was at forefront of in terms of technicality and production; even Nosferatu (1922) seems more sophisticated.  I wouldn't call this a criticism, just an unusual approach given the time period.
Vampire lore here differs from the mainstream legends and stories, with our 'Dracula' figure being that of the above-mentioned old hag, a personification of those unfortunate souls who cannot cross over after death. It's an eerie thought and the subtle visuals are both striking and unnerving as our protagonist is slowly sucked into this unholy void, while Sybille Schmitz's possession by an unseen entity makes for the film's scariest moments with her glittering smile.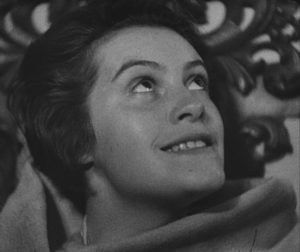 VIDEO AND AUDIO
Much like the style in which Vampyr is presented, the image looks older than most films from the early 1930s, especially when comparing it to Universal's Dracula, released the year prior. Nevertheless, this semi-silent classic has undergone restoration for the HD generation, plus there are a couple of optional extras to help improve the viewing experience for English-speaking viewers. Quality does vary regarding the picture, which appears very washed out for the most part, whereas some scenes appear to have better contrast, revealing more details. However, one could say the foggy image fits the mood and slightly nightmarish atmosphere. Audio is quite faint and very limited in scope, so definitely switch on those subtitles.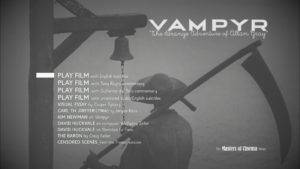 SPECIAL FEATURES
New, high-definition transfer of the Martin Koerber / Cineteca di Bologna film restoration in its original aspect ratio (1.19:1)
New and improved English subtitles (optional)
Full-length audio commentary featuring film scholar Tony Rayns
Full-length audio commentary featuring Oscar-winning director Guillermo del Toro on one of his favourite films
Choice of restored or unrestored audio track
Two deleted scenes, removed by the German censor in 1932
Carl Th. Dreyer (1966) – a documentary by Jörgen Roos
Visual essay by scholar Casper Tybjerg on Dreyer's Vampyr influences
The Baron – a short MoC documentary about Baron Nicolas de Gunzburg
Inspiration for the film – Sheridan Le Fanu's Carmilla – as an on-disc pdf.
80-page book featuring rare production stills, a facsimile reproduction of the 1932 Danish film programme, writing by Tom Milne (The Cinema of Carl Dreyer), Jean and Dale Drum (My Only Great Passion: The Life and Films of Carl Th. Dreyer), and Martin Koer
Vampyr is a film that often leaves viewers with a lot of questions, and thankfully, Eureka's supplements try to answer quite a few of them. Most expansive is the visual essay narrated by Caspar Tyberg, which runs for around 35 minutes and covers the film's background, and inception, and contextualises some of the more confusing scenes in the film. Those looking for a more casual presentation may enjoy Kim Newman's sit-down chat about Vampyr's themes and legacy in a newly produced interview for this release. Two additional exclusive featurettes are hosted by music scholar David Huckvale who gives an in-depth discussion and analysis of the film's score and source material. Vampyr's two biggest contributors, it's director Carl Th. Dryer and producer Baron Nicholas de Gunzberg are given the spotlight in two separate documentaries, the former of which was released in 1966.
Vampyr is a horror film that definitely requires you to be in the right mood, as Kim Newman points out in his one-millionth interview. I say watch it in a very relaxed state, an hour before you normally head off to bed and let the film tickle in your subconscious.
VAMPYR  
(1932, director: Arthur Hiller)
★★★★
direct blu-ray screen captures