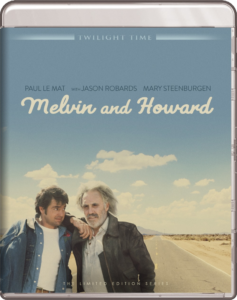 I feel very privileged today as a reviewer of physical media for the opportunity to deliver my first write-up for Twilight Time, the honour of which goes to Jonathan Demme's Melvin and Howard now on Blu-ray under the label's 'Limited Edition Series'. Paul Le Mat stars as Melvin Dummar, a humble factory man who gives a friendly ride to a dishevelled old-timer claiming to be Howard Hughes after stumbling upon the man alone in the desert. Years later, Melvin is named as one of several benefactors in the eccentric billionaire's highly disputed will.
Jonathan Demme (The Silence of the Lambs) cut his teeth as a director with a string of exploitation titles during the mid-to-late 70s, including the women-behind-bars staple Caged Heat. The celebrated film-maker then collaborated with Oscar-winning screenwriter Bo Goldman to adapt his original screenplay in 1979 regarding the infamous "Mormon Will", inspired by the real-life Melvin Dummar. Unlike the Demme's earlier work, Melvin and Howard excels as being a modest comedy-drama about an individual's tireless pursuit of the American dream. Melvin is a good-natured and well-meaning man, but irresponsible with money, often left debt-ridden. However, despite his regular financial troubles, our protagonist's outlook remains positive, for the most part, as he embodies the spirit of a blue-collar existence. Demme's directorial style aims for a slice-of-life-feeling approach, portraying the characters and all their antics candidly, no matter how unglamorous or unflattering; all whilst creating a very casual vibe that makes for easy movie watching. Paul Le Mat with his regular Joe sensibilities is perfectly cast as Dummar, delivering a laid back performance which doesn't seem to stray too far from the actor's real-life persona. In her Oscar-winning performance, Mary Steenburgen as Melvin's flaky wife Lynda resonates with those stuck in a downbeat life, wanting something more stable and secure, but sadly lacking the means. The actress' girl-next-door quality and dance talents make for some of the film's most memorable scenes. Howard Hughes is portrayed by the legendary actor Jason Robards, who only appears briefly in the film's opening and closing scenes, but his bookended performance is one filled with subtle emotion and a modesty similar to that of Melvin, reiterating the story's sentiments of family and memories.
VIDEO AND AUDIO
Given the reputation of Twilight Time's impeccable quality, I was not disappointed by this well-presented, region-free disc in 1.85.1 widescreen, filling my television from edge to edge. While the picture is sharp and very clean, colours are mostly pastel, reflecting the film's light tone. Sound, on the other hand, packs a nice punch in 1.0 DTS-HD MA, especially via the soundtrack which includes hits from Creedence and The Rolling Stones.
SPECIAL FEATURES
Isolated Music Track
Audio Commentary with Director Jonathan Demme and Production Designer Toby Rafelson
Original Theatrical Trailer
I'm encountering isolated music tracks more and more, which are initially strange to hear, but I can appreciate their value as they do highlight the skill behind sound editing and mixing. Audio commentaries are always worth a listen when it comes to lesser-known classics, and in the case of Melvin and Howard, being one of Jonathan Demme's first big studio films, it more than justifies a second viewing of the feature. Inside the case, there's a simple yet quaint booklet featuring an essay from Julie Kirgo, a nice little extra that was once very common during the formative days of disc-based home video.
Melvin Dummar passed away just last year on December 8th, having never received a cent from Hughes' estate. However, during a 2005 reinvestigation, statements from Hughes' closets employers helped to further substantiate Dummar's story.
Note: Melvin and Howard is limited to only 3,000 units and can be purchased by visiting www.screenarchives.com and www.twilighttimemovies.com  
MELVIN AND HOWARD  
(1988, dir: Jonathan Demme)
★★★★
direct blu-ray screen captures
You can follow cinematic randomness on Twitter and Facebook where you'll find all my cinematic exploits. Thank you for visiting!