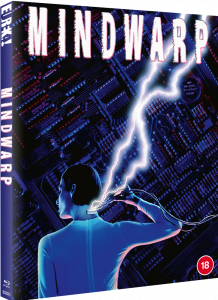 While something of a milestone, Mindwarp feels like every post-apocalyptic movie you've seen from the 80s and early 90s, yet Fangoria Magazine's first feature still manages to stand out, and now it's on Blu-ray in the UK from Eureka Entertainment.
Set in the year 2037, decades after an unspecified apocalyptic event, the remnants of humanity live the majority of their waking life submerged in the virtual reality simulator, Infinisynth. However, a young woman, Judy (Marts Martin), rejects the digitally fabricated existence and rebels, resulting in her banishment to the wastelands far beyond her home where she discovers the true horrors left by the global cataclysm.
I honestly wasn't expecting much for Mindwarp, but it's surprisingly decent for a stock-standard entry into the popular sub-genre. With a budget estimated at $1 million, the film takes place over three locations which are utilised well in giving a fairly broad scope and scale of the shattered world. Most of the action is literally underground inside a hellish catacomb, where sub-human villains reside along with other outcasts like Judy. Bruce Campbell co-stars as an above-ground scavenger, Stover, who saves Judy from a horrifying fate, but both eventually end up in the subterranean realm where they're forced into a makeshift society, led by the masked leader, Seer (Angus Scrimm).
Mindwarp borrows bits and pieces from many previous genre classics. I was getting a real Cannon Films vibe, particularly the Jean-Claude Van Damme vehicle, Cyborg, with many of the props and set pies made up of everyday objects and appliances. Bruce Campbell had me thinking of the 'Sand People' from Star Wars and the film's gore, blood spatter and level of creativity had a Roger Corman-esque style about it, Galaxy of Terror to be specific.
Performances for the central cast fit their characters with Marta Martin portraying a satisfactory strong female lead, while Angus Scrimm embodies the sinister and imposing ''Tall Man' persona from Phantasm, but with much more dialogue. Bruce Campbell is quite subdued compared to the cartoonish 'Ash' in the Evil Dead series, but he has moments of "badassery" and is a solid second-tier protagonist next to Judy.
Mindwarp comes to Blu-ray via a standard 1080p presentation in its original aspect ratio of 1.85:1 and its very solid transfer with a good amount of grain that gives the picture texture. Colour is very strong and saturated in the right places to enhance the science-fiction aesthetic along with all the blood spurting horror. The LPCM 2.0 track has a nice resonating quality with robust volume and decent clarity despite the sound effects and music being one of the most telling signs of the film's low budget.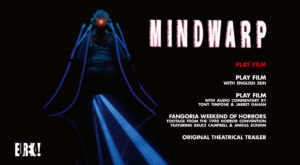 SPECIAL FEATURES
Limited Edition O-Card slipcase (2000 Copies)
Brand new feature-length audio interview with Tony Timpone, former longtime editor of Fangoria Magazine
Fangoria's Weekend of Horrors 1990 – footage from the horror convention, with Bruce Campbell and Angus Scrimm in attendance after recently filming Mindwarp
Reversible sleeve artwork featuring original poster artwork for both the original US release and the international "Brain Slasher" artwork
Limited Edition collector's booklet featuring a new essay by film scholar and author Craig Ian Mann; and a reprinted article from Fangoria sister publication, Gorezone (2000 copies)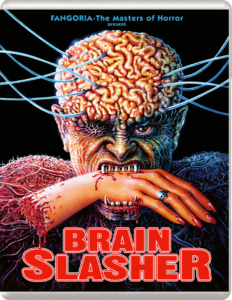 Apart from the tangible bonuses, like the slipcase, booklet and reversible artwork, there's not a lot on the disc. However, there are over 60 minutes of Fangoria's Weekend of Horrors 1990, which is rare glimpse at the early days of horror conventions with Campbell making mention of Army of Darkness ahead of its production and release. Tony Timpone's interview is conducted by Jarret Gahan which also serves partly a commentary on the films, but what's most interesting is learning about the origins of Fangoria Magazine.
Mindwarp offers an interesting and thought-provoking notion of virtual reality all but replacing real-world living, which has some relevance to many places that are still subject to prolonged social isolation. Would a program like Infinisynth help fill the void until normality returns or would it do more harm than good?
MINDWARP
(1992, director: Steve Barnett)
★★★½
direct blu-ray screen captures
You can follow cinematic randomness on Twitter and Facebook where you'll find all my cinematic exploits. Thank you for visiting!