I cross my fingers each month hoping for some obscure 70s classics from Eureka Entertainment and this month they delivered with not one, but two Native American themed titles as a 'Horror Double Feature' Blu-ray release of Nightwing and Shadow of the Hawk; two films that revolve around tribal traditions, spiritual practices and the natural environment.
Nightwing offers the rather simple premise of killer Vampire bats plaguing an Indian reservation in New Mexico where deputy, Youngman Duran (Nick Mancuso) is at odds with the Tribal Council chairman, Walker Chee (Stephen Macht), who wants to bring the oil industry to the sacred land. There's an interesting duality at play throughout the plot with the disease-carrying bats being used in the geopolitics of the region by Chee, while their attacks on livestock and people are pure 'creature feature' horror. I like that approach and it certainly gives the film more substance, in addition to some social commentary on Native American opposition to outside involvement and influence. You could argue that Chee is the film's villain, but his desire to help his people through the lucrative avenue of oil-extraction seems genuine even though I'm sure greed is also a motivating factor. Duran is a strong put upon hero, while he deals with the menacing bats and ominous messages from the spiritual realm. Although, David Warner as British scientist Philip Payne is the astute counter force to the winged killers. He delivers a very chilling monologue about his purpose and mission that only an actor of his calibre could pull off; there's even a subtle hint of a personal vendetta. Kathryn Harrold as Duran's girlfriend, Anne, is a very capable supporting character while Strother Martin, who looks worse for wear, makes a noted appearance as a colourful 'Anglo' shopkeeper. Apart from discarding Walker Chee's subplot towards the end for the sake of horror, Nightwing is a perfect three-star movie.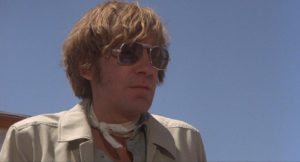 Now it's time to Michael down your Vincents, because Shadow of the Hawk, starring Jan-Michael Vincent, is a total trip as we follow city-dweller, Mike (Vincent), who embarks on a journey with his Native American grandfather (Chief Dan George); an elderly shaman stalked by people or spirits unknown through the wilderness. I had this pegged as the better of he the two, based on the IMDB rating and core idea, but unfortunately, it's kind of a mess where things just seem to happen and on top of that, it's strangely slow for a 90-minute movie. With nothing clearly defined, I found it hard to get behind the character's plight and there's no real face to the evil. Apart from apparitions and incarnations, the whole experience comes across as more strange than entertaining. There is a message about learning one's heritage to 'carry the fire' for future generations, which is important in light of eroding cultures among Native Americans and the natural setting is very picturesque, giving the film some authentic atmosphere. Jan-Michael Vincent isn't at his best, although he does seem very out of sorts, as does co-star Marilyn Hassett as reporter, Maureen, who's along for the ride. Their performances inadvertently work in well with the film's surreal and mind-bending nature. Chief Dan George has a lot of natural presence and it never seems like he's acting and to his credit, the film would be quite empty without him.
Despite not being sourced from a 2K or 4K scan, these standard 1080p presentations in 1.85:1 both look impressive with Nightwing just edging out ahead of Shadow of the Hawk in terms of the overall transfer, which has consistent texture, colour and sharpness. Whereas Shadow of the Hawk has more or less the same aesthetic, suffers from a lot of digital noise during many of the outdoor scenes, especially while in the shade of Washington State's forestry region. LPCM 2.0 tracks serve as adequate audio which picks up a lot of detail but is a little low in volume. English SDH are included.
SPECIAL FEATURES
Card slipcase featuring new artwork by Darren Wheeling
Nightwing – Brand new audio commentary by film historians Lee Gambin and Amanda Reyes
Shadow of the Hawk – Brand new audio commentary with film writer Mike McPadden and Ben Reiser
Oil and the Geo-Politics of Blood – Audio essay by John Edgar Browning
Trailers
Limited Edition Collector's Booklet featuring essays by film historian Lee Gambin and film scholar and author Craig Ian Mann (2000 copies)
I wasn't expecting much in the way of bonus material, but the audio supplements for both films really bring a lot in regard to trivia and in-depth analysis along with social commentary. Lee Gambin and Amana Reyes examine the cultural and social elements of Nightwing, primarily the conflict between traditional Native American practices and the encroaching modern world. Both historians share their mutual love for the film, which keeps their commentary fairly light, and knowing they're genuine fans is, in a way, comforting.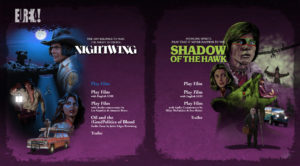 Mike McPadden and Ben Reiser who are from the podcast, 70 Movies We Saw in the 70s, give very enthusiastic commentary loaded with trivia and appreciation for both films as they spout off names and film titles like a Gatling Gun, which will give you plenty to seek out once you're done listening.
Oil and the Geo-Politics of Blood is very intellectual but doesn't have that easy-listening quality like the commentaries mentioned above. I think it would be best presented on paper as hearing while the movie is playing tends to be a bit distracting.
Darren Wheeling's artworks are really eye-catching and its specific colour pallet not only gives off a strong Native American vibe but has a real night-owl and late-night B-movie quality that really speaks to fans.
Nightwing & Shadow of the Hawk is a good paring, two movies that are bound by Native American mystique and legend. Presented in a quality Blu-ray release that really champions the common themes, this release is going to be a hard one to pass up for horror fans and collectors alike.
NIGHTWING & SHADOW OF THE HAWK
(1979 & 1976, director: Arthur Hiller & George McCowan)
★★★½
direct blu-ray screen captures
You can follow cinematic randomness on Twitter and Facebook where you'll find all my cinematic exploits. Thank you for visiting!