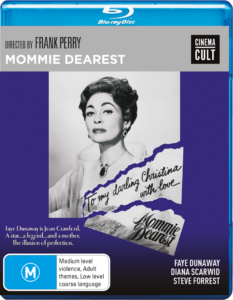 Arriving in time for its 40th anniversary, Mommie Dearest, the outrageous and controversial biography-drama has debuted on Blu-ray in Australia under Shock Entertainment's dedicated sub-label, Cinema Cult.
Adapted from Christina Crawford's autobiography of the same name, this well-known and very quotable classic centres around Hollywood icon, Joan Crawford and her struggles with being a mother while unwilling to face the reality of her unwanted role as a fading actress. With each career setback compounded by the strain of being a single parent, her already manic personality worsens, quickening her descent into alcoholism. All of which her young daughter must endure.
Up until finally seeing Mommie Dearest, I personally don't recall ever hearing a positive word said in its favour. Famously lambasted over the course of several decades and all but disowned by actress Faye Dunaway, whose performance as Crawford is one of legend, the film is polarizing, to say the least. Compared to other Hollywood biopics, Mommie Dearest doesn't differ all that much in terms of narrative a presentation, but it's the film's 'extra' quality, to use the more urban definition, that makes it exceptionally memorable. Lavish sets and costumes, mostly Dunaway's wardrobe, help transport the viewer back to Hollywood's 'Golden Era', despite there being few locations visited throughout the film. The fashion, in particular, that's exhibited by our lead star lends itself to the exaggerated tone of this tormented story, which often strikes a note of frightening realism. Dunaway's portrayal of Crawford is completely unrestrained with bursts of devastating rage, levelled at her daughter during a number of painful scenes. Much of the film's criticism comes from this aspect, which I don't have an issue with. We often remember things to be far worse than they actually were, and not to discount Christina Crawford's story, I think much of the performance from Dunaway stems from that notion of traumatic memories. Furthermore, to give credence to the personality that's portrayed, I've been around people who were prone to moments of rage that well exceed what the situation called for. I think Mommie Dearest is honest in what it's presenting, despite moments of melodrama campiness, which again come from the production's heightened style and sensibility.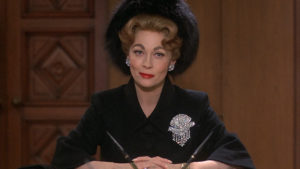 VIDEO AND AUDIO
Presented in 1.85:1, this region B encoded disc comes ported from a first-generation Blu-ray, the image of which holds up well in comparison to modern HD renderings. There's a gentle amount of film grain, which gives the picture an almost matte-like texture and colours are vibrant in the appropriate places. Dolby 2.0 packs a lot of volume and clarity for a modest stereo track, which makes the film's many confrontation scenes all the more frightening.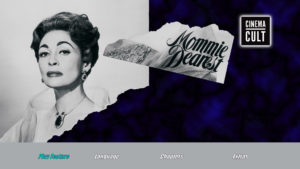 SPECIAL FEATURES
The Revival of Joan (14:13)
Life with Joan (13:43)
Joan Lives On (16:05)
Cinema Cult's release came literally weeks before Paramount announced an all-new edition for their 'Paramounts Presents' line. Admittedly, it's a little frustrating, but we are talking about two different physical media markets and Australian fans/collectors should not feel discouraged from this local release, which contains three very interesting and informative featurettes, amounting to roughly 44 minutes. Told mostly from the perspective of screenwriter Frank Yablans, the agony and the ecstasy of Joan Crawford is explored briefly before going into the film's production followed by its release in theatres. Faye Dunaway is unsurprisingly absent from the limited interviews with Diana Scarwid and Rutanya Alda who speak well of their co-star and film in general. Joan Lives On acknowledges the large LGBT following of Mommie Dearest featuring an interview with a noted drag queen whose act involves a very heightened portrayed of Joan Crawford, much like what we see in the film.
Diana Scarwid (Psycho III) deserves much credit for her role as the adult Christina, who is able to show courage and defiance in the face of an overbearing mother, and despite the years of heartache, the mutual love that was able to still exists between them, up until the very end, is really quite touching.
MOMMIE DEAREST
(1981, director: Frank Perry)
★★★½
direct blu-ray screen captures
You can follow cinematic randomness on Twitter and Facebook where you'll find all my cinematic exploits. Thank you for visiting!