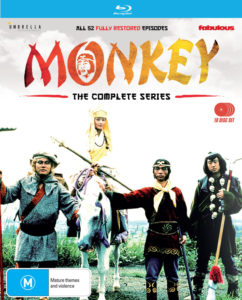 Synonymous with perfect vision and clarity, 2020 has been quite the opposite as a calendar year. With all that we've had to endure so far, appreciating the simple pleasures in life is more important than ever, be it a simple cup of coffee or a favourite TV show. If the latter is your jam and you happened to grow up during the 80s and 90s, specifically in Australia or Britain, then you probably already know that Monkey: The Complete Series has come to Blu-ray for the first time, over 15 years after its DVD debut. Released in Australia by Umbrella Entertainment, Monkey, or Monkey Magic as it's commonly referred to, is a cult Japanese produced TV series loosely based on a 16th-century Chinese legend and follows a pilgrimage to India lead by boy priest, Tripitaka, and his three disciples, the titular Monkey, a brash "stone monkey" king along with fish monster, Sandy, and pig monster, Pigsy.
There's really no comparing Monkey as its fantastical quality and mystic elements really made the show one of a kind, not to mention its very untethered style and tone the Japanese injected into the show; which at times often encroached on becoming quite stupid in retrospect. Layered out in a very episodic manner, each 45-minute adventure would see the pilgrims face numerous obstacles and situations, often involving a rogue demon of some variety; and like many shows of this nature, it taught the young audience a valuable lesson in morals and common decency all while echoing universal social themes. Monkey was my first lesson in androgyny, as spiritual leader Tripitaka was played by actress Masako Natsume, a piece of casting that had my head spinning as a child. She is, however, a very elegant presence as the pacifist Buddhist, who despite being far less animated as her often unruly disciples, anchors the trio from straying off the beaten path. Monkey is played by renowned Japanese entertainer, singer and actor Masaaki Sakai, who portrays the character as a rebellious child who is almost intolerable at times, but is easily humble and fundamentally good at heart thanks to his master's guidance. Sandy is more sensible and philosophical, much in line with Tripitaka's attitude while Pigsy is mostly the comic relief who adopts a sort of Benny Hill-type personality. Needless to say, they all have their merits, and as a collective, these characters were a joy to watch as a youngster and still are in fact, especially if you can cast your mind back to those simpler times.
With such a huge fantasy element at play, there's a fun use of special effects, which look very dated and were perhaps a little behind the eight-ball even at the time of the show's production. However, there are some moments where I feel the creators were 'taking the mickey' just a bit with some of the miniature work. The set design, however, remains impressive with authentic Chinese décor and costuming, and outdoor scenes show off a nice variety of landscapes such as Japan's very volcanic terrain.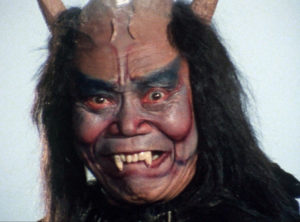 VIDEO AND AUDIO
Ported from the Fabulous Films release, which hit shelves the same day as Umbrella's, the high definition presentation of all 52 episodes is quite impressive, although they're not entirely HD from start to finish. Following the opening theme and credits, which look as they did when broadcast on television, the restored 4:3 image takes over and provides a welcome contrast against the very nostalgic opening. What's most noticeable is the improvement in colour that sits a nice medium level and really brings more life to the program. More details and textures can now be seen, and while levels of digital noise can be a little high at times, I can't imagine the picture looking any better. From a preservation stand-point, who Umbrella themselves have noted, this release is a tremendous achievement. Sound is satisfyingly loud in 2.0 DTS-HD, doing justice to the ridiculously catchy theme song, and generally provides a solid audible experience all round. English subtitles are not included.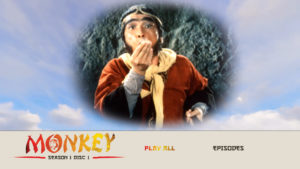 SPECIAL FEATURES
Script for Episode 26 – Season 2
Monkey Nuts: The 13 Lost Episodes (Easter Egg)
I won't deny that I'm a little disappointed by the lack of bonus material, but I'm not surprised either. Over the years I've found it difficult to find anything substantial online regarding the series, other than a few obscure interviews and some live performances of the theme song by band Godiego, which are incredible by the way. However, the script for the final, although non-conclusive episode in the series can be accessed via PC and is in PDF format. This is a quite old fashion to say the least; very reminiscent of the early days of DVD. Monkey Nuts: The 13 Lost Episodes was more than I expected which feature interviews with the English voice actors from 2004, who return to dub what were at the time, the 13 newly discovered episodes, that never aired in Britain, Australia and presumably other territories outside of Japan. It was great to put a face to voices I had heard so much during my childhood. As this 29-minute featurette is an "Easter Egg" I won't reveal where it is, but logic would suggest that it's not hard to find.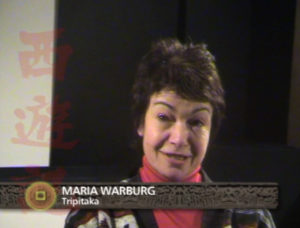 Physical presentation is identical to Fabulous Films' release but with the inclusion of Umbrella's signature emblem, and the box set is very nice in matching the aesthetic of the series. Seasons are separated by two cases, each with differing art and comes with a complete episode guide, which I really appreciated since my memory was a little hazy upon jumping back into the world of Monkey.
Monkey deserves a lot of credit for introducing not only a different culture to young audiences but alternative ways of thinking and the encouragement to ponder all facets of life and nature (helped along by a wise narrator who would bookend each episode). The End of the Way was the first episode I watched upon receiving this release from Umbrella Entertainment. I think it's the best in the entire series, as everything the show had been working towards came together perfectly and my emotional investment certain peaked the first time watched the eventful season finale.
MONKEY
(1978-1980, creator: Wu Cheng'en)
★★★★
direct blu-ray screen captures
You can follow cinematic randomness on Twitter and Facebook where you'll find all my cinematic exploits. Thank you for visiting!