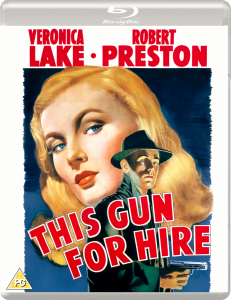 Out now on Blu-ray from Eureka Entertainment for the first time in the UK, This Gun for Hire, is a thrilling film-noir that marked the big-screen debut of Alan Ladd; in a role that immortalised the actor for a generation of filmgoers.
When assassin Philip Raven (Ladd) is paid in marked bills by a shady employer, following the completion of a rather brutal job, he become linked to a treasonous plot along with an innocent dazzling night club performer, Ellen Graham (Veronica Lake).
This Gun for Hire is built on the notion of chance, which allows for the convenience of bringing what is now considered very cliché character types together. What we get as an audience is a very romanticised story, one filled with danger, resulting in what is now looked upon as a quintessential film in the noir genre. Although, the one to watch is definitely Ladd who shows a great deal of depth as the seemingly cold-blooded hit-man, a true personification of the phrase, "violence begets violence." When he eventually crosses paths with the good-natured Ellen, Ladd's performance as Raven become more profound; lowering his guard while remaining the professional killer that he is. Thus a star is born. Veronica Lake, who herself was a rising star, shows tremendous strength for a character that could have easily been written as someone less flattering; and she was only 19-years-old at the time of production.
Produced during WWII when Japan was still very much on the offensive in the Pacific, the plot ties into the threat from enemies other than those on the frontline. Wealthy business types with no allegiances to their country; only to themselves and personal profit. Laird Creger as Raven's employer turned target, Willard Gates, represents these sentiments as the gloried middle man between a corporation and foreign spies. He delivers a slimy and buffoonish performance while being the centre of the film's real-world element.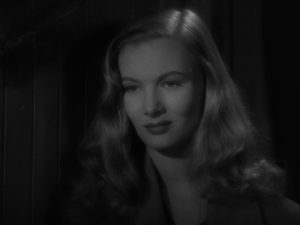 VIDEO AND AUDIO
Presented in 1080p from a 4K scan of the original film elements, the classic noir looks significantly better than what's been released previously with that signature glow found in many films of the 1940s. While there's not much I can add, the image is very clean, free of dirt, scratches and any visible damage with a nice textured look due to film grain. Uncompressed LPCM 2.0 gives an authentic audible experience with clear stereo sound that comes through well on modern devices, matching the picture in terms of quality.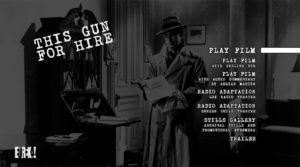 SPECIAL FEATURES
Audio commentary by film scholar Adrian Martin
"This Gun for Hire" episode of Lux Radio Theatre with the voices of Alan Ladd and Joan Blondell
"This Gun for Hire" episode of The Screen Guild Theatre with the voices of Alan Ladd and Veronica Lake
Theatrical trailer
A collector's booklet featuring new writing by film writer and journalist Barry Forshaw, and film writer Craig Ian Mann
Still Gallery
Eureka Entertainment has offered up a time capsule of sorts with two radio plays that run at 59 and 28 minutes respectively, and while the quality is less than desirable, they're a nice example of slices of Hollywood that were available to the public between trips to the local theatre. Adrian Martin's commentary is very academic as one would expect, but one full of valuable information about the film and its stars, in addition to the collector's booklet.
I quote Bruce Springsteen's timeless lyrics, "This gun's for hire, even if we're just dancin' in the dark." I feel this to be true of Ladd; not only as Philip Raven, but as a human being. His vale as an actor was recognised but was fundamentally a loner who endured personal struggles.
THIS GUN FOR HIRE
(1942, director: Frank Tuttle)
★★★★
direct blu-ray screen captures
You can follow cinematic randomness on Twitter and Facebook where you'll find all my cinematic exploits. Thank you for visiting!