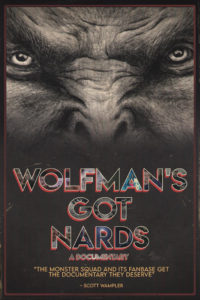 I've seen quite a few documentaries celebrating the love and appreciation towards specific films, which are among my favourite topics covered by the medium. Wolfman's Got Nards is rather unique as its director, André Gower, was the young star of the focused title; none other than Fred Dekker's The Monster Squad. Gower, who played lead protagonist, Sean, takes viewers on a journey through the fandom, and how the kid-centric horror classic went from a box office dud to a treasured favourite of those who were there from the beginning and a new generation.
I only saw The Monster Squad for the first time last year when it was finally given a DVD and Blu-ray release down here in Australia, and while I enjoyed the film, I have to admit that I'm a little perplexed by the almost unbridled praise the film receives. Most surprising was Gower's visit to a college film studies class, where a professor routinely shows the title to his impressionable students. Personally, I think The Monster Squad has a lot of merit as a fairly jovial horror/comedy, but I think it's flawed in regards to characterisation and tone. The latter of which may have been a factor regarding its production and theatrical release, a topic which is covered in-depth during the first half of this documentary. Interviews with the cast and crew give a very revealing insight into the movie's making-of process. Fred Dekker is very candid in particular, who, along with others, imply that the distribution company did not have faith in the picture. Some very corny marketing material that Gower and a fan uncover makes it quite evident that the studio's doubts regarding The Monster Squad hurt its chances of success right out of the gate.
On a brighter note, Wolfman's Got Nards presents a nice overarching narrative that rightly includes the film's success on home video and its re-discovery via regular TV airings. These avenues understandably created a sizeable young fan base, who, as adults, instigated an unprecedented resurgence of the film's popularity in the mid-2000s, which continues to this very day. Enthusiasts from all over the globe, and all walks of life, are given the spotlight throughout the documentary, each united by their own unique connection to The Monster Squad. The documentary works as a great example of a modern-day phenomenon occurring within fan culture, where many actors have since become ambassadors, much like how Heather Langenkamp has become the figurehead of the A Nightmare on Elm Street fan base. Gower, with his fellow co-stars Ryan Lambert (Rudy) and Ashley Bank (Phoebe) are seen mingling with fans at numerous events and conventions, including the Alamo Drafthouse Cinema, which is probably the most significant venue in this story.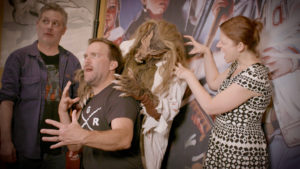 While not addressed directly, there's quite a statement about 'delayed fanfare'. It's great that we may love a movie now, but it's important to remember that working on an ultimately failed venture did cause a lot of disappointment and hardship for many involved. I cite Alex Proyas and Dark City as a prime example. Dekker is understandably harbouring mixed feelings, and frankly, who wouldn't if you were in his position. Nonetheless, the film is now serving its intended purse, so there's a silver lining for everyone who holds it dear.
I enjoyed Wolfman's Got Nards more than its subject matter as I suspected I would and is now available to the masses of self-proclaimed "Squad Members"; out from today on Blu-ray and VOD platforms in North America.
WOLFMAN'S GOT NARDS
(2018, director: André Gower)
★★★★
production still provided by 
You can follow cinematic randomness on Twitter and Facebook where you'll find all my cinematic exploits. Thank you for visiting!