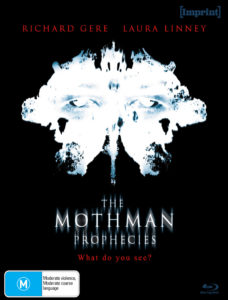 If there's anyone film the epitomizes the DVD era, or Dee Vee Dee as the 'trailer guy' would say, it's The Mothman Prophecies, a staple of early 2000s paranormal filmmaking that's resurfaced again in this HD world thanks to a new Blu-ray release from Imprint Films.
Following the tragic passing of his wife, a journalist for the Washington Post, John Klein, mysteriously winds up in a West Virginian town. Not long after his unexpected arrival, he begins to investigate a series of strange occurrences involving ominous entities that induce psychic visions upon those they visit.
Despite being moderately successful at the box office and receiving mixed reviews from critics, The Mothman Prophecies has slowly gained an audience over the past nineteen years. It's a fascinating picture that, while visually dominant, doesn't lean too heavily into the story's paranormal subject matter which is based on a real event that occurred in Point Pleasant, West Virginia during the late 1960s. Opting for a modern setting, the film is relatively faithful to eyewitness accounts and the catastrophic collapse of the town's bridge, which sadly took the lives of over 40 residents. Screenwriter Richard Hatem fashions a respectful narrative around the strange goings-on, which does take advantage of the growing interest in cryptids. However, the film is about half an hour too long, with numerous exposition detours that over-establish the film's paranormal intruder, slowing down the pace. Richard Gere, while a little flat, is believable able as a noted reporter and while this isn't the type of film normally associated with the popular leading man, his casting works. The actor's female co-star, Laura Linney is the film's MVP as a local police officer, Connie Mills, who conveys small-town charm and warmth while serving as a strong and capable supporting player. Will Patton is convincing as an off-kilter resident who's been touched by the "Mothman", albeit little cliché, a characterization flaw that also affects Alan Bates as the guy 'who has dealt with this all before', but has since escaped.
While the 1080p transfer from Sony is a little dated in regards to sharpness, the colours definitely don't suffer on the 2.40:1 image, which are vibrant in all the right places, and bring out all the visual references and hints of things to come, just like our foresighted cryptid. You'll be jamming to Half Light by Low thanks to the pumpin' DTS HD 5.1 track, which is about as loud and as immersive it can get. I think the film would feel very flat without it and the optional LPCM 2.0 track is also very serviceable.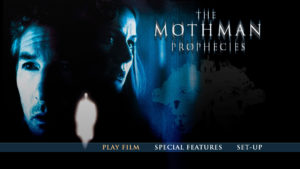 SPECIAL FEATURES
Audio Commentary by Director Mark Pellington
"NINETY-NINE WILL DIE: DIRECTING THE MOTHMAN PROPHECIES" – New interview with director Mark Pellington
"NOCTURNAL BUTTERFLY: EDITING THE MOTHMAN PROPHECIES" – New interview with editor Brian Berdan (2020)
"DON'T BE AFRAID: COMPOSING THE MOTHMAN PROPHECIES" – New interview with composers Tomandandy (2020)
"WHAT DO YOU SEE?: DESIGNING THE MOTHMAN PROPHECIES" – New interview with production designer Richard Hoover (2020)
Making of featurette
Half Light music video by Low
Search for the Mothman Documentary
Day By Day – A Director's Journey Pt 1: The Road In documentary
Day By Day – A Director's Journey Pt 2: The Road Home documentary
Theatrical trailer
English DTS HD 5.1 surround
English LPCM 2.0 Stereo
Optional English subtitles
Limited Edition slipcase on the first 1500 copies
Previously released under Via Vision in 2016, The Mothman Prophecies comes with a lengthy assortment of extras, many that have been ported over to this new Limited Edition which also contains four newly commissioned video interviews.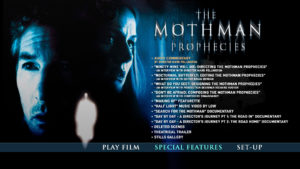 Search for the Mothman is very of its time in terms of paranormal documentaries made for television. While a little melodramatic, it's very interesting and paints a broad picture of the Mothman phenomenon, mainly focusing on the Point Pleasant incident. Much of the making-of featurettes, including Director's Journey, I believe date back to the original DVD release. We're given a very detailed look behind-the-scenes, and a technical breakdown of how the climatic bridge collapse was achieved. It's an impressive feat of miniature artistry and practical effects, considering how the early 2000s was very much the dawn of digital filmmaking (you only need to look at films like Attack of the Clones).
New interviews amount to roughly 60 minutes and give a retrospective view on the film, with Mark Pellington talking about his very 'outside the box' approach to visual storytelling accompanied by Tomandandy's (conjoined musical duo score), which plays on the unnerving sound design. I really like the 'now and then' blend of bonus material that Imprint seem to aim for and this Blu-ray release is one the best examples.
The Mothman Prophecies ends in spectacular fashion but remains a mystery and leaves the audience a little bewildered much like the residents of Point Pleasant decades ago. Neither this nor that, it's fundamentally a story about perception beyond normal human limits.
THE MOTHMAN PROPHECIES
(2002, director: Mark Pellington)
★★★★
Head over to the Imprint Films Facebook page for the latest releases, giveaways, great deals and more!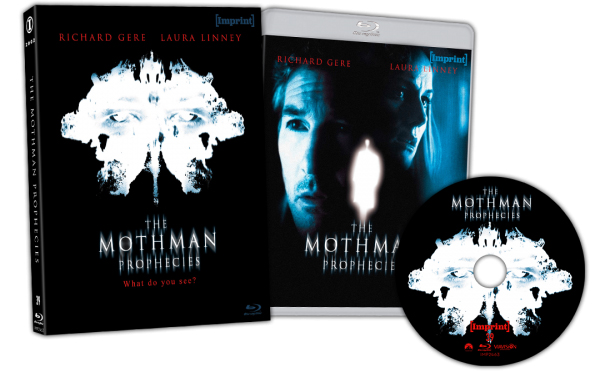 direct blu-ray screen captures
You can follow cinematic randomness on Twitter and Facebook where you'll find all my cinematic exploits. Thank you for visiting!