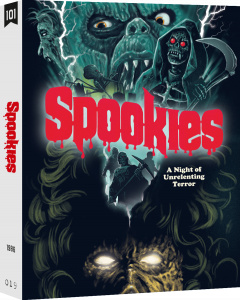 I think most of us who grew up during the 80s and 90s put a lot of stock into the over-embellished VHS covers that lined horror sections. While some learned their lesson quickly, I still to this day occasionally fall into the trap, with Spookies being the latest example; that's now available on a Limited Edition Blu-ray release from 101 Films.
When a group of assorted adults gather at a disused mansion out in the sticks for an impromptu party, they have no idea that a sorcerer, hiding in rooms unknown, intends on sacrificing them one-by-one to re-animate his young bride. Officially that's what the film is about, but the lack of establishment, context, and logic make Spookies an impromptu mess of could have easily been a relatively fun rehash of Sam Raimi's The Evil Dead. However, there's quite a story behind this 'old dark house' foul-up. Producer and financial backer, Michael Lee, took control of the production due to creative differences with the film's crew, who had a more cohesive plan and story for movie-goers. What began as Twisted Tales became Spookies, a haphazard edit of the hard work from Brendan Faulkner, Thomas Doran, and company.
Creatures and demons, however, make up a significant portion of Spookies, and come from some very active imaginations, but sadly they also suffer from poor editing with their scenes. Although, we're talking about practical effects and animatronics, which are always great to see come alive in 80 horror movies. One sequence, in particular, takes a far more literal approach to the Oscar-winning title, Kiss of the Spider Woman, which I think could potentially reignite anyone's arachnophobia.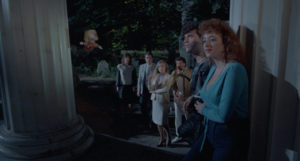 VIDEO AND AUDIO
Ironically, considerable expense has gone into this high-definition presentation of Spookies; a transfer sourced from Vinegar Syndrome, which looks great in terms of clarity and brightness. There's some digital noise and colours aren't as vibrant as I expected, but given the film has spent most of its life on VHS, this 1080p upgrade in 1.85: widescreen is night and day with its original release. Stereo PCM gives the otherwise flat story some dimension with robust volume and nice surround sensation, which suits the indoor setting very well. English HOH subtitles are included and the two discs are region B encoded.
SPECIAL FEATURES
New audio commentary with FrightFest's Paul McEvoy and filmmaker Sean Hogan
Limited edition booklet: Includes A Twisted History: Vipco, VHS and Spookies by Scott Harrison and Your Future Belongs to Us: Reaganite Terrors in Spookies by Liam Hathaway
Twisted Tale – The Unmaking of Spookies – a feature-length making-of documentary, including a commentary track with documentary co-directors Michael Gingold & Glen Baisley and extensive deleted scenes
VIPCO: The Untold Story, a brand new, extended version of the feature length documentary on much-loved UK film distributor VIPCO
2015 Alamo Drafthouse screening introductions with Spookies director Thomas Doran and co-writer/producer Frank M. Farel
Archival locations featurette with actor Peter Iasillo
Outtakes and bloopers
Behind the scenes still gallery
Theatrical trailer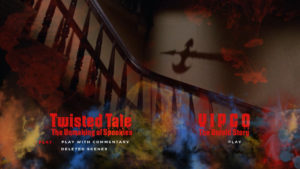 On its own, Spookies probably wouldn't be very enticing to most, but 101 has seen fit to prop up the disadvantaged horror classic with an abundance of bonus material, that ranges from fan appreciation to an in-depth account as to what went on behind-the-scenes. Twisted Tale – The Unmaking of Spookies is a very one-sided documentary in which former cast a crew members talk about the creative compromise that occurred to satisfy the outrageous demands of an interfering producer and distributor. While production did sound like an up-hill battle, I don't think Twisted Tales would have become the film the original creators wanted even if it hadn't been re-assembled into Spookies. The project was likely doomed from the start.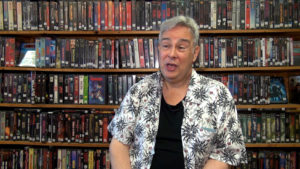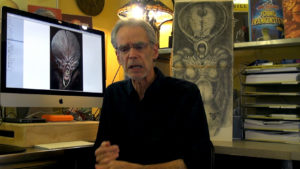 VIPCO: The Untold Story covers the history of the popular UK film distributor, which includes interviews with collectors and the company's founder, Mike Lee. Through his own admission, Lee's unlawful practices helped build Vipco during the home video boom, bringing the nastiest of horror titles into the living room much to the outrage of parent groups. I do recommend watching both documentaries to get a perspective from both sides.
I didn't get my hands on the Limited Edition booklet as I'm reviewing this release by screeners, but it no doubt adds to the collective history, knowledge and fan-fare that have been compiled for this 2-disc Blu-ray set that literally provides hours of entertaining bonus material.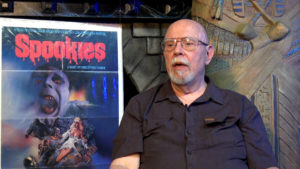 Spookies is best watched ironically and with a group of friends to embrace the film's nonsensical style and campy performances from its varied cast. At the risk of sounding melodramatic, the cult classic symbolizes the death of dreams for a rag-tag group of filmmakers, who had the misfortune of working under an individual who insisted they knew best. Nevertheless, 101 Films have released a fantastic Blu-ray that's selling fast, so you best get in while you can.
SPOOKIES   
(1986, director: Brendan Faulkner, Thomas Doran & Genie Joseph)
★★★½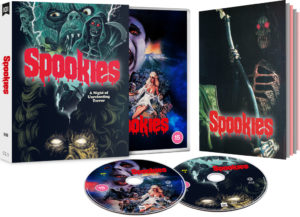 direct blu-ray screen captures
You can follow cinematic randomness on Twitter and Facebook where you'll find all my cinematic exploits. Thank you for visiting!