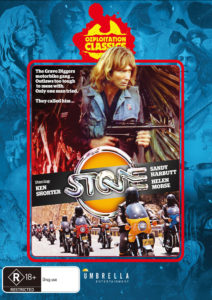 After years of releasing various Ozploitaion Classics, the well is far from dry as Umbrella Entertainment has recently restored and unleashed one of the genre's most seminal titles, Stone, under their re-branded sub-label.
Directed, produced, and co-written by Sandy Harbutt, this anti-establishment two-wheel journey follows an outlaw motorbike gang, the Grave Diggers, the target of a string of killings, after a member witnesses a political assassination. In an effort to catch who's responsible, a cop joins their ranks.
I wouldn't say Stone subverts expectations, but I'm sure most assumed, myself included, that we were in for just 90-odd minutes of bikers raising hell on the open road. In actuality, the film falls somewhere in between genres. The rather underdeveloped plot serves as a means to allow the title character of Stone, representing us, the audience, to experience and understand this alternate and rebellious lifestyle. While the biker community embraced Stone for its authenticity and spirit of brotherhood, some of the film's deeper themes such as social rejection due to involvement with the Vietnam war, are only lightly hinted at. In fact, it often feels like Harbutt is trying say something, but the film gets in its own way, distracted by the wild antics and endless freedom enjoyed by the gang. However, our "outlaw" characters, while uniquely larger than life, are far from villainous; they just abide by a different set of rules, similar to a wild west mentality. Ken Shorter as Stone doesn't have much ability as an actor, but the film's supporting cast let loose with the material, such as Mad Max alumni, Vincent Gill as the satanic Doctor Death, Roger Ward as Hooks, and the late Hugh Keays-Byrne as the spaced-out Toad. Harbutt is quite convincing as Gravedigger leader, Undertaker, while Helen Morse brings an attractive sense of style as Stone's other half, Amanda, in what's honestly a rather empty role.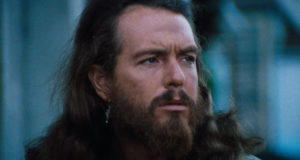 VIDEO AND AUDIO
Presented from a 4K scan of the original film elements, Stone has that signature Ozploitaion colour palette from Umbrella, with an emphasis on orange hues and high contrast. Greens are vibrant to the limits of human sight while the overall 1.85:1 image radiates the Australian summer heat. DTS-HD 2.0 provides a solid stereo mix with deep base that really reverberates when the film's soundtrack kicks in and dialogue is consistently loud throughout. English HOH subtitles are included, and the disc is region-free.
SPECIAL FEATURES
TARANTINO ON STONE interview featurette
THE MAKING OF STONE (1974) on-set featurette
DELETED SCENES from the original theatrical release
"STONE FOREVER" (1999) feature length documentary by filmmaker Richard Kuipers.
"NOT QUITE HOLLYWOOD" EXTENDED INTERVIEWS with writer/director/actor Sandy Harbutt, cast members Ken Shorter, Rebecca Gilling and Roger Ward, exec-producer David Hannay and editor Ian Barry.
MAKE-UP TESTS
STILLS GALLERY with commentary by Sandy Harbutt
ORIGINAL THEATRICAL TRAILER
Sandy Harbutt sadly passed away late last year at age 79, meaning he was unable to see the result of Umbrella's hard work in bringing his biker classic back in such spectacular fashion.
Much of the bonus content comes from Mark Hartley's epic expose on Ozploitation, Not Quite Hollywood, amounting to over 2 hours of interviews with the cast and crew members. Quentin Tarantino gives a very enthusiastic insight into Stone from an outside perspective, while sharing an anecdote about discovering the film. The Making of Stone is an interesting look at the picture's stunt work and contains some candid behind-the-scenes footage, while Stone Forever commemorates the film's 25th anniversary. It's a great little documentary that explores not only the cultural impact of Stone but how the film came to be, followed by its release in Australia and international markets, which sheds some light on why Harbutt's career stalled so abruptly.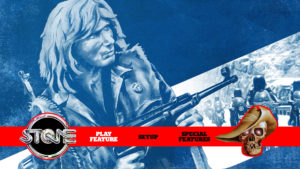 BONUS SOUNDTRACK
It's not often that a copy of the soundtrack is thrown in, but in the case of Stone, it only seems logical. I'm not great at describing music, but this Billy Green-produced disc has a very Australian hard rock edge with some tracks exhibiting a more experimental sound, which reflects the Grave Diggers' hectic and chaotic vibe. Tracklistings can be found inside the case with Sandy Harbutt's lyrics to Cosmic Flash.
Stone isn't a movie for everyone, but it was an undeniable hit at the time of its release. However, it was, unfortunately, the beginning and end of Harbutt's film career for reasons that remain unclear. Nevertheless, this Blu-ray release from Umbrella cements the film's legacy and popularity among its intended audience and Ozploitation aficionados alike.
STONE
(1974, director: Sandy Harbutt)
★★★★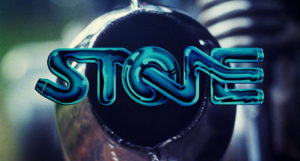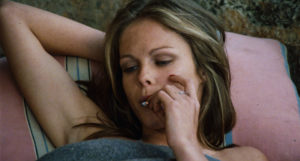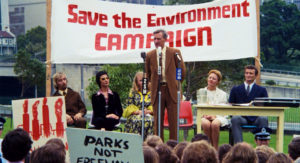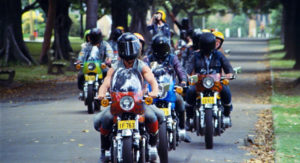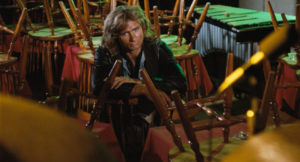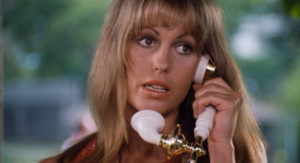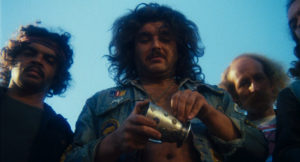 direct blu-ray screen captures
You can follow cinematic randomness on Twitter and Facebook where you'll find all my cinematic exploits. Thank you for visiting!