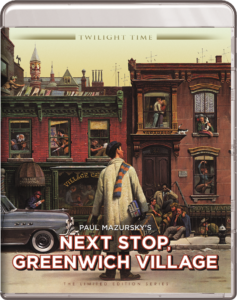 Watching films from the treasure-trove that was the 1970s is more or less the primary goal each year, a decade which began fifty years ago. Next Stop, Greenwich Village was a highlight of 2019's extensive line-up, Paul Mazursky's slice-of-life comedy/drama produced under 20th Century Fox that soon may be under lock and key. Thankfully, the 2018 Blu-ray release from Twilight Time Movies is still readily available for purchase online.
Set in 1953 New York City, apprising actor Larry Lapinsky moves out his parents' enclave home in Brooklyn to the Bohemian capital of Greenwich Village, where he and his tight-knit groups of fellow artists' experience life along with its many pitfalls.  If you want to dispel illusions regarding race, sexual orientation or practically any form of prejudice, visit a major city with a diverse population and simply observe the many walks of life. Next Stop, Greenwich Village celebrates individualism; people working, living and dying who are culturally liberated, juxtaposed to the conformation and idealistic attitudes that dominated the 1950s. Larry's journey is relatable to anyone who has just left home for the first time, fuelled by a newfound optimism only for the reality of personal independence to come crashing down. While he works packing bags at a small neighbourhood grocer, he envisions himself as the next Marlon Brando, often breaking into lengthy monologues between acting classes that prove to be rather intense. His relationship with girlfriend, Sarah, is often turbulent, but the two find common ground among their friends, which include the off-beat Connie; an African-American gay man, Bernstein; a self-involved and self-proclaimed poet, Robert; and the emotionally distraught Anita who spends most of her time contemplating suicide. When they're all together, this social conglomerate of outsiders engages in philosophical discussion, akin to young adults with the world at their feet. Lenny Baker, whose career unfortunately only spanned a single decade, is perfect as Larry, a performance that imitated the young actor's life, while a young and relatively unknown Christopher Walken stands out as Robert and is evident of the actor he would soon become. Other supporting players all shine in their respective roles, such as Ellen Green as girlfriend Sarah who embodies a very modern sensibility, whereas screen veteran Shelly Winters parades as Larry's overbearing mother Faye, a woman bound by family tradition.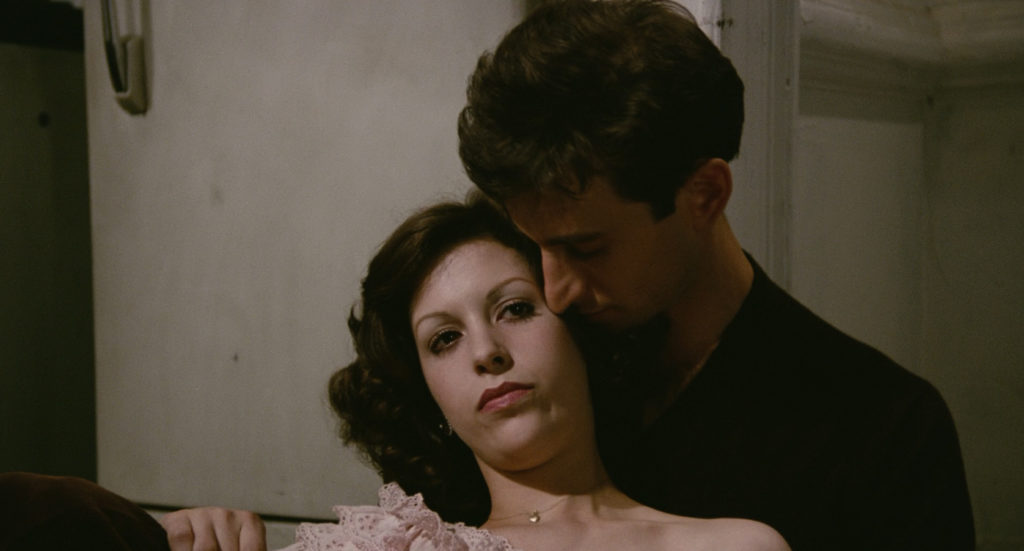 VIDEO AND AUDIO
While many labels strive to push their visual presentations to the limits of Blu-ray, I feel Twilight Time have made a conscious decision to stop short of perfection by giving the film an almost matte-like finish, resulting in one of their best discs. Sound is equally impressive with dual DTS-HD Master Audio tracks, 2.0 and 1.0 respectively, coming in clear and balanced with all the vibrant sounds of the titular location.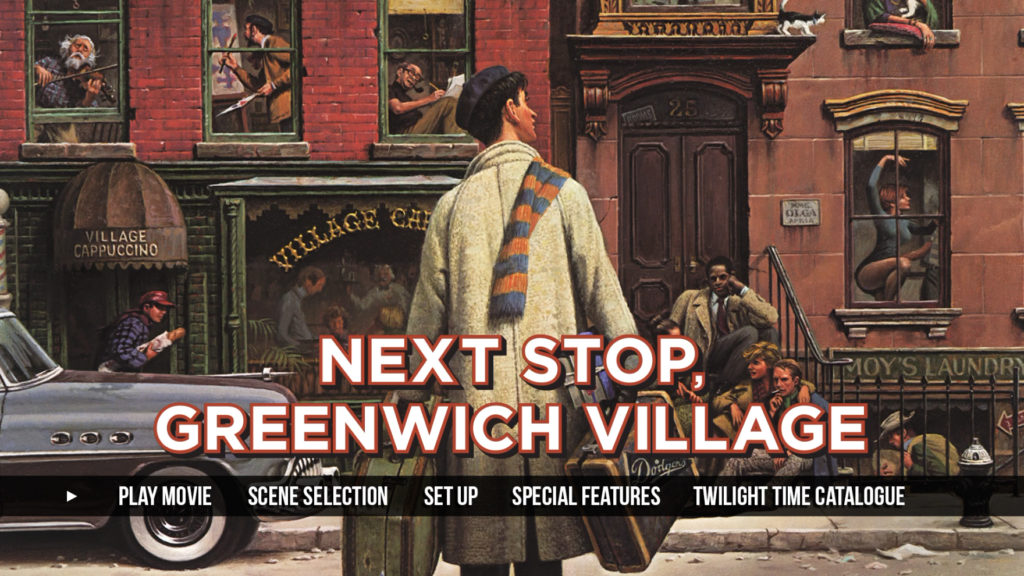 SPECIAL FEATURES
Isolated Music Track
Audio Commentary with Writer/Director Paul Mazursky and Actress Ellen Green
Original Theatrical Trailer
6 Page Booklet
Bill Conti's smooth jazz scoring adds a lot of value to the isolated music track, which doubles as some nice background music if you're too busy to sit down to watch the film, while the commentary from Paul Mazursky and Ellen Green sucks you right as they reflect on making the film with much fondness and joy. I really love the featured artwork that's been lifted from the original theatrical poster, which is very befitting to film and carries over well onto the actual disc. Plus, there's a nice illustration on the 6-page booklet that contains an essay from Julie Kirgo, which are always worth reading for the history behind the film and about those involved.
Next Stop, Greenwich Village may show how times have changed, but not so much people, whose search for identity and purpose remain universal throughout a complex social landscape.
NEXT STOP, GREENWICH VILLAGE
(1976, dir: Paul Mazursky)
★★★★½
direct blu-ray screen captures
You can follow cinematic randomness on Twitter and Facebook where you'll find all my cinematic exploits. Thank you for visiting!