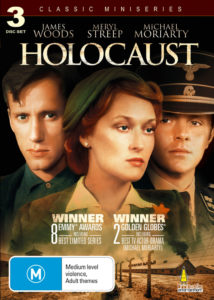 I was very lucky to have a social studies teacher who took the time to teach us about the Holocaust, which involved a viewing of Schindler's List. He made a point to drum into us the mindset and blind racism of Hitler's Third Reich, that lead to the most catastrophic failure of civilization ever witnessed.
While it's an event in history that remains difficult to comprehend, due to its sheer scale and design, the Holocaust has been presented on film and television in various forms many times over the years. However, it was the CBS produced five-part series, Holocaust, that ignited public debate in what was then West Germany, which resulted in a nation examining and coming to terms with its horrific past, as well as a push to educate its people, particularly the young, on the subject as a whole.
Umbrella Entertainment re-released their 3-disc DVD edition of the landmark series, which follows the fictional Weiss family through the escalating removal and imprisonment of the Jewish populations across Germany and greater Europe. Parallel to their story is that of a talented lawyer, Erik Dorf (Michael Moriarty), who out of the basic need for employment, joins the Nazi Party and is placed within the SS where he rapidly advances as an architect of social policy. With many characters, mostly within the Weiss family, numerous narratives or arches quickly branch off following son, Karl's (James Woods), marriage to German woman, Inga (Meryl Streep). When Karl is imprisoned for being Jewish, his family is torn apart, with his parents sent to the Warsaw Ghetto while his uncle, Moses (Sam Wanamaker) and younger brother, Rudi (Joseph Bottoms) try to undermine the Nazi's efforts.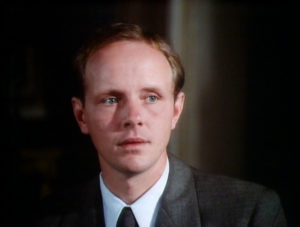 Spanning the course of seven years, Holocaust covers a lot of ground, despite moving fairly quickly. Not surprisingly, the series becomes increasingly depressing with each 90-minute episode with the dire circumstances that fall upon each member of the Weiss family. Then there is the horrifying juxtaposition of Erik's influence on the systematic extermination of Europeans Jews. Not only does he navigate "legalities" but actively contributes ideas to help initiate Hitler's Final Solution. Erik has the most screen time of any character, which one could easily argue as unnecessary, but it's possible the character was serving in some capacity, as an example of how many German men, who were otherwise morally sound, were brainwashed into becoming mass murderers. Michael Moriarty, who by his own admission suffered a mental breakdown from portraying Erick, won a Golden Globe for Best TV Actor-Drama, and to his credit he does embodies the brand of unprecedented evil the Nazis were known for. Holocaust didn't have the platform nor budget to show the true nature of those dark years, but it's nonetheless confronting. We the audience are literally placed outside the door of a gas chamber as female prisoners, both young and old succumb to the poisoned air, all while Nazi officials watch on in awe. It's the implication of violence, death and brutality, in addition to powerful dialogue that gives the series impact, not to mention exceptional performances from all involved. Family patriarch, Dr. Josef Weiss, played by Fritz Weaver really stands out as a character whose sense of compassion and dedication to one's profession never falters throughout his ordeal.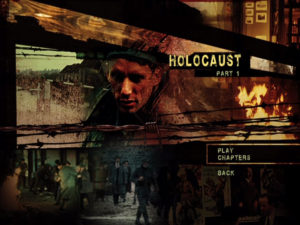 VIDEO AND AUDIO
Sourced from an SD video master, Umbrella first released Holocaust in 2008. Since then, the mini-series has been-given the HD treatment by Paramount who brought it to Blu-ray in 2019. It would have been nice if Umbrella took advantage of the new 1080p master, but with the physical media market being substantially smaller in Australia, a simple re-issue is obviously more viable. Nevertheless, the dated transfer does take you back to the days of tube television with the NTSC image presented in original 1.33:1 (4:3) with Dolby Digital 2.0 which has a subtle surround effect. Subtitles are not available.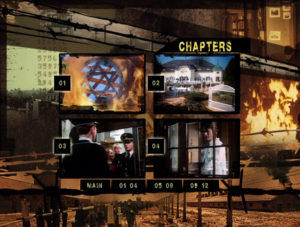 Holocaust achieved more than probably anyone could have predicted. Not only did it force people to reflect, but it even prompted individuals who were directly involved to confess their past crimes. While it may appear dated compared to today's very high standard of TV production, it remains a powerful and important story that must never be forgotten.
HOLOCAUST
(1978, director: Marvin J. Chomsky)
★★★★
direct dvd screen captures
You can follow cinematic randomness on Twitter and Facebook where you'll find all my cinematic exploits. Thank you for visiting!