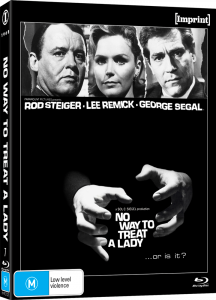 Since my last Imprint Films review, I was happy to see that The Carpetbaggers and Night Falls on Manhattan have sold out, which will hopefully prompt a second printing in the near future. No Way to Treat a Lady is one of three premium Blu-ray releases that remain, a classic black comedy based on William Goldman's novel of the same name. Starring the heavyweight actor Rod Steiger along with George Segal and Lee Remick; the plot surrounds a theatrical serial killer caught in a cat-and-mouse game with an under-valued New York City police detective.
Some movies inadvertently capture the vibe of the year in which it released. I've used The Teenage Mutant Ninja Turtles as an example in the past, which is 1990 in a nutshell, or 'half shell' if you like. No Way to Treat a Lady is 1968, with its light and playful mood akin to earlier points in the decade, but with a darker element and style creeping in. Midnight Cowboy came out the following year, a heartbreaking slice of reality for people living on society's fringe which is considered a 'before and after' moment in American cinema.
Rod Steiger as the film's crafty antagonist, Christopher Gill, is on eleven, in a performance that must have been exhausting. I had no idea he could be so versatile, let alone in a single role. You can tell the actor is "all in" with every personality that he puts on for each of his victims. Mostly, these grave encounters are played in a comedic fashion but when that inevitable moment comes, it's very counter to what we've been enjoying only moments earlier. Between the slaying, Detective Morris Brummel (George Segal), lives with his overbearing mother, who can't understand why a Jewish man would want to be a cop while constantly comparing him to his more financially successful brother. The matriarch is clearly a stereotype, a tired one at that, but Eileen Heckart plays the part in a very entertaining fashion. Segal is fantastic as Brummel as he balances comedy and drama with the same expertise as the more prominent Jack Lemmon. His preoccupation with romantic interest Kate Palmer, played by Lee Remick, serves more than being just a cliché sub-plot as the two have genuine chemistry and Remick is captivating as a very modern New York woman. Coming in at close to two hours, the very blended tone and the well-crafted plot make for some of the most enjoyable viewings you'll likely have while watching a serial killer at work; and the exchanges between Steiger and Segal offer a darkly comedic contrast.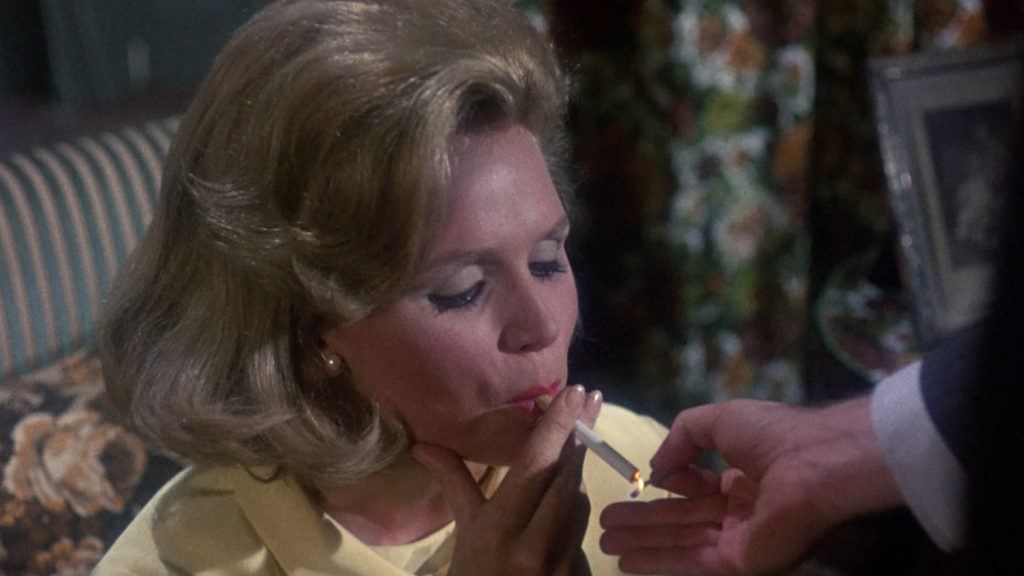 VIDEO AND AUDIO
I have to say that for a debut release, the HD upgrade of No Way to Treat a Lady is visually striking during in a number of scenes, although a full restoration would probably yield a more impressive result. Nevertheless, some colours really pop like Lee Remick's pink dress, which the screen captures I took from the disc don't reflect 100%, but still stand out. There's a lot of film grain present and a washed-out quality does tend to soften the 1.78:1 image during interior scenes, but outdoor sequences look great. Unfortunately, the sound is patchy at times via the LPCM 2.0 Stereo track. Despite being relatively clear, the audio is plagued with an audible hissing that seems to quickly dart in and out during brief intervals. It's not a distraction by any means, but it is noticeable. English subtitles included.
SPECIAL FEATURES
Exclusive Audio Commentary by Film Historian Kat Ellinger
Imprint Trailer
Limited Edition slipcase on the first 1000 copies
Sometimes a good commentary is all you need and Kat Ellinger, the editor of Diabolique Magazine, provides a track that's easy to listen to and one full of appreciation for the cast, such as George Segal who's at his best juggling the dramatic and comedic material. Imprint 'Limited Edition' slipcover is a nice contrast to the inside artwork, which boasts some vibrant greens and oranges. The sleeve's rear provides a nice backing image of Segal and Remick for the inside case.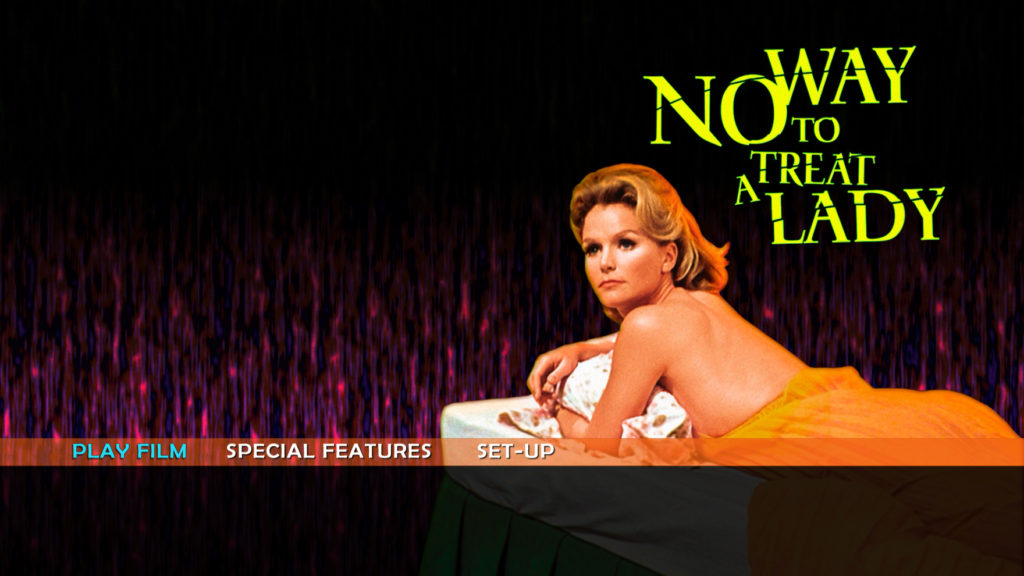 If you're a fan of this particular genre or just an avid collector of classic cinema, I would grab a copy of No Way to Treat a Lady ASAP as I can easily see this with a 'Sold Out' sticker over its packshot sooner rather than later.
NO WAY TO TREAT A LADY
(1968, director: Jack Smight)
★★★★
Head over to the Imprint Films Facebook page for the latest releases, giveaways, great deals and more!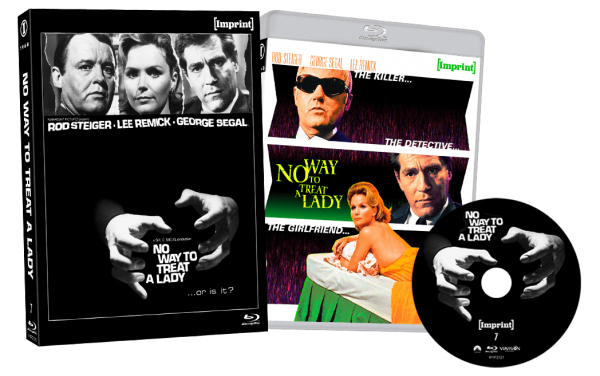 direct blu-ray screen captures
You can follow cinematic randomness on Twitter and Facebook where you'll find all my cinematic exploits. Thank you for visiting!