True Cult with Alex Boniwell is back, looking at a few New Releases on Blu-ray, DVD and Digital while regular presenter Rhianna Patrick, from ABC radio, is away. We've got a mysterious villain in a monkey mask, an action-packed classic from Robert Rodriquez and a quirky new comedy from New Zealand about wrestling.
I SEE YOU (2019)
Available on DVD & Nexflix from Rialto Distribution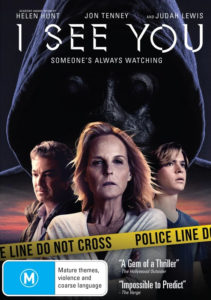 It's not very often that a film comes along that you want people to see but you can't really tell them anything about it as any real detail has the potential to have massive spoilers in it. Like when Se7en (1995) came out, you would only let friends in on the smallest details as to not spoil anything about the movie experience. I See You is the same. The story centres around the Harper family, Greg (Dad) played by Lon Tenney is a cop in a small town where strange things have started to happen, and kids have started to disappear, Jackie (Helen Hunt) – Mum – is trying to keep the family together after fling and Connor (Judah Lewis) – the son – is caught in the middle. So far, so basic, but I See You is just playing with you, the film isn't afraid to pull several cunning twists and turns even changing style just when you think you have a grip on why and where it is going. As a first time writer, actor Devon Gray has done an amazing job keeping you guessing and changing your alliances with several characters at various points during the film. Equal credit goes to director Adam Randal who wasn't afraid to chop and change styles to excellent effect to keep you on your toes. All the performances are great (especially Helen Hunt and Lon Tenney as the struggling husband and wife). This is one seriously great dark thriller, up there with the aforementioned Se7en. This is a film that if you've seen it you want other people to see it too so you can talk about it because if you've seen it you will want to talk about it, discuss the points where the film did A, B and C, and that you didn't expect D and when was the point where you worked it all out or didn't you? Brilliant film, see now.
I SEE YOU
(2019, director: Adam Randall)
★★★★½
DESPERADO (1995)
Available on Blu-ray & DVD from Shock Entertainment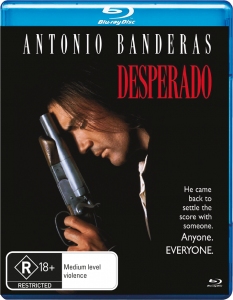 Robert Rodriquez's superbly OTT comic book style ultra-violent follow up to his debut low budget El Mariachi (1992) gets re-issued by Shock. Antonio Banderas is in fine form as the stupidly handsome El Mariachi on a revenge trip to kill drug lord Bucho (played with fantastic villainous gusto by Joaquim de Almedia). Of course, Bucho has a secret hideout and to find him El Mariachi has to ask around the scum pit bars that criminal gang members like to gather in. Enter Buscemi (Steve Buscemi) a storyteller who bigs up the legend of a fierce fighter looking for the boss man, just to get the bad guys worried so Bucho will show his face. The result? insane gunfights, explosions, blood, splatter, a million bullets, and many an unforgettable scene. Everyone is great in this (except Tarantino, he's quite dreadful, but he was never an actor) – Salma Hayek is kick-ass as the bookshop owner with a secret past Carolina, Cheech Marin is great as the sleazy, greasy Bartender and Danny Trejo is at his grimacing mute best as the knife-throwing assassin. Pace wise Desperado doesn't let up, the action, editing and storytelling are all gloriously amped up. Yes, it has some ridiculous moments (well, more than a few ridiculous moments) but that's what makes Desperado so much fun and one of the best 90's action films.
DESPERADO 
(1995, director: Robert Rodriquez)
★★★★
---
THE LEGEND OF BARON TO'A (2020)
Available on  DVD from Mad Man Films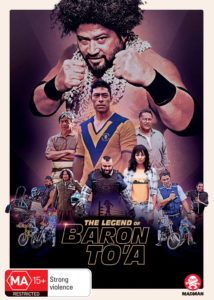 Growing up in your famous father's shadow can be a burden. This is how Fritz (Uli Latukef) feels about his late father, local wrestling legend Baron To'a (John Tui) who was the heart of the local Tongan community in the cul-de-sac they lived in, being both an inspiration and peacemaker for the area. Baron has now died and Fritz is wanting to sell the family home, but the neighbourhood has changed since he lived there, gone is the community spirit and in its place, there is a local gang – The Pig Hunters – whose fortified clubhouse is an ominous presence at the start of the street, and the police are corrupt and useless so when Baron's championship belt is stolen it's up to Fritz to get it back. Dealing with all levels of expectations – self, family, peers, – director Kiel McNaughton's film plays brilliantly with stereotypes and their subversions with some superbly placed jibes at said stereotypes, as Fritz not only tries to win back the belt but the heart of the cul-de-sac as he wrestles (physically and metaphysically) with how he wants to live his life. Some great action and some brilliant comedy make The Legend Of baron To'a one of the best films out of New Zealand this year.
THE LEGEND OF BARON TO'A 
(2020, director: Kiel McNaughton)
★★★★
reviews submitted and written by Alex Boniwell – for past episodes of True Cult visit Rhianna Patrick on ABC Radio