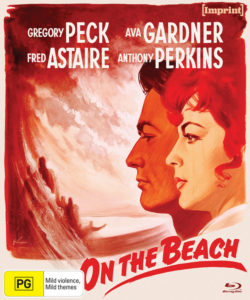 When Imprint dropped hints for their August batch, I was almost certain we were about to be treated to the Vincent Price classic, The Last Man on Earth, but the local label did one better with the "last people on earth", all of whom are coincidentally residing in Melbourne.
Stanley Kramer's big screen production of On the Beach depicts the final days of humankind following a nuclear exchange in the northern hemisphere where a cloud of radioactive poison is moving towards the last bastion of civilisation on the planet, Australia.
Gregory Peck stars as U.S submarine Commander Dwight Towers, presumably one of the last Americans along with his crew. Aboard the USS Swordfish, they sail into Melbourne having avoided the war, where they find life continuing relatively normally despite a pending doom that's slowly taking hold.
On the Beach has been on my radar, so to speak, for a while as I've long been a fan of the end of the world, fictionally speaking of course, and while I think it's about 30 minutes too long, the film's growing bleakness and idea that this is literally 'the end' is presented in a way that feels very sophisticated for late 50s Hollywood. I honestly can't think of a film from the era that went for the darkest of dark endings.
Much of the film centres around our two big stars, Gregory Peck and Ava Gardner, who share an awkward, but poignant romance. Gardner plays a Frankston local, Moira Davidson, a woman whose own reflection on life reveals much regret, but she accepts her fate nonetheless, all the while seeking warmth and companionship with Towers, who struggles to let go of the family which has more than likely perished. Peck and Gardner are clearly comfortable workings when ol' Greg joyfully wacks her ass with a sailboat oar while frolicking under the Aussie sun and its smiles all around. I feel any other actor would be marked for death if they improvised such an act.
Anthony Perkins as young Royal Australian Navy Lt. Peter Holmes, his wife Mary (Donna Anderson) and their 12-month-old child is a new family, but one with no future and faced with the unimagine when nuclear fallout arrives. The trio serve as a tragic contrast to their older counterparts and is an effective device in re-iterating that none will be spared. Lastly, Fred Astaire makes a very dramatic turn as a scientist, Julian Osborn, who represents the moral and philosophic element of this story and more importantly the futility of nuclear war, or the insane logic of mutually assured destruction.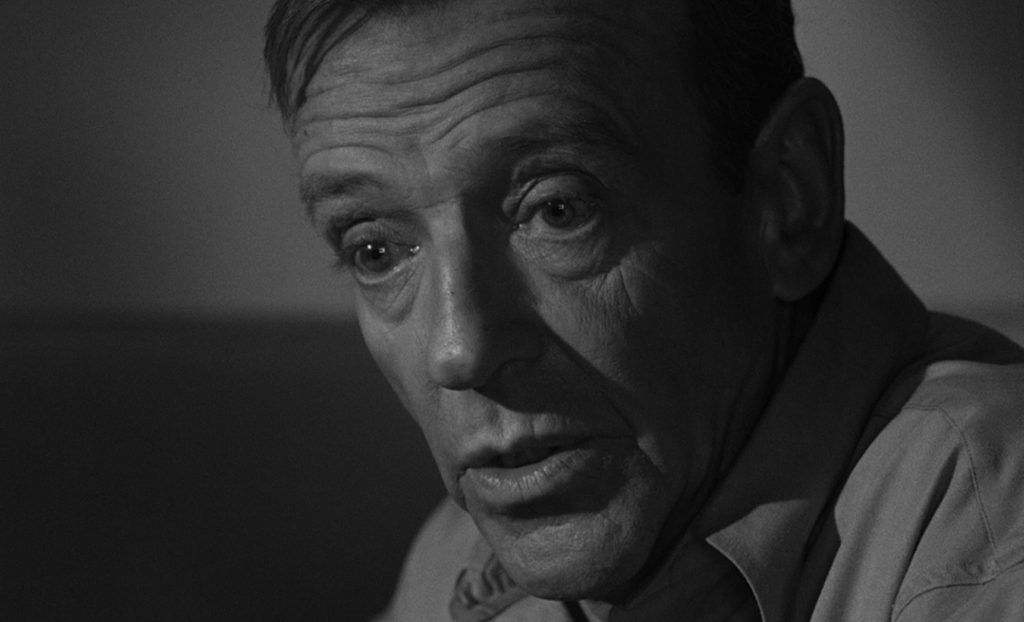 VIDEO AND AUDIO
MGM has come to the party supplying a fairly decent 1080p presentation in 1.66:1 widescreen, that, despite appearing a little washed in places, has a good texture and retains an aged look. Ernest Gold's sobering rendition of Waltzing Matilda elevates the film's emotional quality under a very well-mixed and balanced DTS HS 5.1 Surround track. It's most immersive while we're on board the USS Swordfish, whereas the optional LPCM 2.0 Stereo track offers rich uncompressed audio. English HOD subtitles are included.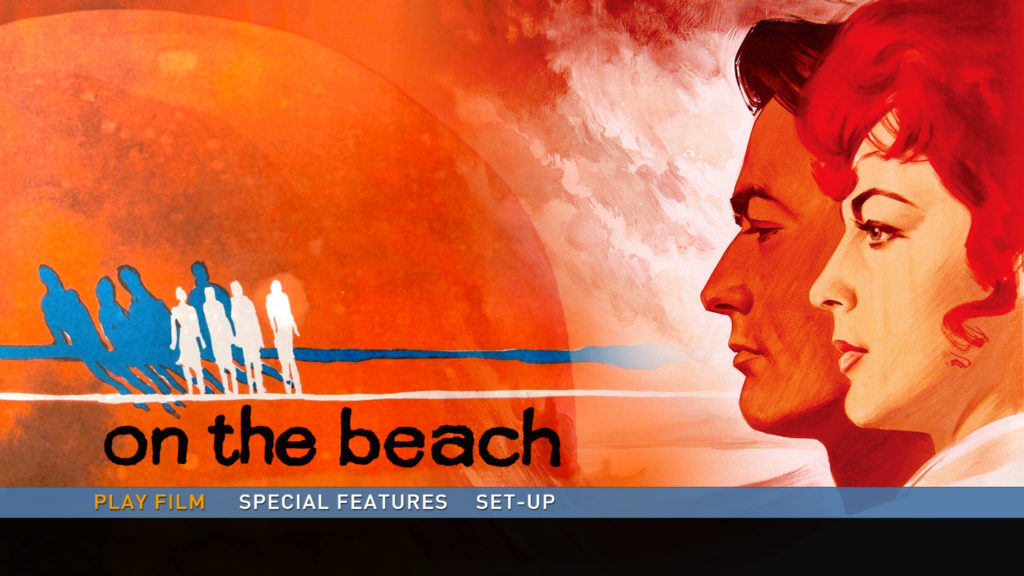 SPECIAL FEATURES
NEW Audio Commentary by film scholar Adrian Martin (2021)
Audio commentary written by On the Beach expert Dr. Philip Davey, read by actor Douglas Hansell (2015)
Archival audio interview with actor Gregory Peck by Lawrence Johnston (1997)
NEWLY Discovered Outtakes, Location Footage and Costume Test
Big Stars Arrive in Melbourne – Newsreel (1958)
Making On the Beach – 8mm amateur footage capturing location footage (1959)
NEW Kim Newman on apocalypse cinema (2022)
NEW No Safety Nets: Human Horror and On the Beach – video essay by Kat Ellinger (2022)
NEW Clothes to Die For: On the Beach Costumes of Ava Gardner – video essay from costume historian Elissa Rose (2022)
Theatrical Trailer and Original Radio Spots
Photo Galleries featuring Stanley Kramer's photo album (with optional descriptive text), Ava Gardner wardrobe tests, original film posters, lobby cards, stills and behind-the-scenes
On the Beach comes packaged in a gorgeous scarlet and cream-coloured hard-box which houses our main feature, its companion documentary, Fallout (2013), and a 60-page booklet. Bound together with durable glossy cardboard covers, the booklet is a photos-only affair and includes behind-the-scenes stills, wardrobe test shots, and a spread of the film's numerous posters, all printed on thick matte paper.
For those looking for an academic analysis of the film look no further than the special features on disc one which, for starters, includes two commentaries. Both commentaries are well-researched, and tonally quite similar, but they're worth a listen for fans who want the ultimate rundown of behind-the-scenes anecdotes and location details. The always reliable Kim Newman treats viewers to a 25-minute overview of apocalypse cinema, highlighting the differences between typical entries into the genre and On the Beach. Meanwhile, Kat Ellinger's video essay specifically focuses on our feature presentation and offers a deep dive into its poignant themes. Providing an upbeat change of pace, Elissa Rose's 15-minute video essay on Ava Gardner's wardrobe shows that there's more than meets the eye when it comes to costumes.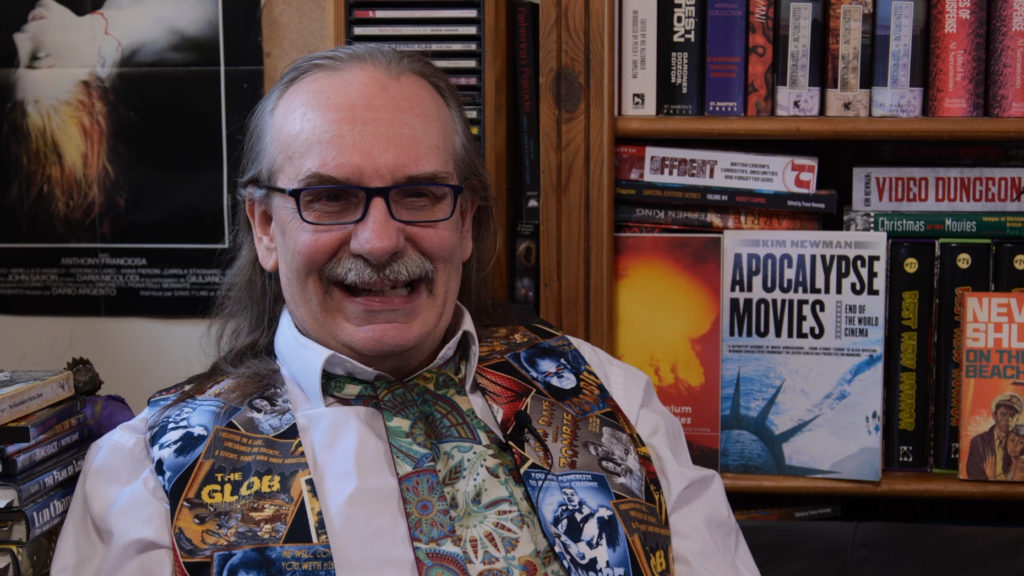 Perhaps the most notable supplement for this release is the 2013 documentary, Fallout, directed by the very dedicated On the Beach expert, Lawrence Johnson. More than simply a "making-of" featurette, this work is very obviously the product of a well-researched, decades-long academic project which comprehensively covers the life of author Nevil Shute, who penned On the Beach, and the historical events which influenced him, namely the atomic bombs dropped in Japan. The 90-minute runtime is packed with archival footage, photos, and interviews with subjects that complement its subject matter. – by Hannah Lynch
On the Beach is filled with great characterisations that carry a lot of weight, and even though the film does resemble a paperback romance at times, its message is clear and utterly depressing, as it should be. Shot on location in Melbourne and its surrounds, I loved seeing parts of my state's capital from decades past and it makes me feel a little proud that if the worst happened, Down Under is the place to be to see out the end of humanity, so as Lara Bingle once asked, "Where the bloody hell are you?"
On the Beach is selling fast, currently sitting at FORTY copies left in stock through the Imprint Films website.
ON THE BEACH   
(1959, director: Stanley Kramer)
★★★★
Head over to the Imprint Films Facebook page for the latest releases, giveaways, great deals and more!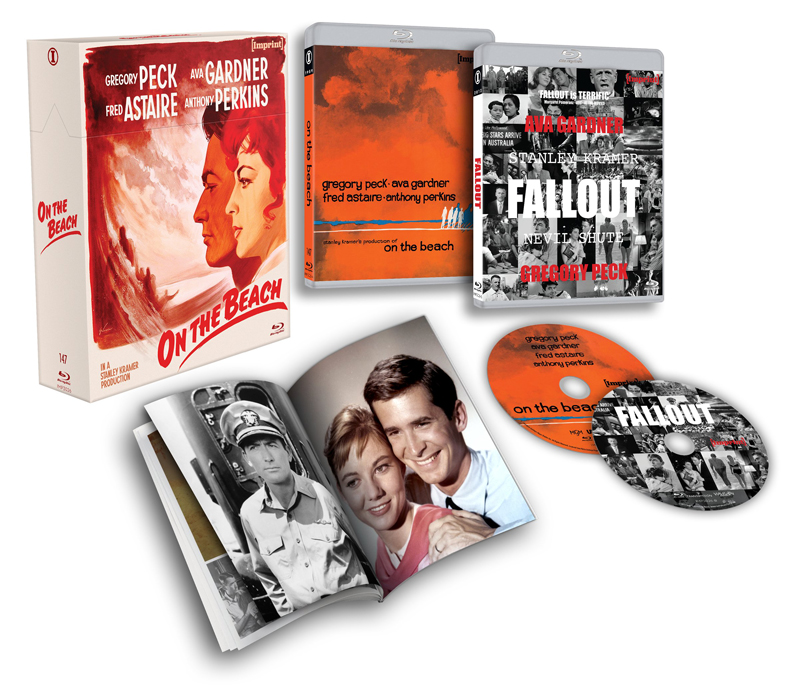 direct blu-ray screen captures
You can follow cinematic randomness on Twitter and Facebook where you'll find all my cinematic exploits. Thank you for visiting!