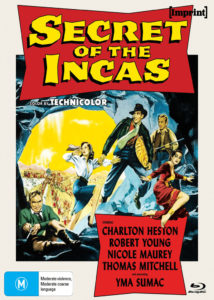 Imprint Films released The Naked Jungle in December last year, which has since sold out and was one of two films Charlton Heston made in 1954, the second being, Secret of the Incas, available now from the boutique label as of August 31st.
Five years before he became bigger than Ben-Hur, Heston portrayed would-be adventurer, Harry Steele, who spends most of his downtime at the service of tourists, in more ways than one, in the Peruvian city of Cusco. The arrival of Elena Antonescu (Nicole Maurey), a Romanian refugee struggling to find safe passage into America, finally sets our hero on a path to make his fortune. Steele utilises the young woman's desperation for a flight north as a means of searching for a sought-after golden jewel-encrusted Sunburst, an ancient Inca treasure.
Secret of the Incas is light on adventure despite what the poster suggests, with a solid chunk of the film depicting a somewhat bored protagonist hanging around the city's central hotel, awaiting some action, so to speak. Interestingly, there's a subtle implication that Steele may work as a casual gigolo for female tourists, which is surprisingly risqué for a film of its nature. Harrison Ford's look and bemused demeanour as Indiana Jones clearly come inspired by our hero's attire and attitude, although viewers should not be expecting this motion picture to be Raiders of the Lost Ark.
Our protagonist is not without an adversary, who in this case is his dubious associate, Ed Morgan (Thomas Mitchell), with his own plan to snatch the prized treasure for himself. The film picks up when our featured trio reach Machu Picchu, which is shot on location too, I might add. While not allowing for much in the way of gunplay, the setting serves as a cultural showcase, which may not be 100% accurate knowing Hollywood, but I feel there's an attempt to enlighten less-travelled viewers on this very specific part of the world. Detailed interior sets aid the film as Steele goes about his search, and blend in quite well with the actual location.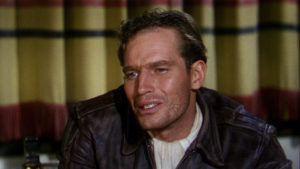 VIDEO AND AUDIO
Paramount Pictures has supplied a 1080p presentation that's unfortunately very poor. Colours, while vibrant, often bleed and the 1.78:1 image for the most part appears out of focus as if the film negative was scanned in correctly. While it technically meets the specs of what defines high-definition it's basically an upscale of a sub-par master. The disc's single LPCM 2.0 Mono track is naturally basic but loud in volume. Dialogue is mostly clear, whereas much of the film's music sounds muffled, which is a little distracting at first considering its significance. Optional English HOH subtitles are included.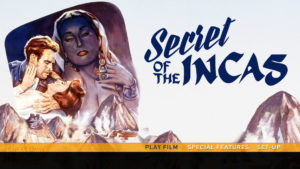 SPECIAL FEATURES
Imprint's debut English release of Secret of the Incas comes with an all-new commentary and video interview in addition to the Lux Radio Theatre presentation of its radio play. As very little in the movie is up to interpretation, Phillipa Berry's commentary mainly focuses on behind-the-scenes facts and anecdotes concerning its cast, crew, and historical basis. The film historian spends a generous amount of time discussing the career of "Incas" star Yma Sumac, which will no doubt prove educational to viewers who haven't heard of the overlooked Peruvian singer. While a short 10-minutes, Chris Poggiali's video interview is a highly informative overview of the many influences of Raiders of the Lost Ark (1981). Of course, the featurette specifically highlights the ties Secret of the Incas has to the '80s classic, but Poggiali makes sure to emphasize the differences between the two works as well.  – by Hannah Lynch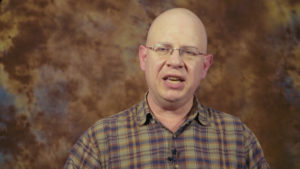 Secret of the Incas is a nice addition to Imprint's catalogue, given what the film would later inspire, which is no doubt enticing to enthusiasts, but this relatively modest release will lose points from collectors for its visual presentation. Although, it's important to note that blame should not be laid directly on Imprint.

SECRET OF THE INCAS   
(1954, Director: Jerry Hopper)
★★★ ½
Head over to the Imprint Films Facebook page for the latest releases, giveaways, great deals and more!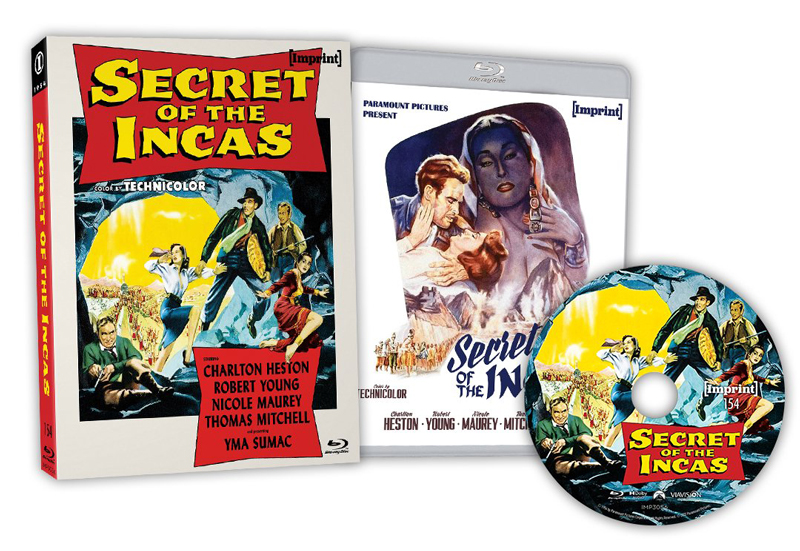 direct blu-ray screen captures
You can follow cinematic randomness on Twitter and Facebook where you'll find all my cinematic exploits. Thank you for visiting!