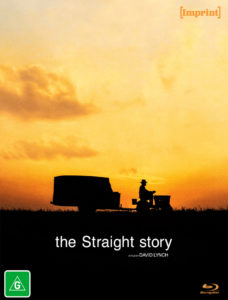 I first saw Richard Farnsworth in Misery as the seasoned small-town sheriff, Buster, a role that's since become regarded as one of actor's best and most enjoyable. Farnsworth worked as a Hollywood stuntman for thirty years before trying his hand at acting, a career change that would culminate with The Straight Story, before his passing in 2000.
Available now on Blu-ray in Australia from Imprint Films, the label's 61st release champions this lesser-known feature by David Lynch which is based on the real-life story of Alvin Straight, who at 73 years of age, travelled 240 miles on a ride-on mower from Iowa to Wisconsin to visit his ailing brother, Lyle. With such a simple premise, very few liberties, if any, are taken of account as the tranquil screen depiction is exactly as described, a plot that goes from A to B on the firm seat of an aging John Deere ride-on, which is remarkable in itself.
Farnsworth's performance as Alvin Straight comes as across as very genuine, especially knowing that he was suffering from terminal cancer. Much like the character who spends large portions of the journey in silent reflection upon his life, it must have been a bittersweet experience for the screen veteran, whose own life was coming to an end. Sissy Spacek has a memorable supporting role as Alvin's daughter, Rose, who is very convincing at playing someone with a mental handicap and speech impediment. The film never really draws attention to her condition, more so the subtle quirkiness that's shared by her fellow townsfolk and mid-west culture we get to experience throughout the film in several small, but affectionate scenes. We learn of the importance of being kind to people and taking the time to simply listen to what someone has to say.
With a David Lynch film, there's naturally a few oddities, but in the case of The Straight Story, there's nothing to wrap your head around; it's all right in front of you and shot beautifully by cinematographer Freddie Francis, who captures the rural splendour of the numerous counties crossed by Alvin.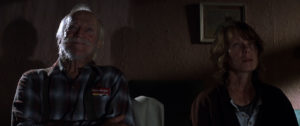 VIDEO AND AUDIO
Sourced from STUDIOCANAL, The Straight Story has been subject to a number of Blu-ray releases overseas, not including the United States, but Imprint Films bring their signature style that perfectly suites the film's rural aesthetic. Presented in 2.35:1 widescreen, the 1080p rendering is a little soft compared to modern HD restorations, but the colours of the American Midwest come through vibrantly. Optional audio tracks – DTS HD 5.1 and the uncompressed LPCM 2.0 Stereo mix are both crystal clear in quality and well balanced, so you don't have to jack up the volume to hear the dialogue. Angelo Badalamenti's laid-back score come through beautifully in surround sound.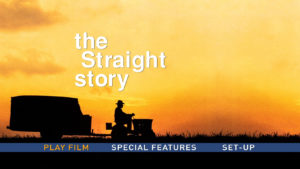 SPECIAL FEATURES
1080P High definition presentation from the restored 4k master
New Audio Commentary by Film Critic Peter Tonguette (2021)
New producer/editor featurette (2021)
New featurette on the score (2021)
New production design featurette (2021)
New Visual Essay by filmmaker, writer and programmer Ian Mantgani (2021)
English Dolby Digital 2.0 Surround / 5.1
Trailer
English subtitles
Limited Edition slipcase on the first 2000 copies with unique artwork.
Imprint's release of The Straight Story comes with all-new bonus content, and there's something for every type of viewer to enjoy. First up for the featurettes is a sit-down with two members of the film's location's department who share amusing anecdotes involving working with David Lynch and finding locations and props, such as the dead deer, in such a remote area of the U.S. In a movie where the setting plays such major a role, Mark and Bob, explain the significance of their job through their enthusiasm which remains infectious 23 years later.  The two following features are audio interviews which are played in conjunction with scenes from the film. First, David Lynch enthusiast and author John Thorne gives a general overview of the film's conception and making-of which is followed up by a discussion on the movie's score by music historian Daniel Schweiger. Both discussions are short and sweet but packed with insightful information.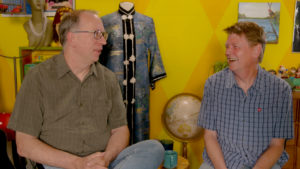 Finally, the featurettes round-off with a visual essay by film critic Ian Mantgani, which thankfully, is presented in audio rather than "text on the screen" format. Unlike the prior two featurettes, the aforementioned essay is more of an opinion piece that successfully attempts to tie in The Straight Story thematically with Lynch's other work. Whether you prefer interviews with those who worked on the film, fact-based overviews, or film analysis; this release has something for every type of movie fan.
Usually, with every batch of releases from boutique labels, there's always a couple that ends up overlooked by most collectors and general consumers. Unfortunately, I think The Straight Story is passing people by, but I urge you to seek out a copy, even if it is just to complete your David Lynch collection.
THE STRAIGHT STORY
(1999, dir: David Lynch)
★★★★
Head over to the Imprint Films Facebook page for the latest releases, giveaways, great deals and more!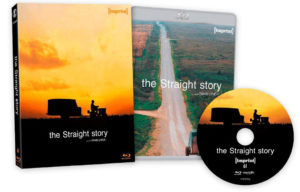 direct blu-ray screen captures
You can follow cinematic randomness on Twitter and Facebook where you'll find all my cinematic exploits. Thank you for visiting!