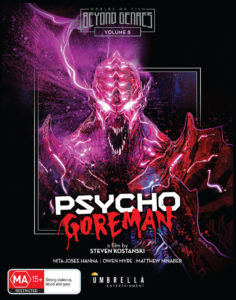 Umbrella Entertainment's popular Beyond Genre sub-label has primary been dedicated to cult classics, but Steven Kostanski's Psycho Goreman has proven to be a perfect fit due to its retro sentiments. Since its release in early March, the enticing Blu-ray edition has been in-demand, but now stocks have thankfully been replenished.
When an evil being is accidentally awoken, he becomes tethered to a young girl and her brother, forced to do their bidding instead of preferably destroying the universe. Psycho Goreman, or PG for short, is mainly played for laughs and indulges in the mythology of shows like the Power Rangers, fully embracing its violent side and going all out with carnage. Who didn't want to see Megazord cleave a monster in half or rip off its limbs? Goreman's design is a combination of previous creations seen in film and television, but the brilliance is that we'll all notice different similarities in it. I personally see hints of Coppola's Dracula, Goldar from the Power Rangers, and the predatory Creeper from Jeepers Creepers. Kostanski expands on the film's cosmic element by introducing the viewer to an array of other intergalactic individuals via a planetary council of sorts; each one very tangible and highly imaginative. Short but memorable visits to other worlds are made possible by the use of miniatures, adding to the film's retro quality and visual design. Special effects are equal parts practical and digital, and while the latter is noticeably low-budget, they're used with restraint and don't undermine the film's preferred hands-on method.
Unfortunately, the storytelling is where the film falters. While it moves at a steady pace, the creativity isn't there compared to the many alien characters and technical design. Humour from our human characters, particularly the film's young star, Mimi (Nita-Josee Hanna) also didn't really work for me. She'll either have you in hysterics or quietly drive you nuts, but I will say performances are enthusiastic and energetic nonetheless. Adam Brooks as the sibling's useless father, Greg, is basically Randy Marsh from South Park and that's a big positive. Psycho Goreman even adopts a similar off-the-wall approach to its silliness much like the aforementioned animated series, minus the cutting social satire.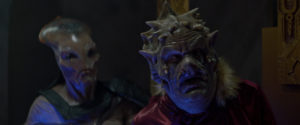 VIDEO AND AUDIO
There's really not much to critique here as we have a Blu-ray release from a very fresh film that was released only last year into the social abyss of 2020. If anything the 2.39:1 image was darker than I expected, but so is the tone, and perhaps it was an aesthetic choice. Colours, however, specifically the otherworldly variety, are very vibrant and stand out well against the more natural earth setting. PG's pinks and purples give off a nice emanating glow throughout the film, but it's the disc's 5.1 DTS-HD MA track that packs a massive acoustical punch, filling the room with a heavy base and an overall immersive sensation. English HDH subtitles are included and the release is labeled Region B.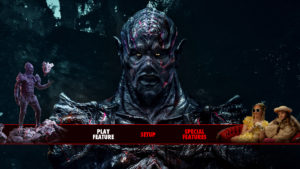 SPECIAL FEATURES
Audio commentary with Director Steven Kostanski
One On One: An Interview the Director of Psycho Goreman (14:40)
Psycho Goreman: Inside the Creature Shop (4:37)
Psycho Goreman Miniature Magic (2:58)
Kortex: A Konversation (5:48)
PG vs Pandora (3:29)
Filming The Paladin Fight (7:14)
Deleted Scene (1:38)
Theatrical Trailer
Bonus content only adds up to roughly 40 minutes but contains the type of behind-the-scenes footage we naturally want to see from a movie like Psycho Goreman, which are in-depth looks at practical effects and creature design. Steven Kostanski gives a good insight into his creative vision and what inspired him to make the film, while Inside the Creature Shop is a quick video montage that shows the dedicated attention to detail that went into the various creatures, or intergalactic killers, to be more specific. Miniature Magic takes an up-close look at the models that made up some of the harsh planetary worlds, which gives off some massive 80s sci-fi vibes, namely, Galaxy of Terror, Aliens and Enemy Mine. Kortex: A Konversation is an improvised monologue that's akin to the film's sense of humour, followed by the technical and physical breakdown of what went into shooting two of the film's confrontational scenes.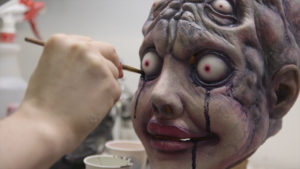 Psycho Goreman is not going to appeal to everyone. It's a product of a generation of youngsters, one which I was a part of, and I definitely applaud Kostanski for having the drive to put his wildly insane ideas on screen; he's furthering genre cinema outside the Hollywood system, and that's commendable. Umbrella's stylish and loaded Blu-ray edition is among one of their best in recent years and Simon Sherry's artwork is at its peak. Beyond Genres is a testament to the illustrator's talent.
PSYCHO GOREMAN  
(2020, director: Steven Kostanski)
★★★½
direct blu-ray screen captures
You can follow cinematic randomness on Twitter and Facebook where you'll find all my cinematic exploits. Thank you for visiting!