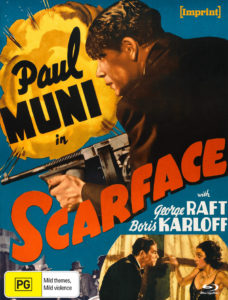 I had no idea Brian De Palma's Scarface was a remake until I saw some very suspect DVD copies of the original at Kmart, that were priced very modestly. Perfectly happy with Al Pacino's incarnation as the titular gangster, I never had the urge to watch the pre-code predecessor, until its April 28th release on Blu-ray from Imprint Films.
Loosely based on the bloody reign of Chicago mobster and bootlegger, Al Capone, aka Scarface, this rather summarised depiction follows ambitious button-man, Tony Camonte, who literally shoots his way to the top of organized crime, but is undone by his jealously and violent temper.
While this classic rise and fall story is not just confined to the criminal underworld, it's long been a popular narrative structure and one that's very true to life for individuals who reach the heights of success and wealth only to be their own undoing. Tony Comonte embodies the definitive gangster; a destructive and immoral servant of greed who will stop at nothing to have it all. He represents an erosion of society, largely brought on by Prohibition, and the film makes a great effort in telling the audience to hold the publicly elected government accountable for the widespread violence spilling onto the streets.
However, as a form of entertainment, Scarface is a whirlwind picture for its time and one that's watched primarily for Paul Muni's performance as the outrageous titular lead, who's perfectly off-set by his very reserved number two man, Rinaldo (George Raft). I was surprised to discover the 80s remake follows the same beats and basic plot, which involves Tony working for a weak boss, whose girl catches his eye, followed by a bloody power play for the top position. Surprisingly, the questionable relationship Tony has with his sister, Cesca (Ann Dvorak) even originates here and it's not subtle either, with Cesca almost calling out her brother on his behavior. Boris Karloff, an actor who I can't seem to escape, has a small role as a rival gang leader, Gaffney, and despite his street-lingo not quite gelling with his English accent, he's still memorable. At just over an hour and a half in runtime, Scarface tells its story very well with its dynamic cast of characters portrayed by talented performers. Furthermore, the picture is quite comical at times, but these humorous antics such as Tony's lack of class and education do not undercut the film's ferocity that usually comes via a wild spray of bullets.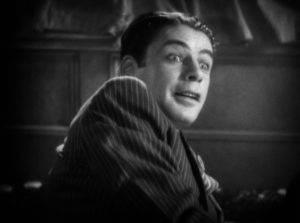 VIDEO AND AUDIO
Universal has provided the 1080p presentation, which apart from being noticeably soft, is a vast improvement over previous DVD editions, and the 1.33:1 image is very clean, exhibiting few signs of damage to the film. The disc's LPCM 2.0 Mono track is quite low in volume, but more or less clear and carried a decent amount of base for a film of its age. English HOH subtitles are included and the Blu-ray is region-free.
SPECIAL FEATURES
Audio Commentary with film historian Drew Casper on Theatrical Version (2020)
Video interview with film critic Matthew Sweet (2020)
Video Interview with screenwriter & film critic Tony Rayns (2020)
Theatrical Trailer
Original Theatrical Version of the film
Alternate Censored Version of the film
Introduction by TCM Classic Movies host and film historian Robert Osborne
Alternate Ending
English LPCM 2.0 Mono
Optional English subtitles
Limited Edition slipcase on the first 1500 copies
Imprint wasn't the first to bring Scarface to Blu-ray, but the Australian label brings a lot of prestige, plus exclusive bonus material to their Limited Edition release that's on par with the quality of their overseas counterparts. Naturally, the audio commentary and video interviews are from a historical perspective. Critic Matthew Sweet provides a light analysis of the film itself, talking at length about the themes present within, Paul Muni's performance and the characterization of Tony Camonte. By contrast, Tony Rayns talks about what went on behind the scenes with impressive detail while presenting a mini-biography on Howard Hawks', who we learn was quite the rogue filmmaker, never really attaching himself to any one studio.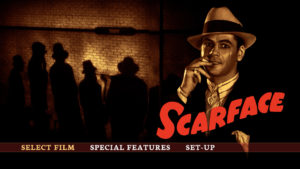 Upon pressing play, viewers have the option of both the Theatrical and Censored versions of the film. While it's obvious which one you should be watching, I do recommend checking out the alternative ending once you're done. Quite simply, it's a tacked-on sequence in which Tony lives to stand trial and is subsequently hanged. Not a single actor in the main part of the film appears throughout this ending, and it's very flat in execution (no pun intended), but was no doubt put in to show the justice system at work. Robert Osborne's introduction is very nostalgic for long-time viewers of TCM, and while brief, his words certainly prime the viewer.
Scarface is a premium packaged Blu-ray with some very cool and minimalist insider art that highlights our star's maniacal disposition. In compassion to the likes of Little Caesar and Public Enemy, the film is quite ballsy with its use of violence and sexual innuendo, pushing the envelope 51 years before the cocaine-fuelled re-telling.
REGARDING HENRY  
(1932, director: Howard Hawks)
★★★★½
Head over to the Imprint Films Facebook page for the latest releases, giveaways, great deals and more!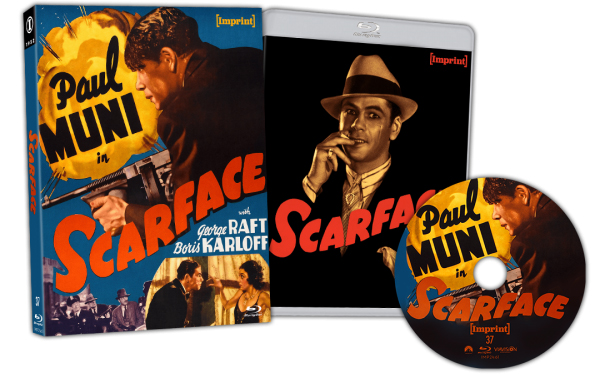 direct blu-ray screen captures
You can follow cinematic randomness on Twitter and Facebook where you'll find all my cinematic exploits. Thank you for visiting!