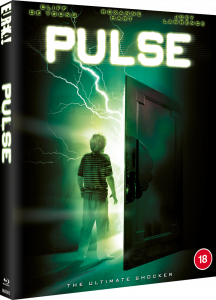 I remember catching the middle third of Pulse on TV during the mid-90s. It was the midday movie, oddly. Joey Lawrence's sitcom Brotherly Love was airing at the time, so I guess the network was capitalising on his popularity, even though he was only 12-years-old in the film. Although, my cousin who was babysitting me was overdosing on cuteness as she was a big fan of the teen heartthrob. Fascinated with the idea of the film premise, I rented the VHS and was left rather disappointed, mostly due to the overembellished cover, but Eureka Entertainment's recent Blu-ray release has prompted a re-visit of the obscure horror classic.
While visiting his father, Bill (Cliff De Young) and step-mother, Ellen (Roxanne Hart) in a quaint suburban setting, young David (Joey Lawrence) discovers a sinister intelligence lurking through pulses of electricity around his home, but his warnings falls on deaf ears. Pulse proposes a really interesting idea and contains some thought-provoking subtext, or maybe "under-currents" is more appropriate wording in this case. Nevertheless, the concept alone is frightening, which is compounded with the film's ominous opening of shots through the electric industrial complex of a residing power plant. However, the execution of the story comes in jolts, interwoven with a somewhat estranged father and son relationship narrative, which does tend to drag a little over a relatively short 91-minutes run time. I wouldn't say the human factor gets in the way of the horror element, just that it slows down the pace; I think with some fine-tuning both would have gelled better.
I live in a region of Australia that was built on the back of power generation, a topic that has become controversial due primarily to the means in which electricity is produced. Natives take it for granted, probably more than most being located so close to the source. Pulse criticises our reliance on the abundant supply of energy available to us. We flick on a switch with no thought in mind other than expecting to have light filling our room in an instant. There is no explanation given to the malevolent nature of the deadly pulses that terrorise our characters. That's up to us to decide or ponder over. Has an evil force cleverly used electricity as a means of entering people's home or is electricity more than just raw energy?
Presented 1.85:1, the image source for Pulse is from a master supplied by Sony Pictures and while it's not a recent HD scan of the film, the 1080p picture looks nice with natural colours and even the night scenes have very visible quality without looking too bright, much like the illuminating effect of a full moon. Sound makes the biggest impact in LPCM 2.0 with the effects coming through on an almost jarring level of realism and despite the track being far from the best that Blu-ray is capable of, it's still very immersive and impressive overall.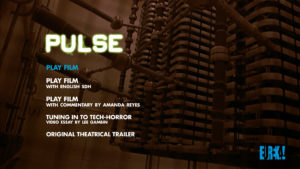 SPECIAL FEATURES
Limited Edition O-Card slipcase (2000 copies)
Brand new audio commentary by author and film historian Amanda Reyes
Tuning in to Tech Horror – video essay by writer and film historian Lee Gambin
Limited Edition collector's booklet featuring a new essay by film scholar and author Craig Ian Mann; and an article on the film by filmmaker Adrián García Bogliano (Dark Phases)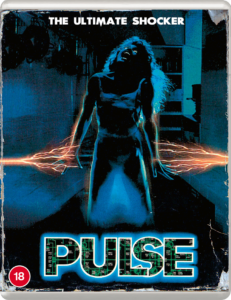 Eureka's slipcase is a fine example of how their artwork often embraces both a retro and modern style in equal measure. The wash of unnatural vibrant green counters the blue glow of electricity which dominates the inside art that's lifted from the VHS release, which is typically far less subtle in its depiction of the film's horror element. Amanda Reyes' commentary begins with how she discovered the film in the 90s before outlining what she intends to cover throughout the film. Naturally, she brings a very historical perspective to Pulse and I really enjoyed learning how the film eventually found its audience years after an underwhelming theatrical release.
Tuning in to Tech Horror is a very educational 14-minutes essay with Lee Gambin enlightening viewers to the sub-genre of technology-based horror films, some of which are apparently far better than they sound. As a big fan of The Car, I was pleased to it get a mention, even though it's more associated with the 'Jawsploitation' genre, but like Christine, back to America's love affair with the automobile. The collector's booklet champions the film even more and again gives more examples of similar titles within the same electrified sub-genre in addition to a nice collection of photos and artwork for different countries.
Pulse is well shot with tight zooms inside the various electric appliances where the titular force wreaks its havoc and for a faceless villain, besides many electrical arcs, it's quite effective. Performances from the principal cast are strong and Charles Tyner as the "Old Man" who knows what's going on, is a little cliché but the actor makes it work to the film's advantage. While I enjoyed Pulse more this time around, I can't match the level of enthusiasm expressed by the individuals who provided bonus material, but I value and respect their opinions; their efforts alone make this edition worth owning.
PULSE  
(1988, director: Paul Golding)
★★★½
direct blu-ray screen captures provided by Eureka Entertainment 
You can follow cinematic randomness on Twitter and Facebook where you'll find all my cinematic exploits. Thank you for visiting!