I'm not old enough to remember Yallourn, but I had a growing fascination with the former township for many years. Perhaps it's the collective memory often shared among local residents which invite my interest; reminiscing over a community that sounds almost like a lost utopia. Documentary short, Open Cut, has managed to satisfy much of my curiosity, which serves mostly as a reflective piece for its director, Phil Burke. The 26-minute feature explores both the social, economical and logistical significance of Yallourn.
Constructed between the early 1920s and 1950s, Yallourn was a company town owned by the State Electricity Commission of Victoria (SEC) to house the many employees who operated the nearby power station complex. However, with the demand for brown coal increasing, the subsequent expansion of the adjacent open-cut mine lead to the town's demolition in the 1980s. This somber final chapter in Yallourn's history is shown through archive material in which residents express their personal feelings towards the pending fate. You can feel the sadness and sense of loss, although there was surprisingly little animosity towards the SEC.
By far the most fascinating aspect of the town is the community itself, which Open Cut effectively illustrates through SEC-commissioned material, such as film reels which promotes the stable and secure employment one has within the state-owned company. Yallourn was the very model of a booming industrial economy in which life was relatively easy for its resident, who were all contributing to the national progress of Australia during the post-war boom.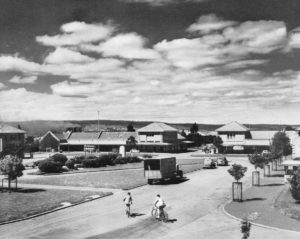 Phil Burke's journey into the past feels like a dream; resonating themes of loss and displacement as we follow a small group of former residents returning to the fringe of where Yallourn once stood proud. If you have a love of local history or every now and then, feel nostalgic for simpler times, Open Cut will give a very personal insight into a town that's since become a local myth.
 If you wish to purchase a DVD copy of Open Cut visit www.filmcamp.com.au
OPEN CUT
(2004, dir: Phil Burke)
★★★★
You can follow cinematic randomness on Twitter and Facebook where you'll find all my cinematic exploits. Thank-you!