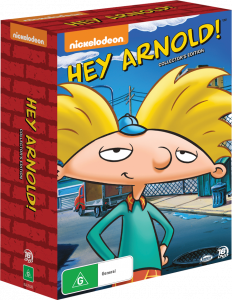 Nickelodeon was the first cable television channel for children, launched in 1979 and based in New York City. It wasn't until 1995 when the signature orange broadcaster came to Australia via the 'Pay-TV' services Austar and Foxtel. The following year, one of its most popular series, Hey Arnold! premiered, running for five seasons with 100 episodes in total. Now in this binge-watching society, the animated classic has been re-issued on DVD, this time under Shock Entertainment in the form of a 'Collector's Edition'.
Set in within a nameless city that resembles the diversity of New York City, fourth-grader, Arnold, lives with his grandparents in a boarding house with an assortment of multicultural tenants. We follow his everyday life, which ranges from small adventures to moral calamities and everything else in between.
I never watched Hey Arnold! when it first aired but having seen it now as a 36-year-old, I think I would have really gelled with the show back in the day. It has that perfect after school quality and Saturday morning vibe, which some of the episodes specially cater to. Arnold's good nature and moral compass speak to the notion that kids, as cruel as they can sometimes be, have a strong sense of what's right and wrong, not contaminated by social prejudices exhibited by many adults. With his best friend Gerald, Arnold walks the streets of their neighbourhood in childhood wonderment of what are often mundane occurrences. It's the local legends among the kids that make for some of the most entertaining episodes, such as 'Stoop Kid' and 'Pigeon Man', that are two very 'New York Stories' which gives further credence to the urban setting.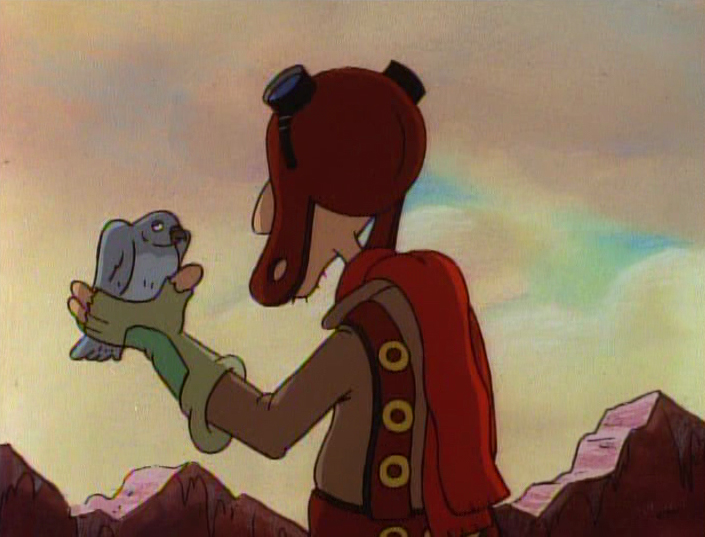 Unbeknownst to Arnold, he has a love interest in the form of Helga, a rather sophisticated tomboy who feels like someone we've all known. Typical of kids her age, affection comes in the form of ridicule, but she's a member of the gang nonetheless and takes part in many of the 12-minutes stories, two of which we get per episode. It's a narrative structure I didn't experience growing up in front of my TV, but it's impressive how well they're told within such a small time-frame. There are many great examples, but one of the best is 'The Baseball', the latter half of episode five in season one, which is a bittersweet tale of an ageing ballplayer who wants to go out on his own terms and Arnold is there for the final game.
Hey Arnold! also comes with its fair share of seasonal episodes, with one for Halloween, Valentine's Day and of course Christmas, appropriately titled 'Arnold's Christmas'; a selfless story in the vein of Frank Capra, that I watched this past holiday season. It's one of the few episodes that run the full 24-minute length and one that lets one of the adult characters tell their story. While it's devastatingly tragic, I notice that many of the adult-centric episodes offer some valuable lesson for kids, even if the lesson is that life can sometimes be disappointing.
VIDEO AND AUDIO
Shock Entertainment had recently acquired a substantial portion of Beyond Distribution's catalogue, which included Hey Arnold! among other Nickelodeon series, so based on that fact, this release from Shock is more or less a port. Presented in its correct aspect ratio of 4:3, as opposed to the modified widescreen presentation found on Nickelodeon's YouTube channel, the NTSC image quality is very of its time. Surprisingly the show hasn't undergone any sort of remastering, but the TV broadcast quality adds to the nostalgia for original fans revisiting the show. The sound, however, has good volume and an immersive quality in Dolby 2.0 Stereo, which gives the many episodes a bit more life. English subtitles are not available.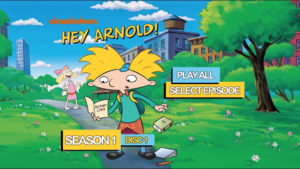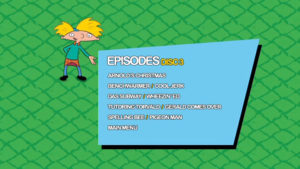 I may be 25-years late to the party, but I feel at home when watching Hey Arnold! He has a bedroom that I'm strangely envious of, and grandparents that give new meaning to the word "spry". With terrific voice acting to boot, Hey Arnold! is a show that's even better than you expect.
HEY ARNOLD!  
(1996-2004, creator: Craig Bartlett, Steve Viksten & Joe Ansolabehere)
★★★★
direct dvd screen captures
You can follow cinematic randomness on Twitter and Facebook where you'll find all my cinematic exploits. Thank you for visiting!