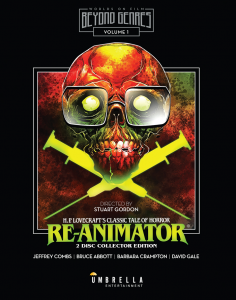 Loosely based on H.P. Lovecraft's 1922 serial novelette Herbert West–Reanimator, director Stuart Gordon brought the twisted Frankenstein-esque tale to the big screen after original plans for a stage production and television pilot were scrapped. Since its release over thirty years ago, Re-Animator has become a celebrated favourite among horror fans, due to its unmatched level of insanity, macabre humour and outlandish special effects. Umbrella Entertainment have chosen the classic title for their inaugural volume of the exclusive sub-label Beyond Genres: Worlds on Film, complete with both the Unrated (86 mins) and Integral (104 mins) cuts.
Graduate student Herbert West has found a way to give life to the recently deceased via a miraculous concoction of his own design. When the serum's results are less than desired, obsession quickly takes hold of the eccentric scientist leading to diabolical consequences. Epitomising what the 1980s gave to horror cinema, Re-Animator is an energetic and outrageous off-the-wall genre mash. Within the film's grotesque nature, there's a comedic quality that springs from its absurd narrative, throughout which a morgue become a madhouse under the rule of a talking head. None of this could have been achieved if it wasn't for the parade of special effects wizardry; a balanced mixed of practical elements, buckets of fake blood and clever camera work. Jeffery Combs as the ever peculiar Herbert West is an obvious parallel to Mary Shelly's Frankenstein, but with partial Norman Bates type demeanour, resonated perfectly through Richard Band's score.
VIDEO AND AUDIO
I honestly can't image the film looking or sound better than its current state. Picture is clear with appropriately bold vivid colouring, while the DTS-HD soundtrack does not struggle to fill your living room or home theatre with the most realistic of ungodly sounds.
SPECIAL FEATURES
Disc 1
Audio Commentaries: director Stuart Gordon, producer Brian Yuzna, actors Jeffery Combs, Barbara Crampton, Bruce Abbott and Robert Sampson
Re-Animator Resurrected Documentary
16 Extended Scenes
Deleted Scenes
Disc 2
Interview with: director Stuart Gordon, producer Brian Yuzna, writer Denis Paoli, composer Richard Band and former Fangoria editor Tony Timpone
Music analysis by Composer Richard Band
TV Spots and Theatrical Trailer
With much of the bonus content ported from previous releases and believe me there are many, Umbrella has presented them in a way to give viewers the full retrospective experience. What sets this top-shelf edition apart from others is the unique well suited cover art from Simon Sherry, a collector's item on its own.
Umbrella Entertainment are really taking things to the next level with Beyond Genres; a welcome step forward from the Australian-based label who have long since had big ambitions and a respect for genre cinema. If you're like me, who came late to the Re-Animator party, I can't think of a better time to acquaint yourself with Doctor Herbert West and his insane delusions of scientific grandeur.
Note: Umbrella Entertainment have also released this film on DVD in triple pack with sequels Bride of Re-Animator and Beyond Re-Animator.
RE-ANIMATOR  
(1985, dir: Stuart Gordon)
★★★★
You can follow cinematic randomness on Twitter and Facebook where you'll find all my cinematic exploits. Thank you for visiting!