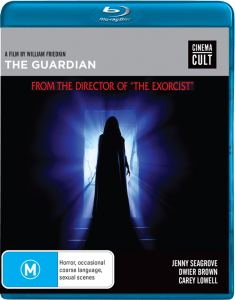 In a bizarre case of the hand that rocks the cradle, director William Friedkin points the lens at nature's dark side in The Guardian, released on Blu-ray earlier this month from Cinema Cult. Originally marketed as Friedkin's first return to horror since 1973's The Exorcist, our story from the annals of druid mythology follows a mysterious nanny, who unbeknownst to her employers is a magical nymph; one who sacrifices infants to an evil tree.
Warranting much curiosity from myself as a youngster, the ominous cover art has carried over from the film's VHS days, a sight still enticing after almost thirty years. Now let's not beat around the bush (no pun intended), you're here for the evil tree, right? Well I doubt you'll be disappointed because bodies are mutilated and gobbled up in an almost comical fashion. However, much of the film focuses on our mostly nocturnal antagonist Camilla, played by English actress Jenny Seagrove. Her seductive nature plays on the mind of young father Phil (Dwier Brown) in a predatory manner, while utilising the wild to do her bidding against those who pose a threat. Presumably sourced from Universal's back-catalogue of HD releases, both picture and sound instantly impress and enhance the film's dark visual style. Silhouettes under moonlight with a colour pallet that radiates the ambiance of a consistent summer climate, create a sensual atmosphere that works on a primal level.
The Guardian is just one several films from William Friedkin that have gone largely unnoticed since their theatrical release. While some have enjoyed a well-deserved renaissance in recent years, his most obscure foray into the macabre now has a chance to reach a new audience within genre aficionados, or perhaps horticulturalists.
THE GUARDIAN
(1990, dir: William Friedkin)
★★★½
You can follow cinematic randomness on Twitter and Facebook where you'll find all my cinematic exploits. Thank you for visiting!