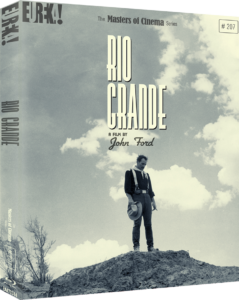 John Ford is a name synonymous with Hollywood westerns, just as much as "The Duke" himself, John Wayne, directing some of the most visually stunning and iconic of the genre. Yet not one was among the film maker's four Best Director Academy Awards won between 1936 and 1953. Now one of Ford's signature titles, Rio Grande, starring John Wayne and Maureen O'Hara, is available now on Blu-ray under Eureka Entertainment's "Masters of Cinema" series in the UK.
Set during the post-Civil War western expansion, Lieutenant Colonel Kirby Yorke (John Wayne) is posted on the Texas frontier in an area he must defend against marauding Apaches who are attacking settlers while using Mexico as a refuge from pursuit. With a dangerous shortage of troops under his command Kirby's son, Jefferson, arrives unexpectedly as an enlisted trooper, not long before his mother and Kirby's estranged wife Kathleen. Despite the lingering threat, our three protagonists slowly start to become the family they always wanted. Rio Grande is about as black and whist as you can get when it comes to a classic western, figuratively speaking. Natives are portrayed as nothing more than godless savages, hell-bent on impeding the United States from taming the land in the name of progress and national growth. Obviously this glaring racial element is problematic in today's society, but if one can see past it, this sweeping and romanticised adventure is enjoyable on a simplistic level. Characters are well-rounded in addition to being an entertaining mix of pleasant and eccentric individuals. Shot mostly in Utah, the untouched landscape of desert canyons and wide shallow rivers are a breathtaking sight despite not being showcased in colour. The western state offers a transportive and timeless environment, which makes it perfect for cinematic storytelling and it's no secret why it's one of John Ford's favourite locations, who has captured the region like no other before or since. If you're yet to see a movie starring John Wayne, then I would suggest starting with Rio Grande as I feel it's a comfortable medium of the persona he's mostly known for. He's, of course, tough as nails as Kirby, but also compassionate and very dignified in a non-aggressive way. Maureen O'Hara brings a lot of warmth as Kathleen, a leading lady of impeccable stature who can clearly hold her own next to Wayne. Young Jefferson is played by Claude Jarman Jr. (The Yearling) who proves more than capable in an adult role and stands out as one of many supporting players, like the comic-relief of Victor McLaglen as Sgt. Maj. Quincannon and a young Ben Johnson as the brave Trooper Travis Tyree, wanted for an ambiguous manslaughter charge.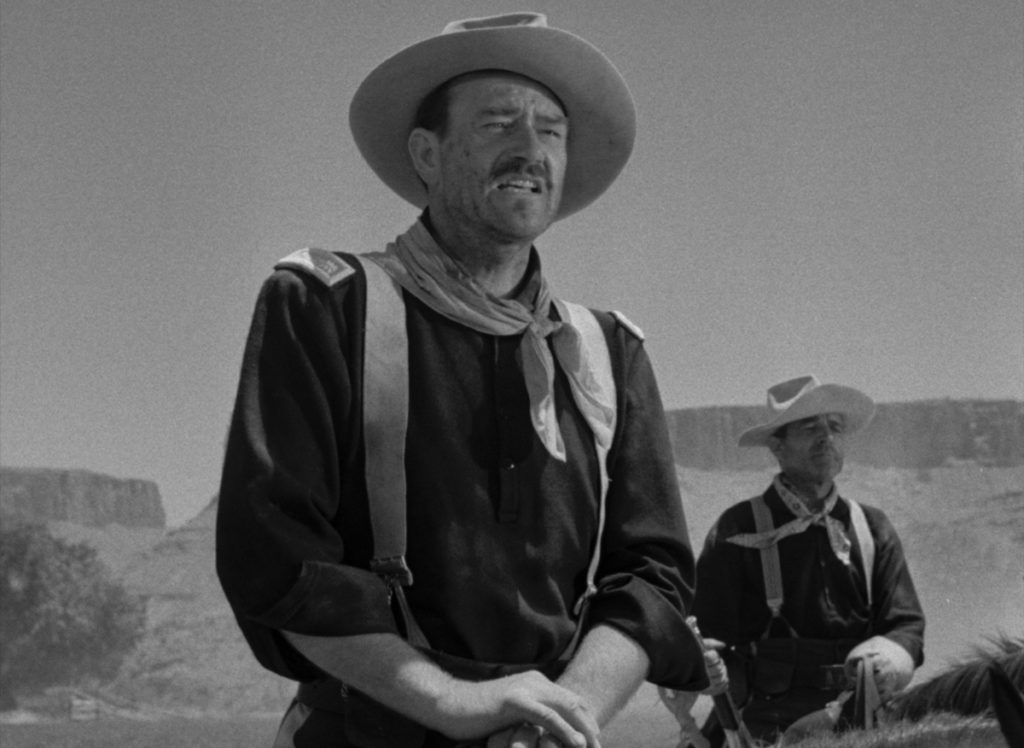 VIDEO AND AUDIO
Presented in full 1080p from a new transfer completed by Paramount's preservation department in 2019, the 1.37:1 image is, for the most part, an impressive achievement on the studio's part, although a full restoration would have produced a something even better. While appearing quite sharp during most scenes, the main criticism is that the picture lacks depth and has a slightly washed-out quality. However, fans of the film and of classic westerns, in general, won't be disappointed with the overall product. Sound is in LPCM 2.0 and comes through crystal clear and even produces a decent amount of base during action scenes, enabling viewers to feel the rumble of a Calvary charge.
SPECIAL FEATURES
Limited Edition O-Card limited to 200 units
Optional English subtitles for the deaf and hard-of-hearing
Brand new and exclusive feature-length audio commentary by western authority Stephen Prince
Scene specific audio commentary with Maureen O'Hara
A video essay on the film by John Ford expert and scholar Tag Gallagher
Along the Rio Grande with Maureen O'Hara – archival documentary
The Making of Rio Grande – archival featurette
Theatrical trailer
A collector's booklet featuring a new essay by western expert Howard Hughes; a new essay by film writer Phil Hoad; transcript of an interview with John Ford; excerpts from a conversation with Harry Carey, Jr.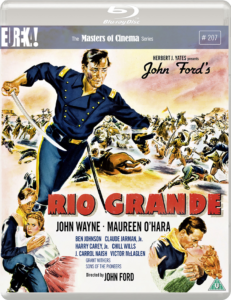 I haven't heard of scene-specific audio commentary before, but I love the idea and the potential is huge when you take into account the countless stars who have passed on. There's an emphasis on history with the film's feature-length commentary and the video essay, that will not only educate you on Rio Grande but the western genre as a whole. Archival footage from the film's production and what looks to be late 80s or early 90s documentary, The Making of Rio Grande, gives a sort of 'now and then' look at the film. Meanwhile, Along the Rio Grande, gives fans a more intimate view at behind the scenes anecdotes through the memory of starlet Maureen O'Hara. As for the release's aesthetics, the case's artwork gives a nice throwback to the picture's initial run in theatres, and the slipcase is sure to please collectors who enjoy covers with a more simplistic, but professional "look".
Rio Grande is a dated western in some respects, but still an entertaining example of old fashion Hollywood movie-making about the "Old West", complete with some genuinely jaw-dropping stunts on horseback. This premium Blu-ray edition will entice anyone bitten by the collecting bug due to its packaging and array of bonus material.
RIO GRANDE    
(1950, director: John Ford)
★★★★
direct blu-ray screen captures
You can follow cinematic randomness on Twitter and Facebook where you'll find all my cinematic exploits. Thank you for visiting!