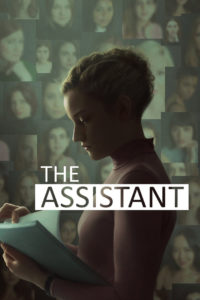 Dolly Parton topped the charts with the weekday anthem, 9 To 5, a song about the daily grind of office work and while it was all fun and innocent, the reality of such an environment can be brutal and cold for many starting on the bottom rung. The Assistant takes place during a single day-in-the-life of young woman, Jane, who is two months into employment as an assistant to a power film executive in New York City.
I've worked in an office, as have many people have at one time or another, but I won't dare compare my experience to what our protagonist endures in this realistic drama. However, I've had my brush with the attitudes and behaviours that continue to remain problematic in such environments. In this post-Harvey Weinstein world, the horror and staggering abuse of power that so many were subjected to by members of the movie industry is on frightening display as we witness the disturbing pattern from Jane's perspective while she becomes aware of the blatant misconduct from her unseen employer. Cold in both setting and tone, The Assistant offers a fascinating yet painful viewing experience, almost simultaneously, which is a credit to filmmaker Kitty Green, whose narrow focus on the status quo echoes what allows this behaviour to not only continue but to become more prevalent. Moments of humanity do find their way to Jane in the form of two male colleagues, who offer fleeting moments of support, but they know getting involved is not in their best interest. Julia Garner portrays our sympathetic lead whose naivety and ambition is a far cry from her iconic interpretation of "Ruth Langmore" in Ozark. Garner really taps into that vulnerability that many feel in Jane's position while also showing how capable and dedicated she is despite what is less than a thankless position.
The Assistant feels like a worst-case scenario, but it probably isn't. This picture shows what changes need to take place to end cycles of abuse, while not dismissing the crippling anxiety many suffer in regards to speaking out in fear of reprisal and discrimination.
Available on DVD and to rent On Demand from June 24th via digital platforms – Google Play, iTunes, Fetch TV, Telstra Bigpond, Sony (Playstation Network), Microsoft, Quickflix and Foxtel On Demand in Australia. The Assistant will also be screening from June 22nd at Classic Elsternwick, Cinema Nova, Lido Hawthorn and Belgrave Cameo in Melbourne.
THE ASSISTANT
(2019, director: Kitty Green)
★★★★
production stills provided by Rialto Distribution 
You can follow cinematic randomness on Twitter and Facebook where you'll find all my cinematic exploits. Thank you for visiting!