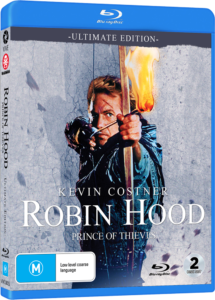 Some movies define their respective year and you cannot think back to 1991 without the Kevin Costner blockbuster Robin Hood: Prince of Thieves entering your mind, whether you want it to or not. I actually didn't see the film in its entirety until last year but was well familiar with the adventure classic due to the immense marketing campaign back in the day and the extensive toy line. I vividly remember eyeing off an action figure of the titular hero on a train ride back from Melbourne during that eventful year. Now the extravagant adventure comes to Blu-ray in an Ultimate Edition featuring both the Theatrical and Extended Versions of the film from Via Vision Entertainment.
Robin of Locksley returns to England, which has fallen under tyrannical rule by the Sheriff of Nottingham, during King Richard the Lionheart's absence in France while leading the futile Third Crusade against the Holy Land. Locksley, being the social justice warrior that he is, fights back with his merry band of outlaws, much to the Sheriff's frustration.
Following up on the success of Dances with Wolves, Costner mania a was at an all-time high, which made this subsequent vanity project an easy swallow for just about everyone. While commercially successful, most critics weren't kind and for good reason, but nevertheless Robin Hood: Prince of Thieves is highly entertaining and so perfectly Hollywood in terms of sheer spectacle and historical inaccuracy. Kevin Costner, who was not only the star but arguably the film's de facto director is a model hero as the folklore figure, despite no attempt at an English accent. Sure, he's corny and unrealistic, but portrays the character in a celebratory fashion, which I feel is the film's goal and is very simplistic and black & white regarding good vs. bad. Production design is by far one of the most impressive elements about the film; boasting enormous sets that are rich with detail and alive with countless extras, adding to the overall scope and scale. Shot primarily in the UK, the English countryside is shown in all its green splendour, not to mention the numerous structures from its medieval past, which are utilised for the many interior scenes. Now, I'd be remiss if I didn't mention Alan Rickman as the villainous Sheriff, whose performance has become immune to the criticism often hurled at this film. He's an unrelenting force, who's energy and delivery of what a lot was improvised dialogue, steals every scenes he's in, earning him a well-deserved BAFTA for Best Supporting Actor. Whether you're a fan or not, Robin Hood: Prince of Thieves is worth the time for Rickman's contribution alone.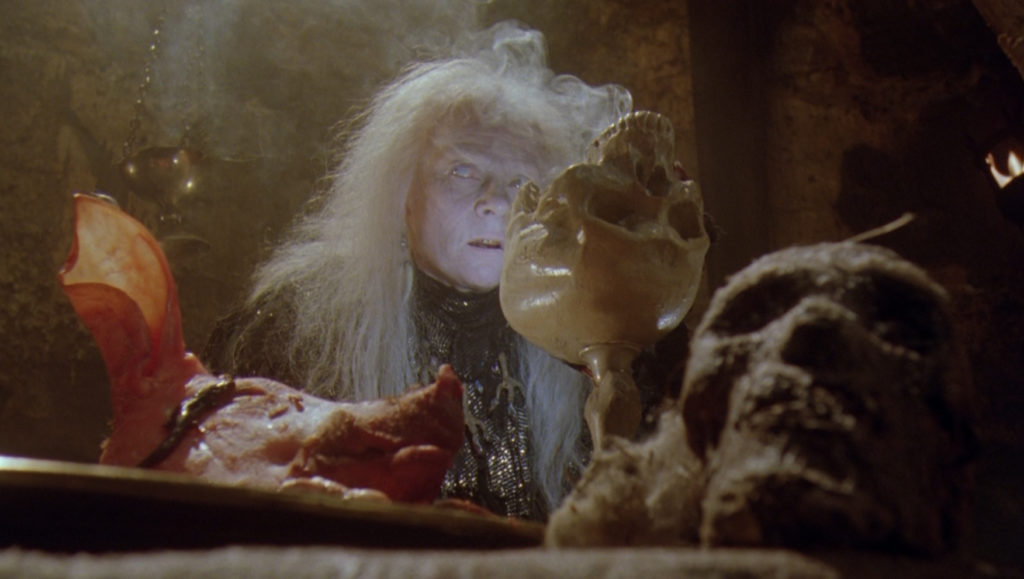 VIDEO AND AUDIO
Unfortunately, the visual presentation on both discs is underwhelming, which is surprising given the size of this major studio picture and particularly its long-standing availability within retail markets. It's perfectly watchable of course, but lacks that 'wow factor' upon first glance. Even outdoors scenes fail to be impressive with nature's colours appearing rather flat. Comparing both discs, the extended version does fair slight better than the theatrical cut which could easily be mistaken for a DVD. However, the sound on both is magnificent in Dolby 5.1 and 5.1 DTS-HD (Extended Version only), enhancing the triumphant musical scores by Michael Kamen.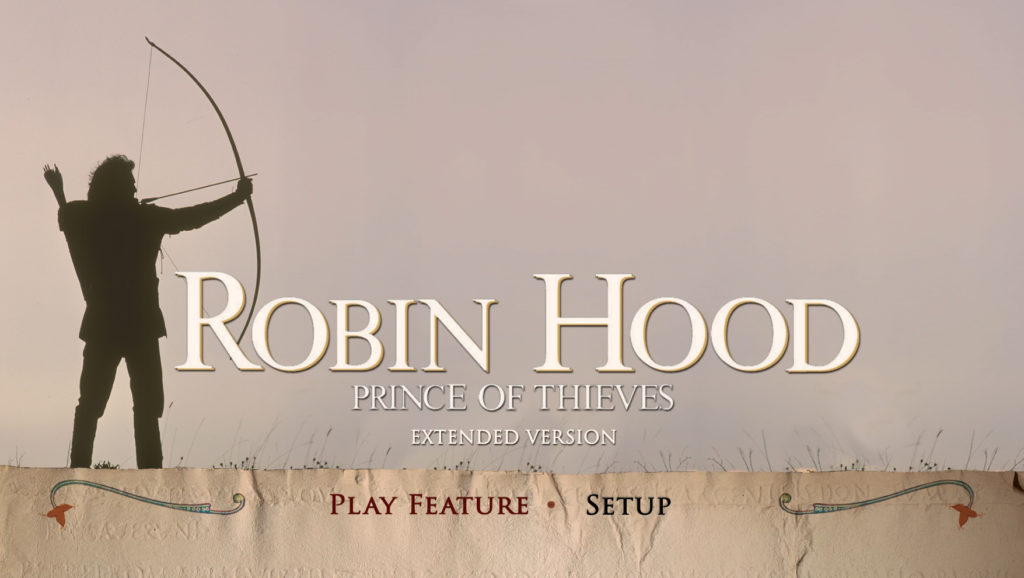 SPECIAL FEATURES
DISC 1 (Extended Version)
Audio Commentary with Director Kevin Reynolds & Kevin Costner
Audio Commentary with Morgan Freeman, Christian Slater, co-writer/producer Pen Densham and & John Watson
DISC 2 (Theatrical Version)
Pierce Bronsan presents "Robin Hood: The Man, The Myth, The Legend" TV Special
Vintage Interviews with cast
"(Everything I do) I Do It For You" performed live by Bryan Adams at Ireland's Slane Castle
Theatrical Trailer
TV Spots
Photo Gallery
Music Soundtracks cues in 5.1
While this Ultimate Edition may be faulty in regards to picture quality, an abundance of bonus material makes up for any shortcomings and provides a detailed history behind the production with numerous interviews and behind-the-scenes footage. Not to neglect those nostalgic for the early 90s, Bryan Adams' classic love ballad and the most popular wedding song in history is included for good measure. Coming in at 12 minutes longer than the Theatrical Version, extended scenes are of no great significance and are easily missed due to the already lengthy runtime, but if you're a diehard Price of Thieves fan forever wanting more, then this cut should suffice.
Robin Hood: Prince of Thieves isn't the best screen depiction of the classic folk tale, nor does it try to be; but it represents a time when audiences were more relaxed and able to dismissal glaring issues for sake of pure enjoyment. If the film was made today, it would no doubt be torn to shreds by the hordes of online killjoys. Nevertheless, Via Vision has put together a comprehensive release, worthy of space on your shelf.
ROBIN HOOD: PRINCE OF THIEVES
(1991, dir: Kevin Reynolds)
★★★½
Head over to the Via Vision Entertainment Facebook page for the latest releases, giveaways, great deals and more!
direct blu-ray screen captures
You can follow cinematic randomness on Twitter and Facebook where you'll find all my cinematic exploits. Thank you for visiting!