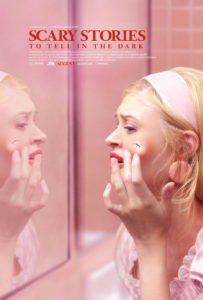 Comprising of three volumes released between 1981 and 1991, Scary Stories to Tell in the Dark was a collection of horror tales aimed at children, which has now been adapted to the big screen under the same name. Directed by Norwegian filmmaker, André Øvredal, the Guillermo del Toro seasonal fright-fest follows a group of kids in their early teens during the fall of 1968 in the fictional town of Mill Valley. They uncover an ominous storybook written by a small girl subject to a haunting local legend; but when new stories ink themselves onto the remaining pages, our characters must face their fears in order to survive.
I was initially drawn to Scary Stories to Tell in the Dark by the traditional sensibilities, akin to more innocent times, and then there's the scarecrow on the film's poster, which stems from my fondness for watching Worzel Gummidge as a child. Although he was clumsier than scary. While clearly aimed at a younger demographic, I had no trouble enjoying the movie which excels in creating a tremendously authentic Halloween-esqe atmosphere. Given the restraint towards the depiction of horrific elements, I was surprised by what was actually shown. However, filling the void that would have otherwise been left for blood and gore, allowed for a lot of creativity with special effects. Much of which was practical like Harold the imposing scarecrow who is a perfect mix of Bubba from Dark Night of the Scarecrow and the demonic creations in William Wesley's Scarecrows. With a singular plot in play, it's broken up into very distinguishable chapters of events, which gives Scary Stories to Tell in the Dark a light anthology feel that suits the source material and adds variety. Our scary story unfolds during Richard Nixon's presidential election victory, shots of which are often seen on TV screens throughout. Casually referred to by some of the adult characters, it reiterates an underlying theme of the pending loss of innocence for not only the teen protagonists but the controversial and then intensifying Vietnam War. Zoe Margaret Colletti heads the young cast as the horror movie-obsessed but distant, Stella, along with Michael Garza as drifter Ramón, who both embodied much of the film's emotional weight, while the support cast all turn strong performances.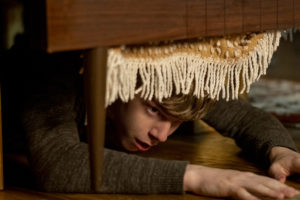 Scary Stories to Tell in the Dark is a good, solid medium-range horror movie, which I found to be more effective than big-budget counterpart IT Chapter 2. Elevated by a bittersweet period soundtrack, Lana Del Rey's rendition of Season of the Witch caps off the film perfectly.
SCARY STORIES TO TELL IN THE DARK
(2019, dir: André Øvredal)
★★★½
You can follow cinematic randomness on Twitter and Facebook where you'll find all my cinematic exploits. Thank you for visiting!