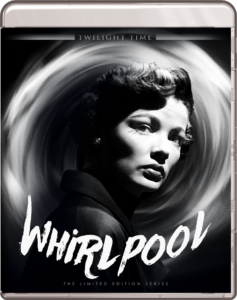 Twilight Time Movies build upon their catalogue of Twentieth Century Fox classics with Otto Preminger's Whirlpool, now on Blu-ray, a crime-laden film noir that uses a socialite's undiagnosed kleptomania as a device in a cunning scheme to fuel one's greed and fraudulent lifestyle.
I've seen a modest portion of film noir from the 1940s, mostly starring Alan Ladd and Humphrey Bogart, but Whirlpool takes the genre into a more polished setting, rubbing shoulders with upper classic types. Gene Tierney stars as the radiant Ann Sutton, who catches the eye of astrologer and hypnotist David Korvo (Jose Ferrer) when she suffers the humiliation of being caught shoplifting in a Whilshire department store. What follows is a sinister plot involving manipulation and murder, which is what sends our fragile protagonist down a spiral of self-doubt and confusion. Despite the hypnotism angle falling on the slightly gimmicky side, Whirlpool offers a well-crafted plot that reflects the anxiety towards taboo subjects of the time like mental illness among the social elite; and the alarming way in which men are given the benefit of the doubt so easily over women when accusations are lodged. Jose Ferrer is a master manipulator as the well-practised Korvo, who excels as a charming con-man in what was only his second film role at the time, while screen siren Gene Tierney displays an elegance and grace that's marred with vulnerability due to her mental disposition. Charles Bickford as the surly police detective, Lt. James Colton, exhibits Columbo-like research skills when he's put on Ann's troubling case, which has her psychiatrist husband, Bill played by Richard Conte, caught between disbelief and guilt. Cinematography is generally restricted to interior shooting but amplifies significantly the mood and the personality of our characters, plus there's a noticeable focus on the eyes given the film's hypnotic subtext.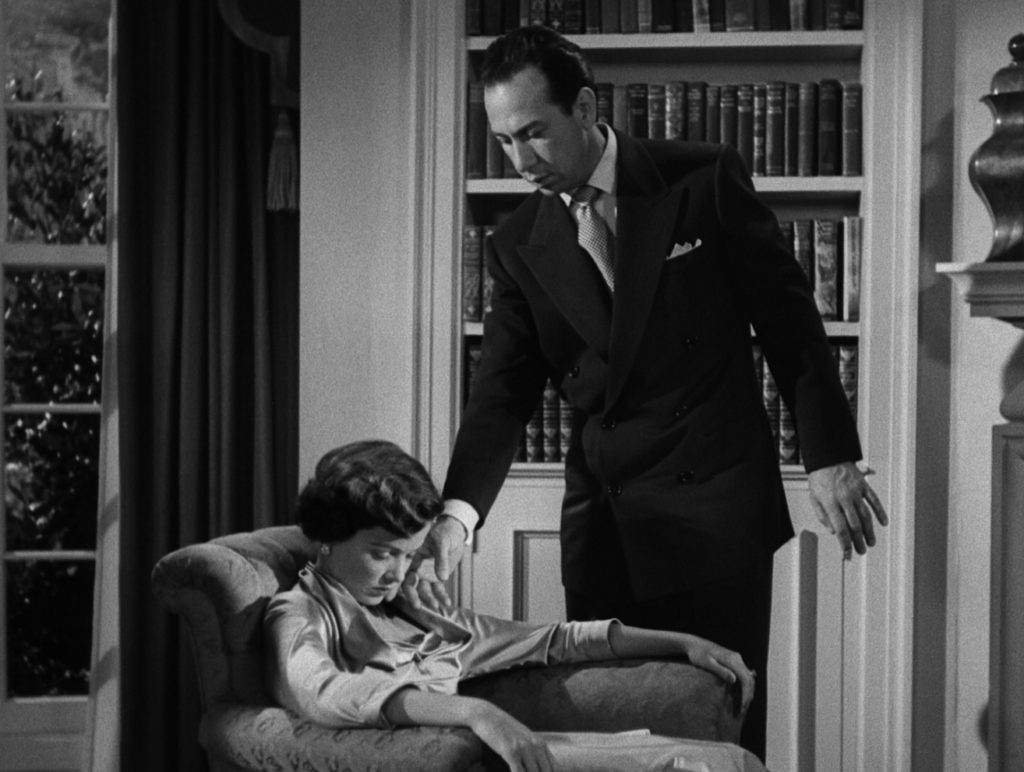 VIDEO AND AUDIO
Presented in the film's original aspect ratio of 4:3 (1.33:1) letterbox, the region-free disc has that signature glow found in many black and white titles from the 1940s, particularly those with a noir aesthetic. Despite a few softened close-up shots here and there, the picture is very sharp with a gentle amount of grain which accentuates the overall image, while sound comes in dual DTS-HD Master Audio tracks under 2.0 and 1.0. Both are very clear, and while not as immersive as more contemporary tiles, volume is robust with the 1.0 track being the louder of the two.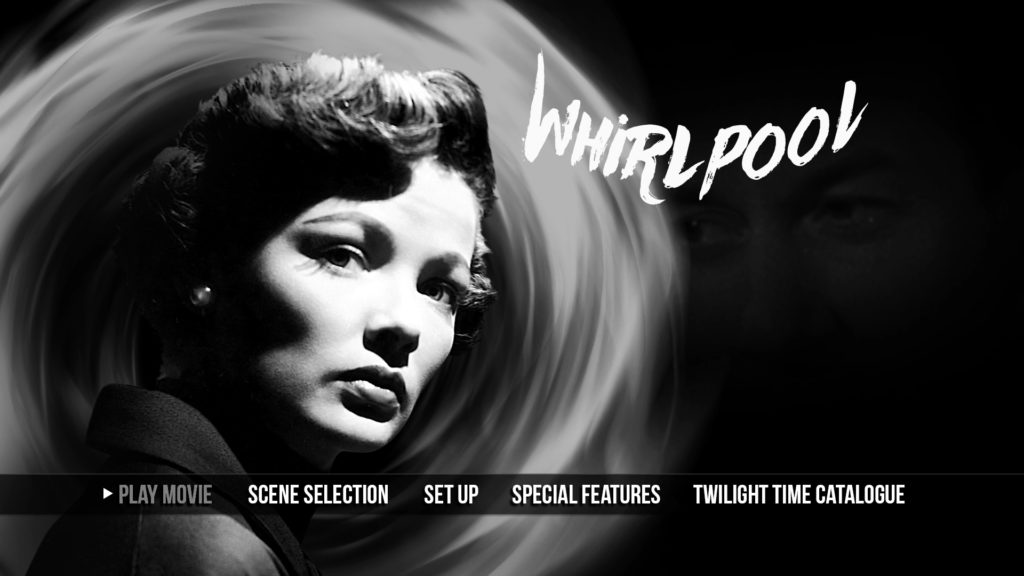 SPECIAL FEATURES
Isolated Music Track
Audio Commentary with Film Historian Richard Schickel
Original Theatrical Trailer with Isolated Music Track
6 Page Booklet
I can't image how difficult it must be to gather bonus content for films this old, but Twilight Time Movies always manage well regardless, even if it's the usual isolated track and booklet. Mike Finnegan's essay demonstrates a wealth of knowledge the boutique label has at their disposal, whether it be Mike's contribution or Julie Kirgo's, who are both equally passionate film aficionados. Richard Schickel's commentary gives further historical insight behind the picture. If you had never seen a film from the 40s, then consider this an informative crash-course you won't find anywhere else.
Whirlpool is a top-shelf release and a fascinating film for that matter, probably more than it should be, which is a credit it to director Otto Preminger who always provided substance and relevance to his body of work.
WHIRLPOOL
(1949, dir: Otto Preminger)
★★★★
direct blu-ray screen captures
You can follow cinematic randomness on Twitter and Facebook where you'll find all my cinematic exploits. Thank you for visiting!