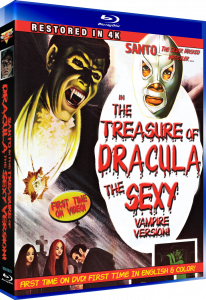 Mexican wrestling is held in high regard to this very day, with the mystique of the nation's many luchadores protected at all costs. One of the most famous and iconic among these masked athletes was, Rodolfo Guzmán Huerta, widely known as El Santo (The Saint); who like many of his peers, branched out into film. Appearing in an impressive total of 52 features between 1961 and 1982, most of a supernatural variety, one of which Santo in the Treasure of Dracula, has been release on Blu-ray by VCI Entertainment; more specifically the uncensored version known as El vampiro y el sexo or The Sexy Vampire Version as advertised by VCI.
El Santo uses a time machine, which he himself invented, to locate Dracula's hidden loot of gold and jewels, by sending his lovely female assistant into the past. Needless to say she falls under the vampire's seductive spell, who desires to make her one of his evil vixens. Meanwhile, gangsters led by masked ninja-esqe individual try to foil Santo's plan to steal the treasure for themselves.
The Treasure of Dracula was one of nine Mexican films that were given new English tracks recorded in Mexico during 2020, and produced by VCI for the El Rey Network which sadly closed at the end of last year. The film's original Spanish audio was unable to be re-licensed, but that turned out to be a blessing because this new dub only adds to what is an already a ludicrous, but ultimately enjoyable movie experience. Screenwriting often comes under much scrutiny, but I think it's safe to say that this script feels like fan fiction from a group of 12-years old boys arguing over a duel between Santo and Dracula with time travel, gangsters, wrestling and bare breasts tossed in for good measure. Santo's cause however, is noble, who intends to use the titular treasure to build a children's hospital. Hopefully the administrators of said hospital don't ask too many questions.
Split into two very distinct acts, the first part takes us to Dracula's time which is very traditional as far as vampire films go. We even have a Van Helsing figure at the ready to ward off Dracula's advances. Santo takes the lead as our masked hero during the film's latter half, which includes a pretty solid wrestling match with an advisory, before evil and the more human villains are defeated. The Treasure of Dracula is very black and white in terms of which side our characters are on, although literally speaking, this is the first time the film has been available in colour. In regards to the new English track, it's a little jarring at first and quite harsh, but it doesn't take long to adjust to the new vocal interpretations. Oddly, there's quite a display of accents, namely Hispanic, Dutch, German, American and even one that sounded Australian, or an attempt at one at least.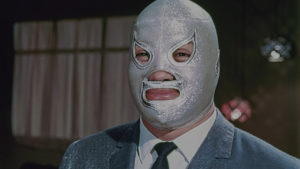 VIDEO AND AUDIO
Presented from a 4K restoration, this 1080p rendering yields an impressive result for a foreign film that's existed on the fringes of horror so long. Colours are a little dull in places, with the exception of blood which shows up as the typically unrealistic fire-engine red that was all too common in exploitation cinema. While the 16:9 image is bright and relatively sharp, there is subtle smearing quality to the picture, but I wouldn't cite it as an issue. If anything it only add to the late 60s aesthetic. PCM 2.0 Mono comes through quite loud, the dialogue in particular, with the newly recorded English dub often drowning out background sounds and effects during some scenes; but given the circumstances that was probably hard to avoid. Overall, the release is technically a great accomplishment by VCI and their partners. English subtitles are included and the disc is region-free.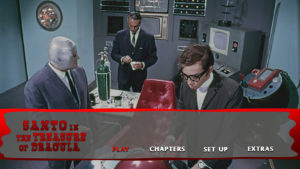 SPECIAL FEATURES
Santo in the Treasure Dracula – Version Comparison: Original vs. Sexy
Trailers (Santo Movies w/ English Soundtracks)
– Santo and the Blue Demon vs. Dracula and the Wolfman
– Santo and the Revenge of the Mummy
– Santo vs. the Riders of Terror
– Santo in the Revenge of La Llorona
In an effort to give some context, the comparison video does single out the very obvious differences between the two versions and of course the vast improvement in picture and sound quality compared to previous DVD releases. Four trailers from Santo's extensive filmography look equally impressive with all being remastered for their upcoming Blu-ray releases. I'm not sure, which one I'm excited for the most, may La Llorona. She's a mysterious dame.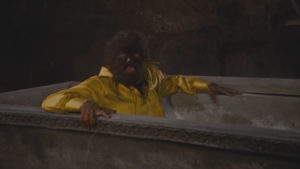 Santo in the Treasure of Dracula you could say is a Mexican take on Hammer Horror, but it's intended audience is a little unclear due to the film's sexual overtones for what is otherwise a child-friendly monster movie via science-fiction. It makes little sense, but it's far from mean-spirited.
SANTO IN THE TREASURE OF DRACULA   
(1969, director: René Cardona)
★★★½
direct blu-ray screen captures
You can follow cinematic randomness on Twitter and Facebook where you'll find all my cinematic exploits. Thank you for visiting!