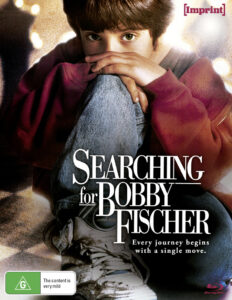 I remember the trailer for Searching for Bobby Fischer being very dominant among my VHS rentals of 1993 and 1994, but as I was far more interested in Demolition Man, Jurassic Park and Speed, a drama about chess didn't even move the needle. Thirty years later, I'm still none the wiser when it comes to chess, but I do gravitate much more towards films with more profound themes and meaning, and thankfully Imprint Films have given the classic title its world-first Blu-ray release.
When seven-year-old, Josh Waitzkin, develops a fascination for chess, proving to be more than a proficient player almost instantly, his father and a chess tutor encourage him to play competitively as he displays a technique like that of elusive chess prodigy, Bobby Fischer.
Chess has often been presented as a world unto itself. A passion that attracts peculiar personalities, tortured souls and curious young minds that are wired a little differently from the rest of us. Searching for Bobby Fischer is as its G-rating advises, very mild, mostly in its approach to storytelling and characterisations. There are no emotional outbursts or breakdowns, everyone is restrained and relatively quiet, much like an intense game of chess between two masters of the game. However, and I think this was unintentional, Josh's mother, played by Joan Allen, displays some casual racism when she takes her son for his first game of chess in New York's Central Park. She's quite happy to let him play against a dishevelled stranger who is sitting alone mumbling to himself, as opposed to the much more intelligible players, many of whom are African American and, therefore in her mind, 'criminals'. I digress, but it kind of jumps out at you, in a way that's almost comical.
There are two schools of thought that Josh must contend with during his chess education, which in an odd way parallels Jedi philosophy: we have those who play speed games for quick cash, and those who play at length, with patience, logic, and a calculating strategy. Ben Kingsley is Josh's tutor, Bruce Pandolfini (Ben Kenobi) who teaches his young apprentice to "reach out with your feelings", yet clearly wants to mould Josh into an emotionless narcissist like the real Bobby Fischer. There is even an adversary duo, who enter halfway through the picture. Always two, there are…
Ultimately the point is that Josh needs to enjoy playing chess, in all its forms, whether it be with wisdom or the street smarts that are imparted by one of the Central Park "criminals" played by Laurence Fishburne; easily the most animated character. As you've probably guessed by now, a cliché or two kick in during the film's final act, but overall, it's a pleasant enough experience.
SPECIAL FEATURES
NEW Audio Commentary by film historian Scott Harrison (2023)
NEW Maybe It's Better Not To Win: Scoring 'Searching For Bobby Fischer' – featurette (2023)
Archival Interview with Director Steven Zaillian & chess author Bruce Pandolfini
Archival Interviews with actors Joan Allen, Ben Kingsley, Laurence Fishburne
Archival Interview with actor & prodigy chess player Max Pomeranc & Josh Waitzkin
Theatrical Trailer
This release of Searching for Bobby Fischer comes with only one new featurette, an analysis of the film's score. Running for a little over 20 minutes, the supplement is a celebration of composer James Horner's contribution to the movie and discusses the importance of each character's musical theme, as well as how different instruments were utilised to convey emotion. For background information on the film's other key players and production, viewers can check out Scott Harrison's informative commentary which is also exclusive to this release.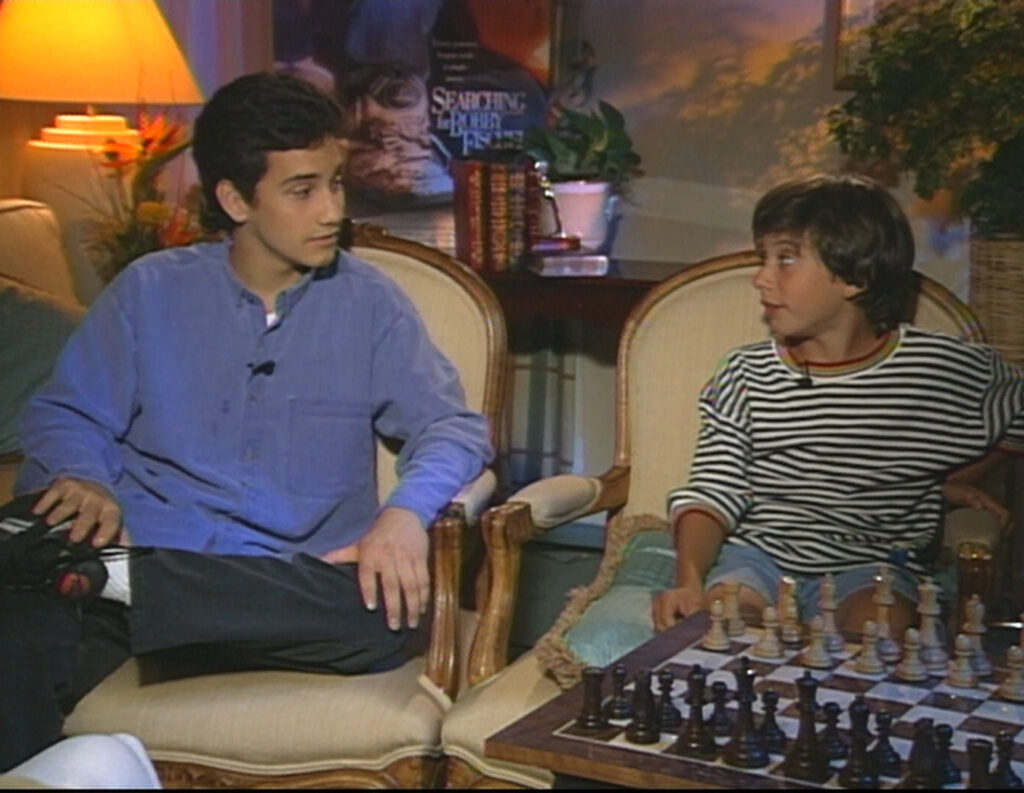 While they can be viewed unedited elsewhere online, Bobby Wygant's archival interviews with Searching for Bobby Fischer's cast and crew are available here without watermarks. The most interesting sit down of the bunch is with child star Max Pomeranc and his real-life counterpart, Josh Waitzkin, who both discuss their career as child chess players.  – by Hannah Lynch
VIDEO AND AUDIO
The film is presented from a 2K scan, how recent it is, I'm not sure, but it's a decent 1.78:1 image despite lacking some sharpness. You could say there's a gentle quality to the picture which suits the film's nurturing nature and the DTS HD 5.1 Surround tracks complements James Horner's sentimental score. However, I opted for the LPCM 2.0 Stereo track during my viewing for louder dialogue.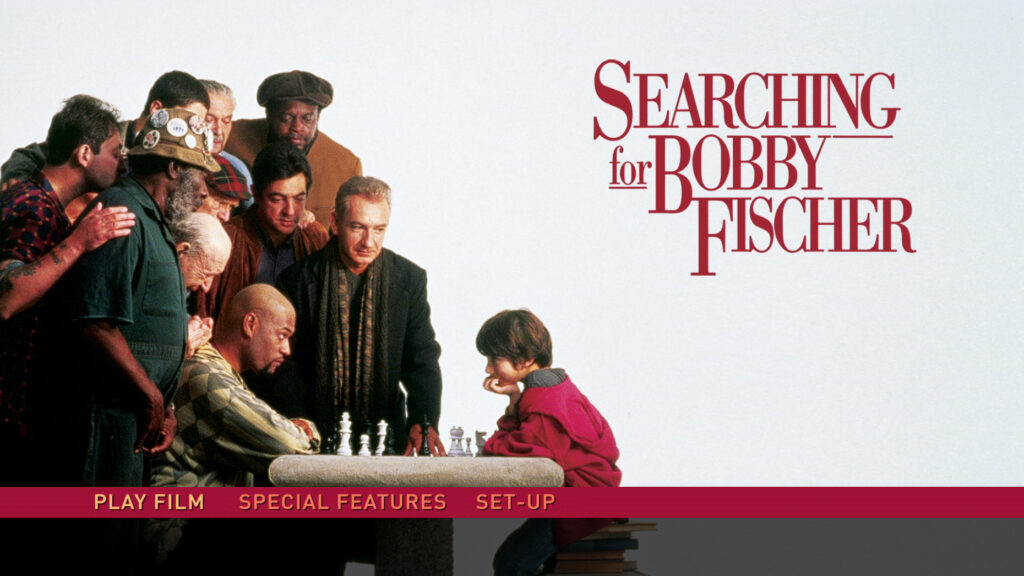 Searching for Bobby Fischer is rather basic. It's a child-prodigy drama by the numbers that pull at the heartstrings in very a Spielberg fashion, but it's quintessentially 90s which I'm sure will be enticing to many potential viewers; and Imprint, like always, have put in considerable effort for a relatively obscure title.
SEARCHING FOR BOBBY FISCHER 
(1993, director: Steven Zaillian)
★★★½
Head over to the Imprint Films Facebook page for the latest releases, giveaways, great deals and more!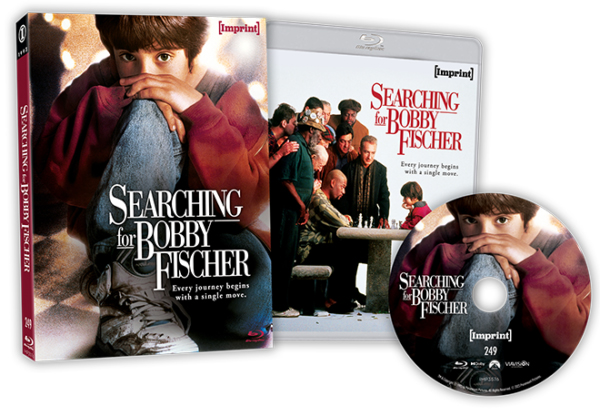 direct blu-ray screen captures
You can follow cinematic randomness on Twitter and Facebook where you'll find all my cinematic exploits. Thank you for visiting!