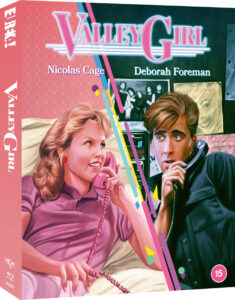 When we think of 80s America, images of California often spring to mind. The west-coast American state seemed to exist in an almost hyperreality, especially when viewed through the lens of cinema. Los Angeles, in particular, served as a pop culture epicentre during the rad decade. One of my earliest brushes with the Golden State was playing California Games on my cousin's Atari 2600.
Valley Girl not only brings summer vibes, but a quirky little dissection on a specific type of teenage social fabric, and Eureka Entertainment have come to the party with a new Limited-Edition Blu-ray for the film's 40th anniversary.
In this melodramatic tale about love from different worlds, Julie (Deborah Foreman) meets outsider and city punk, Randy (Nicolas Cage), and sparks fly, but the valley girl's trendy friends would rather she patch things up with her hunky and popular ex-boyfriend, Tommy.
Even though the eighties hadn't quite kicked into maximum overdrive by 1983, Valley Girl does harbour an air of excess. The film's uncanniness is present in small doses, like in Julie's parents, no discipline hippies who are played by Apocalypse Now alumni, the late Frederic Forrest, and Collen Camp, who would have been only 29 at the time of filming. In addition to this strange bit of casting, the contrast between Julie's clique and Randy, along with his buddy, Fred, is almost alien.
While there's not a great deal at stake, the heart of the story revolves around Julie's attraction to Randy, which is seen by her peers as a somewhat disturbing break with social convention, which highlights how accurately the film portrays the various personality types present in its central clique. Julie, who is the would-be prom queen, is good-natured and caring, whereas her bestie, Stacey, is slightly villainous in her attempts to restore the natural order of things. Despite Suzi and Loryn remaining neutral, there are hints that they hold strong opinions on the unfolding drama, but are too afraid to speak up, making Valley Girl a great example of peer pressure.
Nicolas Cage, while a little green as an actor, has the charisma that would help make him the star he is today and there are even a few hints of him "going full Nic Cage", which has since become internet meme fuel. Most of the film's charm is fuelled by the strong chemistry shared by the actor and Deborah Foreman; the viewer can easily feel the affection they share, which comes across as very genuine.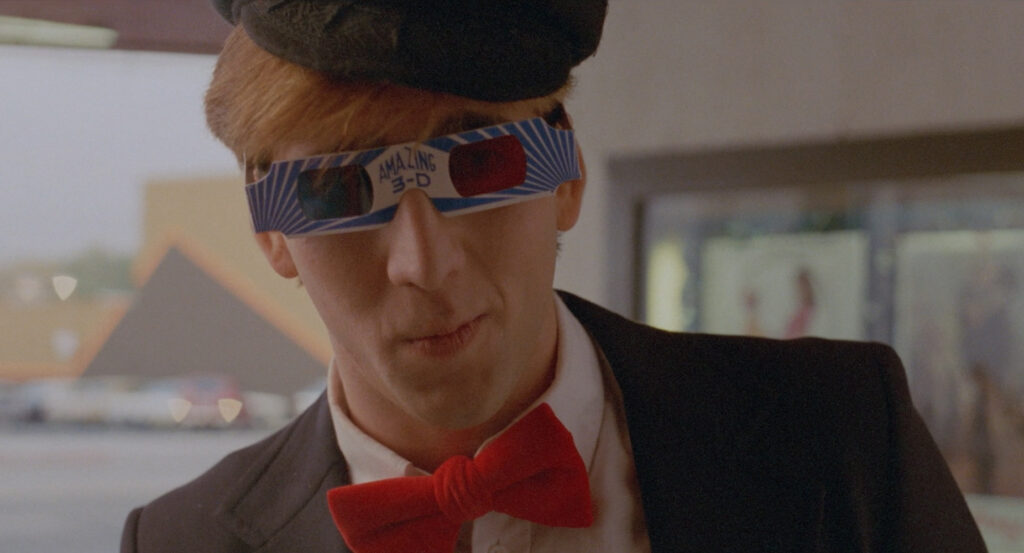 SPECIAL FEATURES
Limited Edition Box Set – 3000 Copies
New audio commentary with Maya Montañez Smukler (author of Liberating Hollywood: Women Directors and the Feminist Reform of 1970s American Cinema) and Maria San Filippo (editor of After 'Happily Ever After': Romantic Comedy in the Post-Romantic Age)
Audio commentary with director Martha Coolidge
New interview with Deborah Foreman
Valley Girl in Conversation – 2018 interview with director Martha Coolidge and actresses E. G. Daily and Heidi Holicker
Martha Coolidge and Nicolas Cage on Valley Girl
A huge selection of archival interviews with cast and crew totalling over 3 hours
20 Totally Tubular Years Later – 2003 featurette
The Music of Valley Girl – featurette
Music Videos
Storyboard Comparisons
Original theatrical trailer
A Limited Edition collector's booklet featuring new writing by Alexandra Heller-Nicholas and Craig Ian Mann
If Eureka's latest release of Valley Girl is your first to own on physical media, you're in for a treat as the supplementary content on this disc is compiled from previous releases dating as far back as 20 years ago. Of course, the UK label also provides a slew of new featurettes including a commentary from Maya Montañez Smukler and Maria San Filippo, which is in equal parts easy listening, and insightful. As for video interviews, lead actress Deborah Foreman sits down for an 18-minute retrospective on her rise to fame, work on Valley Girl, and the film's subsequent legacy. Despite not being listed as a "commentary", Colleen Camp's interview with Elijah Drenner is presented as such apart from the discussion focusing primarily on her career as a whole instead of on the film itself.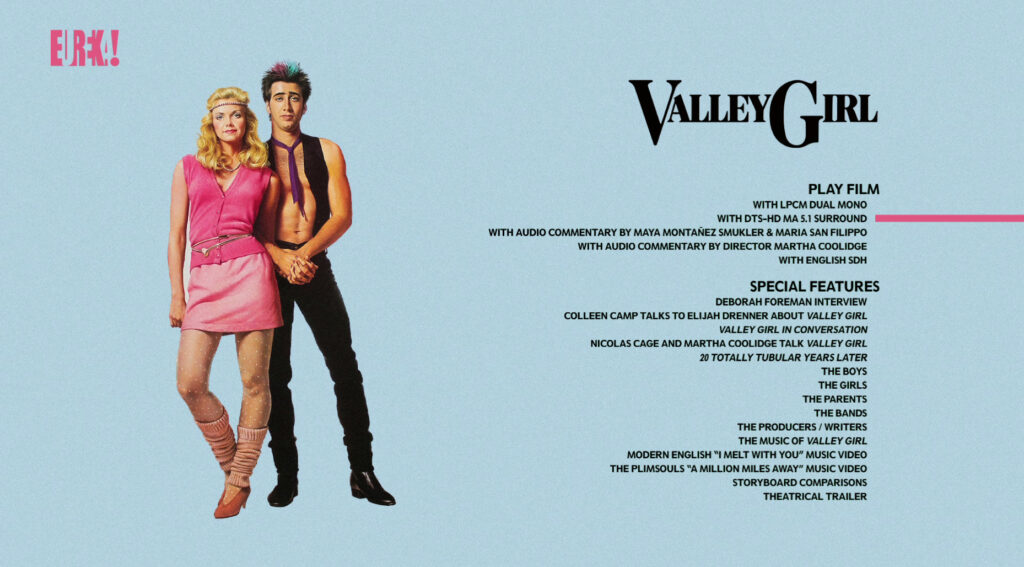 Ported from a previous release, but filmed in the past five years, the sit-down with Martha Coolidge and stars E.G Daily and Heidi Holicker provides an in-depth retrospective on Valley Girl from the perspective of those who worked in front of and behind the camera. Classic featurettes are compiled from Valley Girl's 20th Anniversary release and include interviews with pretty much every major player who contributed to this romantic classic—unsurprisingly they total an impressive three-plus hours! – by Hannah Lynch
VIDEO AND AUDIO
A 4K scan of the original negative results in an impressive 1080p rendering in the original aspect ratio 1.85:1 which brings new life to this 40-year-old classic, boasting    naturally vibrant colours befitting to sunny California. Night scenes bring with it a lot of digital noise, but sharpness and clarity are not compromised; there's almost a neo-noir feel when our characters are cruising down Wilshire Boulevard. Dual Mono LPCM and DTS-HD Master Audio 5.1 Surround are the audible offerings on hand, and while the 5.1 track has the best scope and complements the soundtrack, dialogue volume suffers, so I went "Back to Mono" for my viewing, which still gave my two front speakers a good work out.  English HOH subtitles are included.
Valley Girl is an even split as a comedy/drama. It's silly, serious, surreal, and sombre. It shouldn't be dismissed as something frivolous, and I think it stands apart from the more popular titles that came later in the decade.
VALLEY GIRL   
(1983, director: Martha Coolidge)
★★★★
direct blu-ray screen captures
You can follow cinematic randomness on Twitter and Facebook where you'll find all my cinematic exploits. Thank you for visiting!