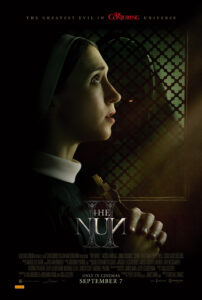 Five years between sequels is a while these days, especially for horror movies, but I have a sneaking suspicion that COIVD kept The Nun II banished from production, which opened in theatres earlier this month, following up on the 2018 original.
Naturally, the demonic force, Valak, who masquerades as a nun, has returned to unleash terror across France while in search of a very specific religious keepsake, and the diligent Catholic church has tasked Sister Irene to stop it.
Many have dismissed The Nun II as a pointless sequel, citing it as proof that 'The Conjuring Universe' needs to end. Considering that this chilling feature is the eighth instalment in the series, I do agree with these sentiments in part, as the film is a sequel of no consequence. However, as a fan of Hammer's gothic horror titles, I do appreciate what Warner Bros. and James Wan are trying to do: producing mid-tier atmospheric horror that's digestible for all audiences. I think The Nun II homes in on that formula almost perfectly and while it does exceed my desired runtime of 90 minutes, it utilises its length to delve into Christian history and reverberates a feeling of evil that is ultimately countered by a message about faith that isn't delivered in a clumsy fashion. Visuals are very much on point, especially in terms of creativity with some references to genre classics like The Shining.
Taissa Farmiga proves to be very capable as our lead, who has brought added maturity to the role of Sister Irene compared to the original film, and since we're technically still in are prequel territory as Valak first appeared in The Conjuring 2, I certainly wouldn't say no to one more 'Nun Vs. Nun' sequel.
If you're in the mood for a simple and traditional horror movie that ticks all the boxes, then I think The Nun II fits the bill and it's still very much in wide release in cinemas across Australia through Warner Bros. Pictures.
THE NUN II
(2023, director: Michael Chaves)
★★★½
You can follow cinematic randomness on Twitter and Facebook where you'll find all my cinematic exploits. Thank you for visiting!