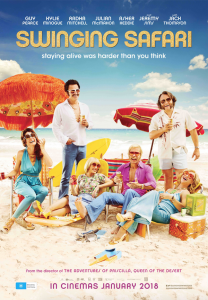 From celebrated Aussie director Stephen Elliot, who brought us The Adventures of Priscilla, Queen of the Desert and the lesser known Welcome to Woop Woop comes a semi-autobiographical piece in the form of Swinging Safari, depicting the cringeworthily antics of kids and adult alike during a typical Australian summer in the 1970s.
Despite not being a child of the polarising decade, I grew up listening to countless stories from my Dad, often pertaining to careless parenting and reckless childhood shenanigans, which the film highlights with much enthusiasm. I even spotted a few familiar sights myself, such as BBQ rissoles, platters comprising of the three essential party foods (cheese, savoy crackers and kabana) and of course Kentucky Fried Chicken being far more popular than it should have been. Swinging Safari isn't much of a movie in the structural sense, but really a series of events chock full of shock value that poke fun of an unflattering side to Australian culture, which more often than not has been detrimental to our national identity. Characters or should I say caricatures are simply that, although entertaining nonetheless, particularly Guy Pearce as the sun soaked father of six Keith, along with his docile wife Kaye played by 'Queen of Pop' Kylie Minogue, who spends much of the film wallowing in the abyss of alcoholism.
Stephen Elliot has a proven knack for absurdist humour and much like in the underappreciated Welcome to Woop Woop, there's a subtle darkness to our psyche that reveals itself only for a second with the occasional wink and lingering smile, a prominent trait from Julian McMahon's as lower-middle wanker, Rick. Swinging Safari is out in cinemas across Australia through Becker Film Group and while there's little in the way of thematic storytelling, it's colourful satire that's good for a laugh.
SWINGING SAFARI
(2018, dir: Stephan Elliot)
★★★½
You can follow cinematic randomness on Twitter and Facebook where you'll find all my cinematic exploits. Thank you for visiting!