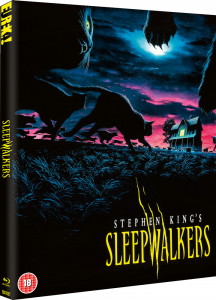 Maximum Overdrive was the first and last film Stephen King directed, but his contribution to cinema did not end there. He later penned the screenplay for Sleepwalkers, the first of its kind not based on any of his pre-existing material, but one that still contains the all the quirks and lunacy of the acclaimed author. Eureka Entertainment has brought the obscure horror/fantasy to the UK market on Blu-ray via a Limited Edition Release, and it couldn't be riper for revisiting or watching for the first time, like I just have.
When a mother and son, Mary and Charles Brady, who are uncomfortably close to each other, more to 'Anytown, USA' they seek a young virgin to feed off, because they're Nomadic vampiric cat people of course. I've always been impressed with Stephen King's encyclopedic knowledge of ancient lore and myth. His writings about mysterious beings, creatures and monsters really stimulate one's imagination. King could have easily given us something truly dark and terrifying, like Paul Schrader's Cat People, but he opted for something shamelessly cheesy and partially in the vein of B-movie madness. It almost seems to embody the very essence of King's personality: slightly disturbing, off-kilter and downright strange. Madchen Amick is the young virgin, Tanya, who Charles has set his sights on. She's a smart girl-next-door type with avery picturesque home life and she shares her parents with Ferris Bueller, played by the real-life married couple, Cindy Pickett and Lyman Ward. Much of the film is simply Charles' pursuit of Tanya, who goes from charming to predatory in a second, all while his mother, Mary, stays behind doors, warding off the local population of cats, the furry object of their doom. The physical relationship between Charles and Mary is horrifyingly romanticised by King, often while the two slow-dance to the sensual instrumental classic, Sleep Walk by Santo & Johnny. If you've read the bulk of King's work, you're probably thinking, "Well, it figures", but I was surprised by the front and centre treatment of the story's incestuous element. Although, there's a feeling that our related antagonists are possibly the last of their kind, so you could take that as a subtle form of justification.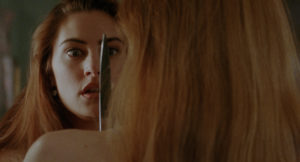 VIDEO AND AUDIO
I was quite impressed with both the picture and sound of this release. The 1.85:1 image has a warm ambience that feels very comforting and works as the perfect counter to the "Norman Rockwell goes to hell" vibe, to quote director, Mick Garris. With optional audio tracks, DTS-HD Master Audio 5.1 provides a very loud and immersive audible experience, which is a credit to the film's sound mixing. The viewer still gets exceptional quality from LPCM 2.0 and English subtitles are also included.
SPECIAL FEATURES
Limited Edition O-Card slipcase with silver laminate finish [2000 copies]
New Audio Commentary with director Mick Garris and film historian Lee Gambin
Audio Commentary with director Mick Garris, Mädchen Amick, and Brian Krause
"Feline Trouble" interview with director Mick Garris
"When Charles Met Tanya" conversation with actors Mädchen Amick and Brian Krause
"Mother & More" interview with actress Alice Krige
"Creatures & Cats: The FX of Stephen King's Sleepwalkers" featurette
Behind-the-scenes footage
Theatrical trailer
Limited Edition collector's booklet featuring new writing by Craig Ian Mann (2000 copies)
Ported from Scream Factory's 2018 release, the four featurettes give fans a solid hour of quality retrospective content with each individual expressing their own personal opinions on making the film. Mick Garris especially enjoyed the experience and understood the intention and style of King's screenplay having directed Critter's 2 four years prior, he wasn't a stranger to 'creature feature' B pictures. Alice Krige talks about her approach to the material as an actress, and despite feeling uncomfortable watching the film, still speaks about it fondly and clearly respect the effort that went into its creation. Behind-the-scenes is interesting, which gives viewer a close look at the creature design and how the film's original ending wound up on the cutting room floor. Artwork between the case and slipcover does not differ, but in true Stephen King style, looks like the type of illustration one would find on one of the author's novels or collection of short stories.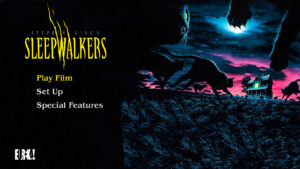 Sleepwalkers utilise face-morphing technology that was new at the time, which originally wowed audiences in Michael Jackson's epic music video, Remember the Time. While it's a little dated, it suites the film's style and the effects team clearly had a lot of fun with the digital gimmick. I wouldn't call Sleepwalkers a particularly good movie, but it's a fun 90 minutes and if you go into with the right mindset, you'll be thoroughly entertained. As an overall release, I think it's excellent and warrants the purchase, if only for the bonus material.
SLEEPWALKERS
(1992, director: Mick Garris)
★★★★
direct blu-ray screen captures
You can follow cinematic randomness on Twitter and Facebook where you'll find all my cinematic exploits. Thank you for visiting!