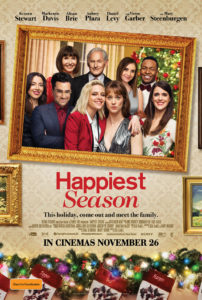 With my home state of Victoria now COVID-free, at least for the time being, I returned to my local cinema after a five-month break to see the appropriately festive holiday 'dramedy', Happiest Season. Intended for digital distribution in the United States, for obvious reasons, the hulu original film has made it to numerous big screens throughout Australia, a holiday gift for many venues, particularly those that have been struggling.
Offering the very tried and tested premise of putting up a façade for the sake of an ideal Christmas, Harper (Mackenzie Davis) invites her girlfriend, Abby (Kristen Stewart) to her family home for the holidays. Unaware their daughter is a lesbian, Harper presents her significant other to her parents, as a roommate while playing up Abby's tragic holiday past. Much like the Birdcage, but sort of in reverse, we have a homosexual couple playing it straight for "conservatives". In this case, a mayoral candidate in the form of Harper's father, Ted, who is focused on presenting the right image for voters.
If you haven't realised already, the central theme of Happiest Season is the fabrication of perfection and its emotional toll on those involved who are unable to be truthful or express who they are as people, out of fear of rejection. Besides our leads, one supporting character suffering in silence is Harper's sister, Jane, who is marginalized due to her social ineptitude but is warm and caring nonetheless. She's someone I can relate to quite well, as I have a similar status among my extended family members. As we near the film's climax, things do get a little dark and while the ending is in line with the holiday spirit, I would not have minded if Happiest Season concluded on a sombre note as to accurately represent the reality many in the LGBT community face.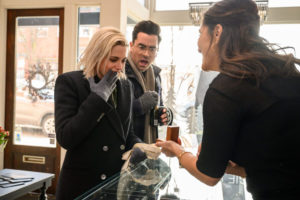 All in all, there's a nice balance between comedy and drama throughout, with a collection of strong performances from the film's two stars, along with Dan Levy, Mary Steenburgen, Mary Holland, Aubrey Plaza and Alison Brie as the ice-cold older sister, Sloane. While the film ticks many of boxes off the 'Holiday Movie Check-List', the message of acceptance and equality is never diminished.
Now showing at Dendy Cinemas Canberra – for information and session times, please visit their official web site
HAPPIEST SEASON
(2020, director: Clea DuVall)
★★★½
You can follow cinematic randomness on Twitter and Facebook where you'll find all my cinematic exploits. Thank you for visiting!