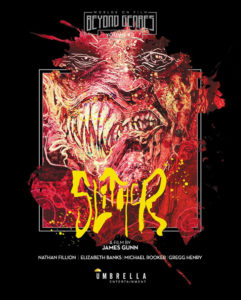 Naturally, a blind purchase can be the best and worst way to discover new movies, but it was a weekend ritual of mine during my early 20s, months before I moved out of home. As people were upgrading to flat-screen televisions, I still used a TEAC 51cm tube-telly, which was heavier than a neutron star. Nevertheless, the modest display was my window to Slither, the directorial debut of MCU and DCEU craftsman, James Gunn, and is now available on Blu-ray from Umbrella Entertainment – Volume 10 of their Beyond Genres sub-label.
In the tradition of The Blob and Night of the Creeps, this 80s-style throwback takes place in a small 'hick town' where an alien plague is unleashed via comet, using the locals to create a monstrous and zombified hive-mind. Sheriff Bill Pardy (Nathan Fillion) is the town's only hope of stopping the invading parasite and hordes of pink slugs.
I've seen Slither a few times now, with my latest viewing coming a good ten years after my previous and I'm glad to report that my opinion hasn't waned. Prior to stepping into the director's chair, Gunn had written the remake of Dawn of the Dead, which despite it's serious tone has moments of dark humour and subtle peculiar quality, that's amplified in this tribute to VHS-era horror. Apart from four our protagonists, the film's cast of supporting players embrace various stereotypes synonymous with small-town personalities. Their reactions and antics give gravity and a fun hysterical note to the developing situation, which begins with the wealthy resident, Grant Grant (Michael Rooker), becoming the host victim in a Cronenberg and Romero type fashion. Nathan Fillion is a perfect fit as the good-natured Pardy, who's armed with charm and sarcasm in equal measure, and knows how to handle the many local characters. However, he holds a torch for his childhood friend, Starla Grant, the wife of 'patient zero', but the film doesn't indulge in a romantic subplot. It instead delivers on what's promised, monster mayhem with plenty of blood and guts and Gunn's education in genre filmmaking is put to spectacular use during what is very easy to digest 96 minutes.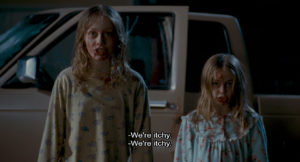 VIDEO AND AUDIO
While no details regarding the transfer have been officially disclosed by Umbrella, it appears they've used a new HD master, which is a nice improvement over their 2013 standard Blu-ray treatment. There's a nice texture to the 1.85:1 image, which brings out vibrant natural colours produced by the setting's autumn climate and night scenes have a nice level of visibility, but I did notice some moments of digital noise and high contrast. The disc's DTS-HD Master Audio track doesn't disappoint with crisp and perfectly balanced sound and most importantly, the dialogue volume is front and centre. English HOH subtitles are included.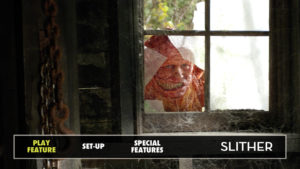 SPECIAL FEATURES
Audio Commentary with James Gunn and Nathan Fillion
The Slick Minds and Slimy Days of Slither: Making of featurette (10 Mins)
Who Is Bill Pardy? (5 Mins)
Slither Visual Effects Progressions (5 Mins
Bringing Slithers Creatures to Life: FX Featurette (19 Mins)
Slithery Set Tour With Nathan Fillion (5 Mins)
The Gorehound Grill: Brewin' The Blood (3 Mins)
The King of Cult: Lloyd Kaufman's Video Diary (9 Mins)
Deleted Scenes (11 Mins)
Extended Scenes (8 Mins)
Gag Reel (8 Mins)
I fondly remember diving into these extras with much excitement after first watching Slither, which all amount to a very detailed and loose 'making-of' with a focus on the film's gross array of practical effects and colourful characters. Who Is Bill Pardy is an example of the tongue in cheek style of humour that's littered throughout the film, with star Nathan Fillion as the main vehicle for the flippant tone. Bringing Slither's Creatures to Life shows the marriage between practical elements and digital imagery, along with participation by the actors who clearly had a lot of fun mingling with the creature design.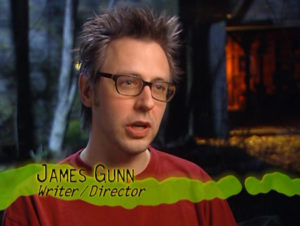 Simon Sherry's artwork for the slipcover is among his best with an insanely grotesque representation of the Michael Rooker monster, which has been a big selling point for this edition. Unfortunately, Sherry has moved on from Umbrella Entertainment, but his contribution has no doubt been a significant factor in raising the Australian-based label's international reputation. I wish him all the best going forward.
Slither with all its insanity and 'slug stuff' was a fine choice by Umbrella to take Beyond Genres into double-digit territory and while it's left to speculation as to what's next for the sub-label, I'm sure it'll be something special.
SLITHER
(2006), director: James Gunn)
★★★★
You can follow cinematic randomness on Twitter and Facebook where you'll find all my cinematic exploits. Thank you for visiting!