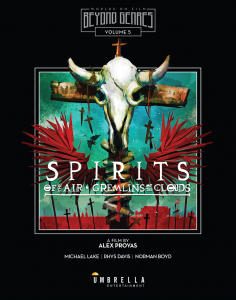 Following a milestone screening at this year's Melbourne International Film Festival, which I narrowly missed, Alex Proyas' (Dark City) debut feature Spirits of the Air, Gremlins of the Clouds is now the fifth volume of in Umbrella Entertainment's Beyond Genres series. Showcasing stunning artwork both inside and out by resident illustrator Simon Sherry, this visionary piece takes place in what is implied to be a post-apocalyptic Outback; where a brother and sister endure alone under the harsh conditions of their environment. Upon the arrival of a mysterious stranger, our eccentric pair react strongly, sending them both into a worked up state.
Striking images of decay and abstract sculpture opens the film in a fashion that feels experimental, a sensation and visual style that carries over into the narrative, which anchors to a central theme of flight. While largely ambiguous as to what drastic event occurred to create this almost lifeless world, I can't help but feel that our trio of characters represent a key emotion or instinct. Felix Crabtree (Michael Lake) is a wheelchair bound odd-ball obsessed with aerodynamics. He enlists the able-bodied stranger, Smith (Norman Boyd), to help construct a makeshift flying machine capable of taking them both beyond the distant mountains that surround them. Meanwhile, Felix's sister Betty (Rhys Davis), a religious zealot, recoils at the sight of Smith, fearing him as an instrument of evil. Despite being mostly idle, prior to new company, Felix is optimistic while Betty lives in permanent state of fear and apprehension, whereas Smith seems to represent survival in the face of a broken world and the those who pursue him. Cinematography is undeniable a powerful tool in filmmaking and in Spirits of the Air, Gremlins of the Clouds David Knaus' work creates a character out desolate landscape, contributing to film being more of an experience above a piece of story-telling.
VIDEO AND AUDIO
Sourced from a newly restored 2K master, scanned from the film's original 16mm negatives, the film is flawless on both a visual and audio stand-point. Presented in 4:3, the unconventional choice of aspect ratio is fitting considering the film's peculiar nature, with various shades of orange, red and blue reflecting the arid setting. Textures and film grain is noticeable throughout, but share a balanced coexistence, proving a testament to exceptional re-mastering process.
SPECIAL FEATURES
Audio Commentary with Director Alex Proyas
Audio Commentary with Composer Peter Miller and Editor Craig Wood
Interviews with Cast Members Michael Lake and Rhys Davis
SPIRITS: Making a Post-Apocalypse Western featurette
SPIRITS SONG: music video
Image Gallery
2018 Trailer
Spirits of the Air, Gremlins of the Clouds comes with a generous serving of bonus content with insightful commentaries and interviews, particularly from Rhys Davis who recounts her career leading up to the role of Betty Grabtree. On the other hand, co-star Michael Lake tends to veer off topic quite a bit during his 36-minute interview, but thankfully manages to find time to express his personal thoughts and experiences on the film. For some on-location footage, the making-of featurette is worth checking out, which generally consists of a casual tour around the minimal set pieces during and between takes.
Much like the sight Betty Crabtree franticly playing on a self-made instrument, Spirits of the Air, Gremlins of the Clouds exists on a fine line between bonkers and art and might just be the worthiest inductee into the Beyond Genres label to date.
SPIRITS OF THE AIR, GREMLINS OF THE CLOUDS
(1989, dir: Alex Proyas)
★★★★
You can follow cinematic randomness on Twitter and Facebook where you'll find all my cinematic exploits. Thank you for visiting!