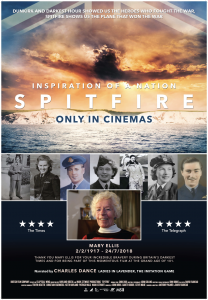 Whether you're a student of history, aviation or even just documentary filmmaking on its own, the upcoming honorary feature Spitfire will more than likely have an impact and leave you with a lasting feeling of gratitude. From conception to its official retirement, the story of the world's most revered fighter aircraft is told in detail utilising archive footage, expertise from numerous individuals, and interviews with the pilots who flew them during the Battel of Britain.
Designed by aeronautical engineer R.J. Mitchell, the Supermarine Spitfire flew with the same grace and ease as the birds that fill our skies. However, the now celebrated Mitchell sadly passed prematurely before he could see his beloved fighter reach its full potential as decisive weapon of war, which dealt the first defeat to Nazi aggression. Charles Dance (Game of Thrones) narrates the feature with a seriousness that helps to covey what could only be describe as the dire circumstances Great Britain was under during the on-set war with Germany. Interviews with past pilots express the sense of national pride and attitude of perseverance that was ingrained throughout Britain and how their will and determination made them a force to be reckoned with. Hearing these brave souls talk with such affection about the Spitfire is quite touching and is a testament to its design and to the countless many who constructed them around the clock.
Spitfire opens in selected theatres throughout Australia on November 15th through Rialto Distribution. Since the film's completion, former pilot Mary Ellis, who was member of the Air Transport Auxiliary passed away in July at age 101. Her presence in the film does not go unnoticed and represents the unsung heroes who delivered these magnificent flying machines into the hands of the few who did so much for so many.
SPITFIRE
(2018, dir: David Fairhead, Ant Palmer)
★★★★
You can follow cinematic randomness on Twitter and Facebook where you'll find all my cinematic exploits. Thank you for visiting!