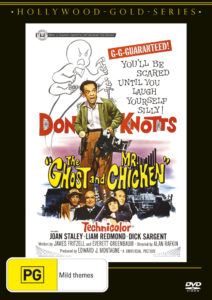 I grew up watching Don Knotts in fragments, mostly while wandering through the channels during weekend afternoons. He's an actor who's hard to miss; an almost living cartoon and his performance in The Reluctant Astronaut was my introduction to his signature 'Nervous Man' character. Last night I sat down to watch The Ghost and Mr. Chicken, arguably the actor's most acclaimed comedy, that's new to DVD under Shock Entertainment's ever-expanding Hollywood Gold Series.
Working as a printer for a small-town newspaper, the timid Luther Heggs (Knotts), gets a chance to be a reporter after writing a filler-piece on a local haunted mansion with a sinister past. When the article becomes a hit among locals, Luther is then encouraged to spend a night inside the house on a significant anniversary.
While undoubtedly a funny Technicolour comedy, The Ghost and Mr. Chicken is a prime example of Universal Pictures' well-practice economics for their B-movie slate. Keen-eyed fans will likely recognise the 'Psycho House', repurposed as the Simmons Mansion, where Knotts takes his famous persona to the extreme. Then we have the studio's pristine backlot, which features one very familiar residential street, that I always recognise from The 'Burbs, among many other titles. In contrast to modern pictures, these recycled and fabricated sets tend to look very obvious nowadays, but they complement the clean and vibrant model of crowd-pleasing films made during the early to mid-1960s.
Knotts exhibits an exhausting amount of energy as Heggs, a loveable scaredy-cat and would-be journalist whose comedic prowess is the driving force behind this family-friendly feature. Counter to his frantic performance is a pleasant cast of supporting characters such as Joan Staley as Heggs' love interest, Alma; Dick Sargent as newspaper owner George Beckett, along with an assortment of locals that range from the eccentric to villainous.
I wouldn't say there's anything that could be defined as typically horror, apart from a few mildly dark moments, but this would be a fun watch during the Halloween season (perhaps after viewing the remake of House on Haunted Hill, if you want to get really polar with your selections). However, most of the story takes place outside of the haunted mansion around which the plot revolves, instead of focusing on the small-town reactions to Heggs' claims of supernatural experiences. There's even a short, and humorous courtroom sequence where our lead has to back up his run-in with the titular ghost.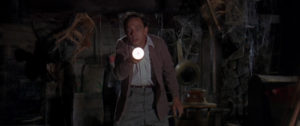 VIDEO AND AUDIO
Shock Entertainment offers a very bare-bones edition, but it's good value for money and the HTSC formatted transfer does come from a HD source, which looks quite nice after some HDMI upscaling. Presented in 2.35:1 and region-4 encoded, the Dolby 2.0 track is very loud with an evenly balanced stereo mix, that services the film's very swinging 60s theme well.
The Ghost and Mr. Chicken is a nice way to spend 90 minutes, despite the plot being a little misleading. It's the perfect introduction to Don Knotts and an entry point into some quaint classic cinema from Hollywood's golden era that's safe for the kids.
THE GHOST AND MR. CHICKEN
(1964, director: Alan Rafkin)
★★★½
direct dvd screen captures
You can follow cinematic randomness on Twitter and Facebook where you'll find all my cinematic exploits. Thank you for visiting!