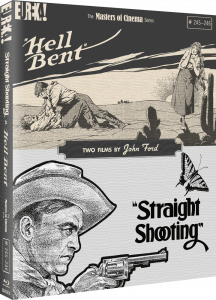 I'll always associate the name Harry Carey with The Goonies, thanks to a throwaway line by Brand Walsh, who confuses the actor's name with the Japanese ritual of hari-kari. Now I have much better context of who Carey was and his significance to cinema; which came recently via the Blu-ray set, Straight Shooting & Hell Bent: Two Films by John Ford, from Eureka Entertainment in the UK.
Straight Shooting marked Ford's directorial debut, now considered a landmark film in the history of the American Western. Harry Carey stars as a hired gun, Cheyenne Harry, who turns on his employer, the ruthless Cattleman Thunder Flint, to protect a farmer and his family. Carey reprised the role of Cheyenne Harry in the loose follow-up, Hell Bent, a rough and tumble feature which has the gun-slinger on the wrong side of the law. However, when dance hall girl, Bess, is snatched by a gang leader, the hero in Harry emerges and with his new pal, Cimarron Bill, the two set off to the rescue, taking them across a dangerous desert.
You could almost watch both these films as one whole feature due to the connective link of Cheyenne Harry, and mere the fact they're practically indistinguishable in terms of style. However, the narrative structure of Straight Shooting flows much better with a more realized story arch for our hero. By contrast, Hell Bent leans into the more popular notion of an action-filled western that audiences generally expect with whisky, poker, fist-fights, and shoot-outs; it's a typical sequel in that regard. Proof that the mindset or attitude behind follow-ups hasn't really changed over the course of a century. Harry Carey, who had been a star long before Straight Shooting, had appeared in countless shorts between 1910 and 1917 and his experience in front of the camera is beyond question. He's not only the first western hero but one of film's earliest superstars. His charisma and screen presence as a tough yet jovial leading man, serve as a template for future stars of the genre such as John Wayne and Clint Eastwood.
Silent films are often very static in the way they're shot, especially in compassion to modern cinema, but John Ford's sophisticated technique gives both Straight Shooting and Hell Bent a quality that makes them appear ahead of their time. There are sequences that play like contemporary filmmaking, with cinematography that will later be one of the most defining features in Ford's long filmography.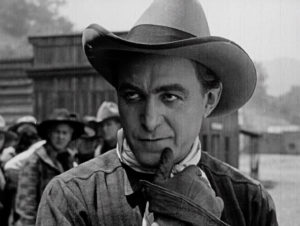 VIDEO AND AUDIO
Straight Shooting and Hell Bent have undergone 4K restorations carried out by Universal Pictures and the results really do speak for themselves, even via the set's 1080p presentation. Both films have all the common picture characteristics of the era such as slightly sped-up movement, low frame rate, and a frequent texture of faint vertical lines across the image. Although, the remarkably high quality and detail gives the viewer a clear window into the past, which in this case, is over a hundred years ago. While both films have different original aspect ratios, 1.33:1 and 1.37:1 respectively; Eureka have gone with 1.33:1 for their release, presumably to reduce production time. I couldn't find any details on the sound pertaining to the film's score, but Dolby 5.1 would be a fair assumption, and they both sound terrific as you can imagine.
SPECIAL FEATURES
Limited Edition O-Card slipcase and reversible sleeve artwork (2000 copies)
Straight Shooting – Score by Michael Gatt
Hell Bent – Score by Zachary Marsh
Straight Shooting – Audio commentary by film historian Joseph McBride, author of Searching for John Ford: A Life
Hell Bent – Audio commentary by film historian Joseph McBride
Brand new interview with film critic and author Kim Newman
Bull Scores a Touchdown – Video essay by Tag Gallagher
A Horse or a Mary? – Video essay by Tag Gallagher
Archival audio interview from 1970 with John Ford by Joseph McBride
A short fragment of the lost film Hitchin' Posts (dir. John Ford, 1920) preserved by the Library of Congress
A collector's booklet featuring writing by Richard Combs, Phil Hoad, and Tag Gallagher
Universities could give this set to film students as course material, or NASA could send it out with a deep space probe. That's how historical and rich the bonus material is, which of course includes an interview with Kim Newman. If you're not sure where to start on the list above, I recommend, Bull Scores a Touchdown which covers the collaboration between Ford and Cary, opening with a very triumphant score, befitting to both men. A Horse or a Mary? Covers Ford's life, both personal and professional, presented in the same fashion as the previous video essay with a lovely assortment of photos.
If you're a fan of westerns, you can't get any more classic than this double-bill from Eureka. While silent films often aren't a draw for many people, many of the popular tropes of the genre are present and each film is roughly just over an hour, perfect for the attention spans of modern audiences. Was that too harsh?
STRAIGHT SHOOTING & HELL BENT
(1917 & 1918, director: John Ford)
★★★★
direct blu-ray screen captures
You can follow cinematic randomness on Twitter and Facebook where you'll find all my cinematic exploits. Thank you for visiting!