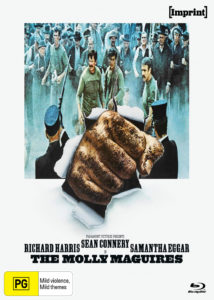 Imprint's October batch of releases was subject to a lot of buzz online, but little mention was made of The Molly Maguires, much like when it hit theatres over fifty years ago, but hopefully, I can steer some viewers towards the moralistic drama of deadly industrial action.
Set in Pennsylvania, 1876, a Pinkerton detective, James McParland, played by Richard Harris, is employed to infiltrate a secret organisation of Irish coal miners who are resisting their oppressive employers through acts of sabotage, and even murder.
Now, if you can manage to look past Richard Harris' beautiful eyes, you'll notice that Sean Connery is also in this movie, and he doesn't utter a word until 40 minutes into the picture despite being top-billed. He has a solid rapport with Harris as "Head Molly", Jack Kehoe, and spy respectively, taking the audience down a tunnel, so to speak, where morals conflict against professional ascension and the fight for justice. James ultimately feels he is justified in weeding out the assailants but grapples with turning against his own people, an immigrant minority no stranger to persecution, often from the nation that's welcomed them. Whereas on the other side, Jack, along with co-conspirators, is committing violent acts against their fellow man and the church but believes the ends justify the means, which boils down to earning a fair wage for a fair day's work.
Much of what I mentioned above is just beneath the surface, yet the film doesn't bother itself with much exposition. There isn't any dialogue spoken until around the 15-minute mark and there's just one brief scene that tells us everything we need to know about the miner's plight; the simple task of collecting one's payslip followed by a list of "deductions" leaving almost no take-home pay. The Molly Maguires takes its time with telling the story, a style that's all but gone from today's mainstream filmmaking and one which director Martin Ritt seems to have a knack for, The Spy Who Came in from the Cold is a great example.
Supporting players such as the Samantha Eggar brings warmth to the otherwise cold nature of this historical drama as James' love interest, while Anthony Zerbe as the somewhat loose cannon, Dougherty, is a lively presence, despite being a liability to the Maguire's covert war. Frank Finlay as James' superior, Davies, is all work and no play but gives a very serious and intimidating performance as do most of the principal cast.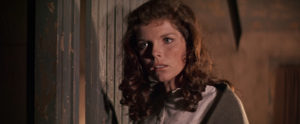 VIDEO AND AUDIO
The Molly Maguires saw its first Blu-ray release three years ago in the U.S. via a rather bland studio edition from Paramount Pictures, who have supplied this 1080p presentation to Imprint Films. Enhanced by a quality DTS-HD 5.1 surround track, the 2.35:1 image holds a lot of detail, which is a benefit to the film's high production standard. There's a warm hue to the picture, contrasting the very dull and blackened mining community. Although, this makes the sight of green vegetation an impressive and welcoming sight. For my audible experience, I chose the LPCM 2.0 Mono track as the dialogue volume was significantly louder, although the overall quality isn't great as I notice some distortion during the film's busier moments in terms of audio. English subtitles are also included.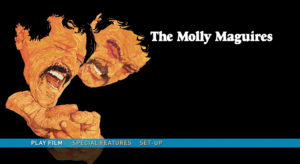 SPECIAL FEATURES
NEW Audio commentary by film historian Howard S. Berger
NEW Audio commentary by author/producer and film historian/filmmaker Daniel Kremer and Nat Segaloff
NEW A Complicated Film: Anthony Zerbe on The Molly Maguires
Theatrical Trailer
In the special features department, Imprint has greatly improved on Paramount's bare-bones release of The Molly Maguires with two all-new commentary tracks and an 18-minute long audio interview with our feature presentation's supporting star, Anthony Zerbe. Both commentaries offer something for everyone with Howard S. Berger's being a solo affair; the film historian provides insights in moderation, allowing his thoughts to breathe along with the scenes he analyses. As a joint effort, Daniel Kremer and Nat Segaloff's track is more laid back, and the dynamic allows for constant conversation which never fails at being engaging. Anthony Zerbe's interview is certainly a major selling point and the audio is presented over appropriate clips and photos from the film (including some fun behind-the-scenes shots). Despite the film's age, the character actor remembers his time working on it with ease and reflects warmly on his fellow thespians and director. – by Hannah Lynch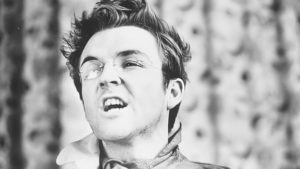 The Molly Maguires was not a success back in the day, despite being an excellent film. In fact, it drove Connery to drink …vodka martinis that is, returning to play James Bond for a sixth time in Diamonds are Forever the following year; while Harris was prompt in suing Paramount for an undeserved second billing even though he's portrayed as the film's main protagonist, thus the leading star. Imprint has sought justice for this fine movie and has succeeded in doing so with a retrospective edition that doesn't skimp on the expense.
THE MOLLY MAGUIRES   
(1970, director: Martin Ritt)
★★★★
Head over to the Imprint Films Facebook page for the latest releases, giveaways, great deals and more!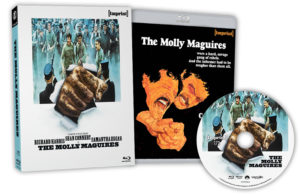 direct blu-ray screen captures
You can follow cinematic randomness on Twitter and Facebook where you'll find all my cinematic exploits. Thank you for visiting!