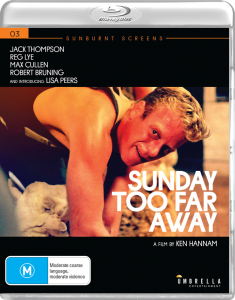 I remember often singing the Aussie bush ballad, 'Click Go the Shears', when I was in primary school, which was often met with little enthusiasm from practically everyone. Thankfully, it's nowhere to be heard in Sunday Too Far Away, the third volume in Umbrella Entertainment's dedicated sub-label, Sunburnt Screens, out now on Blu-ray.
Starring national treasure, Jack Thompson, this sweltering working-class classic follows gun shearer, Foley (Thompson), who leads a group of fellow shearers working on a remote sheep station in 1955. Amidst growing concerns over potential threats to their bonus as a result of the industry leaning towards hiring non-union labour, friendly rivalries form as the men bond over their very routine existence in the outback, where all they can do is work, drink and sleep.
I should point out the antagonising element of a strike and dirty politics, really only book-ends the film and doesn't really effects the main narrative if you could even call it that. Sunday Too Far Away is more a slice of life than anything else; a portrait of hard and arduous working life for the common shearer, and that silent rewarding feeling that comes with it. Reputations are at stake, particularly for Foley, whose status as the resident gun-shearer is under threat. Our hero is feeling the pressure, despite often toying with the idea of starting again in a different line of work while staring into his beer. What's more, his friend and mentor, Garth, a veteran shearer and alcoholic is clearing in decline health-wise. With all his inner turmoil, Foley is undoubtedly the heart of this film, a larger than life character who Jack Thompson embodies through an energetic and emotional performance. There's a sort of poetry to Foley who personifies the spirit of a bygone era while symbolising the loss of one's youth and vigour, along with the heartache that comes with it. Apart from sheep shearing, Sunday Too Far Away isn't really about anything, in particular, except for a man and an industry at a cross-road.
Umbrella has devolved quite a long summary about the film's restoration on their Facebook page, but to highlight the main points, it was carried out by the National Film and Sound Archive of Australia. The Original Print Negative was subject to a 4K scan by NFSA restoration partners, Vandal, then it was digitised and fully restored with the audio mix in-house at the NFSA. Despite several film reels initially arriving damaged, there are no obvious dips in quality. This restoration is a wonderful example of what's actually possible in reviving some of Australia's most beloved films, allowing them to live on in pristine condition for future generations. The 'sunburnt' aesthetic of Sunday Too Far Away is presented in the most stunning detail and the 1.85:1 image on this Blu-ray is especially vibrant, in addition to the 5.1 DTS-HD track (with optional 2.0) which sounds remarkable clear with a strong volume. Shearing scenes with a variety of sounds, both mechanical and natural, are the most immersive.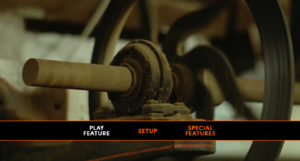 SPECIAL FEATURES
The Making of Sunday – archival TV documentary from 1975
Jack Thompson AM in conversation with David Wenham, post-screening of Sunday Too Far Away, recorded at GOMA, 2019*
Original World Premiere Programme from 1975
Stills Gallery
Theatrical Trailer
While not exactly the shearing shed load of special features Umbrella advertised, the label has included a modest selection of new and archival material, beginning with a 1975 documentary that's very formal and well-presented, with an added 1080p rendering which improves the 24-minute short's longevity. More standard archival material fill-out the list of bonus content, but it's the high-quality scan of the Original World Premiere Programme that's the most unique.
I didn't know this, but AM stands for, The Order of Australia, which was awarded to Jack Thompson presumably some time ago as he's been a landmark figure of Australian cinema for decades. Thompson's conversation with David Wenham runs for approximately 47-minutes, most of which is spent talking about Sunday Too Far Away, before veering off onto other films in the actor's filmography. I think what this featurette shows more than anything is how dedicated Thompson is to the arts and the importance he places in Australian history, illustrating how he is so much more than the quintessential Aussie male actor.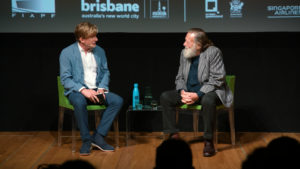 I watched Sunday Too Far Away appropriately on a Sunday, but whether that improved my experience or not won't really be known until I watch it again. I think I'll aim for a Tuesday, a day which "has no feel", to quote George Costanza. With a moderate dose of humour and a somewhat neutral quality, this classic of Australian cinema invites a very wide audience and now with the new Blu-ray release, it's possible to appreciate the film's splendour more than ever before.
SUNDAY TOO FAR AWAY
(1975, director: Ken Hannam)
★★★★½
direct blu-ray screen captures
You can follow cinematic randomness on Twitter and Facebook where you'll find all my cinematic exploits. Thank you for visiting!