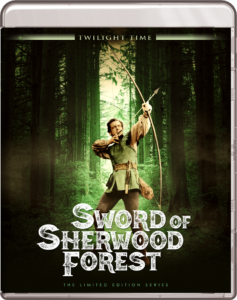 Known mostly for their take on cinema's most famous monsters like Dracula and Frankenstein, you may be surprised to know that Hammer Films tried their hands at not one but two Robin Hood adventures. Sword of Sherwood Forest, currently available on Blu-ray under Twilight Time Movies' Limited Edition Series, was the first of this series and made quite early into Hammer's prolific run.
Much like other big-screen celebrations of the English folk hero, King Richard is away in France setting up the pieces for Indian Jones and Last Crusade. Meanwhile, in Britannia, the Sheriff of Nottingham unlawfully confiscates land from fallen crusaders as the Earl of Newark attempts to consolidate power by means of assassination. Robin Hood and his band of merry men, along with Maid Marian, catch wind of the devious plot and set out to foil their plans.
Sword of Sherwood Forest is a fun 80-minute adventure, appropriate for the whole family while taking a simpler approach in terms of plot, but throws in a couple of interesting twists which I'm sure would catch many viewers by surprise. Richard Greene is Robin Hood, reprising his role from the television series, The Adventures of Robin Hood (1955-59) and proves more than capable as the heroic figure, firmly on the side of good. Whilst he and his fellow outlaws evade capture from the tyrannical Sheriff of Nottingham, Robin happens upon a chance encounter with the Earl of Newark, who takes Robin for no more than a simple peasant under the employ of Friar Tuck, steering the plot into a different direction. Peter Cushing, who is undoubtedly the film's biggest star, plays the villainous Sheriff with a lot of class but manages to exhibit moments of sheer cruelty to those he presides over. Not even the remarkable haircut can hinder his performance, which is an unusual sight for the respected actor but is accurate to the time period, the style of which the film wholeheartedly embraces. Shot on location in Ireland and inside Hammer's own Bray Studios, the countryside is photographed beautifully and filmed during very favourable weather with a lot of sunshine and blue skies. Interior sets are very decorative and well-lit despite looking somewhat obvious on Blu-ray, but Hammer's technical work and attention to detail has always been something I've admired. As you would expect given the short runtime, the film moves along like a breeze and has a certain light quality among the more sinister moments, plus the slight deviations in the story help Sword of Sherwood Forest as a quality historical adventure.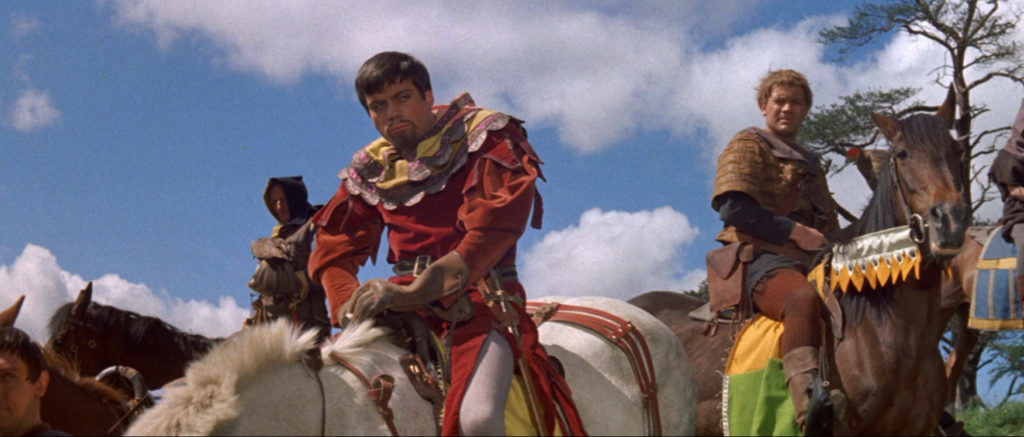 VIDEO AND AUDIO
Sword of Sherwood Forest was distributed by Columbia Pictures and like most of Hammer's productions under the major American studio, the film itself has been well looked after and transferred almost flawlessly onto this region-free Blu-ray. Presented in 2.35:1 windscreen and complete with English subtitles, the image is gorgeous with a subtle softness that does not take away from the high definition picture. However, colours, of which the film offers plenty, could have benefited from being a little more saturated, especially being a very outdoorsy adventure with the lush English landscape on full display. Sound is in 1.0 DTS-HD Master Audio, which doesn't offer much in terms of dimension, but it's nonetheless very clear and free of distortion.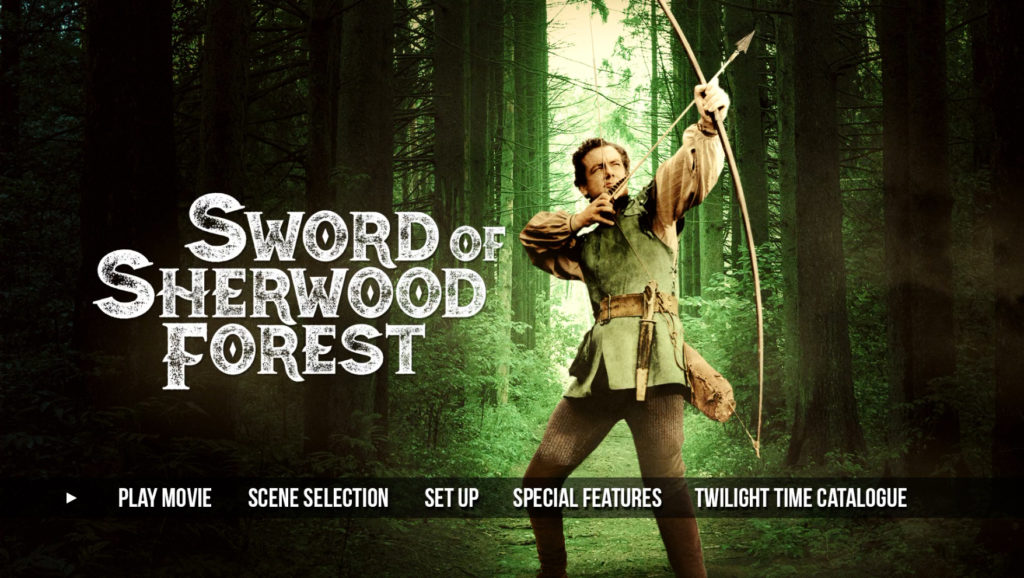 SPECIAL FEATURES
Isolated Music & Effects Track
Original Theatrical Trailer
6 Page Booklet
While a standard feature among many Twilight Time releases, some films suit the limited audio more than others, but with the addition of sound effects, Sword of Sherwood Forest provides the perfect incentive to make the switch. I found re-watching the climactic final scene without vocals to be very entertaining and gave me more appreciation for the fight choreography, which does suffer slightly for being a little stiff in places. In regards to the physical presentation of this release, I cannot fault it, mainly because my favourite colour is green. Cover design is minimal but very effective with Richard Greene's very brave stance as he draws back on his bow and arrow in the foreground of Sherwood Forest, awash with a vibrant green. Inside, a production photo that appears to have been colourised, serves nicely as a background image to the disc. The included booklet also features a nice array of images,  such as of the film's original poster art, and of course an informative essay by Julie Kirgo.
With the amount of Robin Hood films that have come since Hammer's effort, one can be understandably put off by the prospect of watching another. I say give Sword of Sherwood Forest a chance as it's somewhat of an abridged version with Hammer regulars, like Oliver Reed and Richard Pasco making memorable appearances.
SWORD OF SHERWOOD FOREST  
(1960, dir: Terence Fisher)
★★★★
direct blu-ray screen captures
You can follow cinematic randomness on Twitter and Facebook where you'll find all my cinematic exploits. Thank you for visiting!