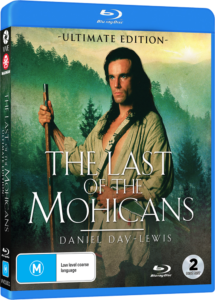 Some movie posters are unforgettable regardless if you've seen the film in question or not. I remember The Last of the Mohicans as one such poster that was alive with intensity as it hung in the widow of my local video store. Now the '90s epic charges its way to Blu-ray in an Ultimate Edition from Via Vision Entertainment. Daniel Day-Lewis stars as frontiersman and adopted son the Mohicans, Hawkeye, who along with his two fellow trappers find themselves protecting the daughters of a British Colonel during the tumultuous French and Indian War of the mid-1700s.
I was only eight-years-old when The Last of the Mohicans was released and all my knowledge of Native American culture came from Ernest Goes to Camp, so I wasn't that enticed to see it, despite watching almost everything my parents would rent on VHS. Now that I've finally seen the sweeping colonial drama, at the mature age of 35, I can safely say all the acclaim is warranted. Based on James Fenimore Cooper's 1826 novel and its 1938 film adaptation of the same name, The Last of the Mohicans depicts a pivotal time during American history, when Britain was slowly beginning to lose its grip on the continent. Subjects were growing increasingly divided over loyalty to the crown, with many simply wanting to live in solitude on the frontier, much like Hawkeye who wants to preserve the ways of his adoptive people. When our hero intervenes during an ambush by the hostile Huron warriors, he along with Mohican chief, Chingachgook, and son Uncas, decide to escort daughters Cora and Alice to their father, Colonel Edmund Munro, at Fort William Henry which is under siege by French forces. During their dangerous journey, Hawkeye and Cora become attracted to each other, which develops into a passionate love that transcends their place in the intensifying conflict. Fraught by constant pursuit lead by the vengeful Huron warrior, Magua, the film's pacing is well measured with skirmishes and encounters which help maintain the feeling of ever-present danger that looms over our heroic characters. Sombre moments of reflection on both sides reiterate the sentiments of the time period; of harboured resentment and the uncertainty of their future. Dante Spinotti's cinematography is breathtaking and captures the natural splendour of an untamed wilderness which seems to encompass an almost mystical quality, something that's bigger than all of us combined. Daniel Day-Lewis is a spiritual embodiment of the land as Hawkeye, a man propelled by common decency whose skill and bravery is the stuff of legend, whereas Cora, played by Madeleine Stowe is an independent woman who finds strength from within during her ordeal. Cherokee American actor, Wes Studi, as the antagonising Magua brings authenticity to the film through use of language and cultural attitudes along with his Mohican counterparts, played by fellow Native American actors Russell Means and Eric Schweig.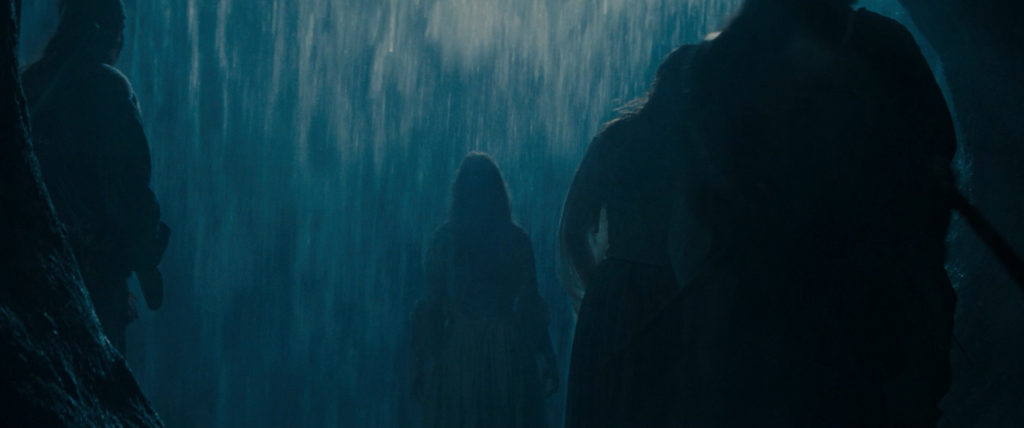 VIDEO AND AUDIO
Michael Mann's films generally appear darker than most, but that's not to say they're less visible as the contrast between colour and deep black gives the picture a very vibrant quality while accentuating the frontier landscape. High definition gives the image additional clarity and sharpness in 1.77:1 widescreen as the soundtrack champions the film's adventure-driven story in optional 5.1 DTS-HD Surround or 2.0 Stereo, both of which sound tremendous and it's no surprise the film won the Oscar for Best Sound.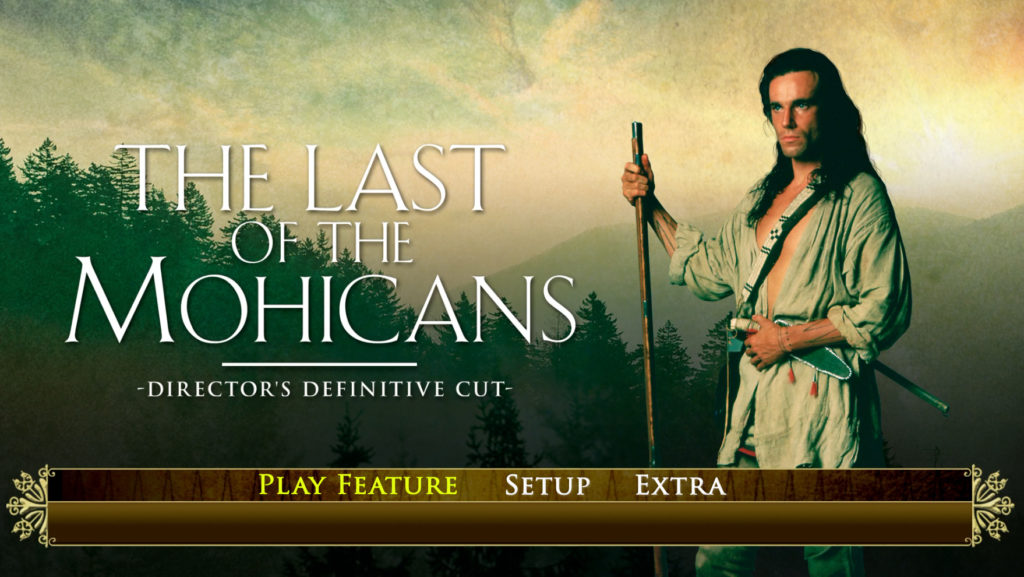 SPECIAL FEATURES
DISC 1 (Director's Definitive Cut)
Audio Commentary with director Michael Mann
DISC 2 (Theatrical Version)
Making of "The Last of the Mohicans"
Supplement material is divided over both discs in this 'Ultimate Edition' with director Michael Mann's commentary accompanying his desired cut of the film. Making of "The Last of the Mohicans" (2010) is an informative 43-minute featurette which breaks down the production into three 'Acts', comprising of behind-the-scenes footage along with cast and crew interviews. Each that can be selected individually or watched sequentially with a 'Play All' feature via the menu.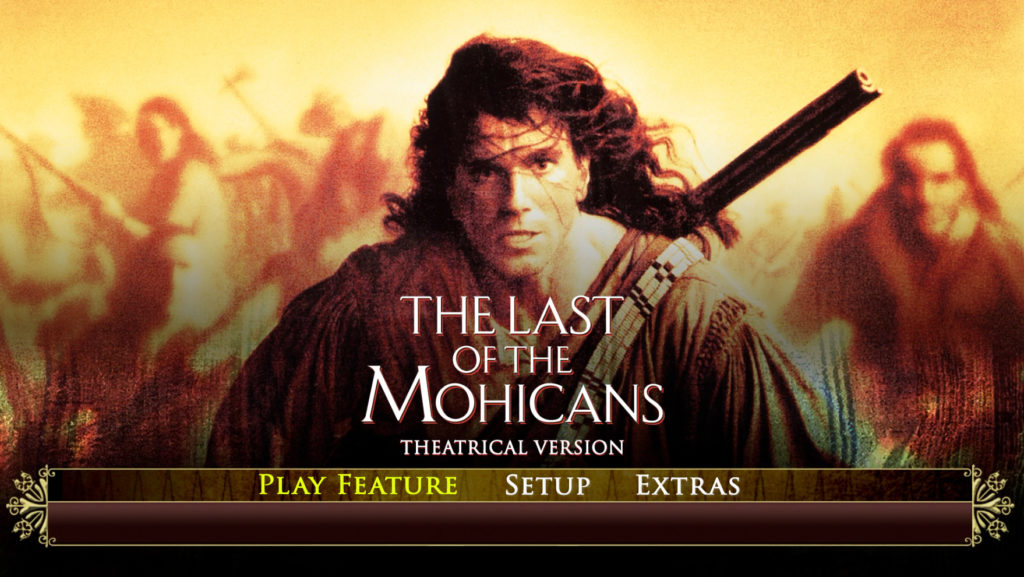 The Last of the Mohicans seems more like a historical document than a film, which successfully portrays a chapter in colonial American history that would have otherwise remained mostly unknown to mainstream audiences. Despite the film's romantic element being reminiscent of a paperback novel, more so visually, it's nonetheless powerful through its message of perseverance and survival.
THE LAST OF THE MOHICANS
(1992, dir: Michael Mann)
★★★★½
Head over to the Via Vision Entertainment Facebook page for the latest releases, giveaways, great deals and more!
direct blu-ray screen captures
You can follow cinematic randomness on Twitter and Facebook where you'll find all my cinematic exploits. Thank you for visiting!