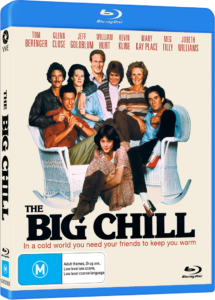 Needless to say, the world is a very different place compared to thirty-five odd years ago and given the current state of affairs, a frightening one at that. I'm sure a lot of us are naturally longing for simpler times, which is why The Big Chill couldn't have come to Blu-ray at a better time. Released by Via Vision Entertainment, it's the baby-boomer classic about seven college friends longing for even simpler times, following the funeral of a close mutual friend. Together they laugh, cry and ponder of life's curveballs at a cosy South Carolina vacation home.
The Big Chill is a definitive all-star ensemble. We have married couple Harold and Sarah (Kevin Kline and Glenn Close), TV actor Sam (Tom Berenger), socially awkward Michael (Jeff Goldblum), the slightly troubled Nick (William Hurt), the wholesome but unhappy Karen (JoBeth Williams), unfulfilled workaholic Meg (Mary Kay Place) and Chloe (Meg Tilly), the dearly departed's significant other. Driven mostly by dialogue, it's not a film that will click with everyone, but if you've entered adulthood, the discussions our cast of characters engage in will likely strike a chord on some level; even though there is a very generational element. Set to the tune of a Motown-dominate soundtrack, this weekend getaway, condensed into 105 minutes, feels like the full two-day experience. Our grieving thirty-somethings take moments of self-reflection, cut loose by filming themselves on video cassette which is a funny parallel to today's camera-ready society, and simply enjoy each other's company and friendship. As far as performances go it's hard to single out one over the other because I think one of the reasons why the film works so well is due to the collective outpouring of emotion. However, I feel William Hurt as Nick is resembles the types of modern personalities that exist today, while I can personally relate to Jeff Goldblum's Michael due to my own knack for social awkwardness. Meg Tilly as the mildly aloof Chloe is somewhat of the outsider as she's significantly younger, but is able to heal through the warmth offered by her new friends. She's how I felt when I first watched the film at 18-years old.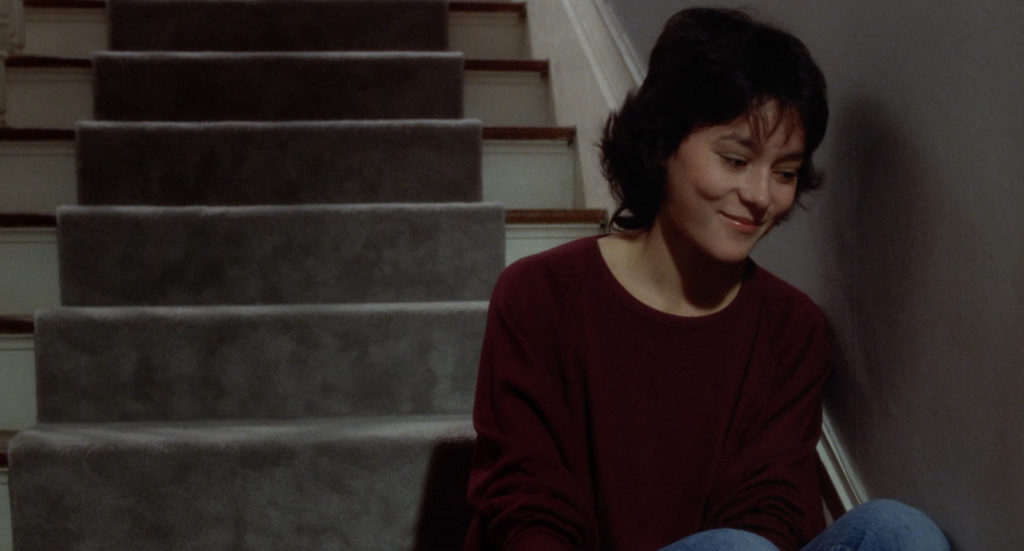 VIDEO AND AUDIO
Utilizing the restored 4K digital film transfer from The Criterion Collection's 2015 release, Via Vision Entertainment now appear to have the only HD edition of The Big Chill outside of North America. While not ultra-sharp, the image looks like you're watching a literal film projection, one of a very high grade which emanates a very subtle glow around very naturalist colours. Presented in 1.85:1 widescreen, the region B disc includes English subtitles and two pristine audio tracks in DTS-HD 5.1 and LPCM 2.0, both of which do justice to the film's iconic 60s soundtrack.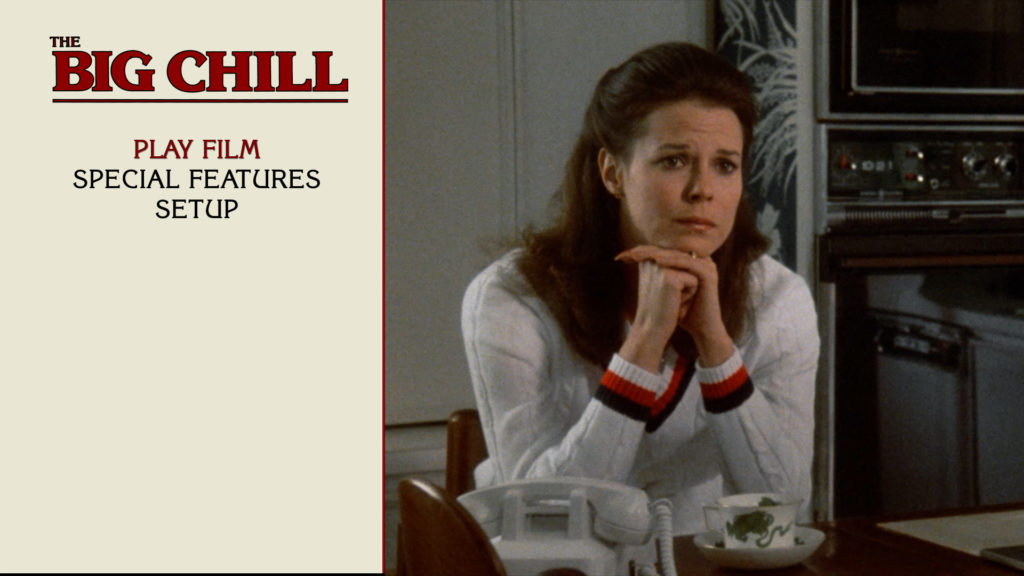 SPECIAL FEATURES
Documentary: The Big Chill – A Reunion
Deleted Scenes
I wasn't expecting any new extras with this release, but I'm glad The Big Chill – A Reunion was included. Despite being produced 22-years-ago for the film's 15th anniversary, it still serves well as a retrospective piece with interviews with the cast and crew. Deleted scenes don't add a great deal, but they're a nice addition especially if this I your first time watching the film or haven't seen it for many years.
Since we've entered a sort of indefinite weekend with all the lockdowns a social distancing, The Big Chill is the kind of cinematic pick-me-up we all could use, and a great way to support the physical media market buy picking up Via Vision's top-shelf Blu-ray release, that requires no internet connection.
THE BIG CHILL   
(1983, director: Lawrence Kasdan)
★★★★½
Head over to the Via Vision Entertainment Facebook page for the latest releases, giveaways, great deals and more!
direct blu-ray screen captures
You can follow cinematic randomness on Twitter and Facebook where you'll find all my cinematic exploits. Thank you for visiting!